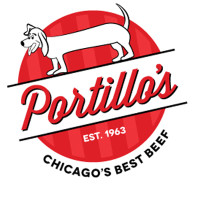 As you fill out a Portillo's Hot Dogs application, know that you're striving to join a company that wants to give everyone a chance to try quality Chicago-style traditional American food like hot dogs, hamburgers, and sandwiches.  Links to apply for jobs at Portillo's Hot Dogs are at the bottom of the page.
In 1963, Dick Portillo opened a trailer called The Dog House outside of Villa Park, Illinois.  As the popularity of his shack grew, Portillo renamed it to Portillo's and opened it into an actual building in 1967.  By 1993, as Portillo's Hot Dogs was extremely popular, they opened Barnelli's Pasta Bowl inside of a Portillo's Hot Dogs restaurant to immediate success.
Portillo's Home Kitchen was opened in 1999 in order to offer catering to people in the Chicago area.  However, a year later, the company began shipping their food to all fifty states.  Throughout the 2000s, the company expanded across the country, to Indiana, California, and Arizona, with more openings planned for the future.
Currently, Portillo's Hot Dogs has over fourth thousand employees working in over fifty stores.  Their stores do over twenty-seven million transactions a year and they're expanding quickly.  People who have jobs at Portillo's Hot Dogs know that the company works to hire from within, giving plenty of chances for advancement.
Portillo's Hot Dogs Careers
At the corporate level, the Portillo's Hot Dogs jobs that are available are geared towards making sure that all the restaurants are working properly.  If there are any issues, the corporate office will step in to get things working as they should again.  All of the corporate positions are centered out of Oak Brook, Illinois.
As there are over fifty Portillo's Hot Dogs locations scattered around Chicago and with a few in Southern California, Arizona, and Indiana, there are several options for potential employees to choose from.  Within the restaurants, there are several different areas that you could work including the kitchen, dining room, or in customer service.
How old do you have to be to work at Portillo's Hot Dogs? Age requirements vary by position.  As you browse Portillo's Hot Dogs jobs online, make sure to read all position requirements closely as some positions require various certifications, degrees, or experiences.
Only some people with Portillo's Hot Dogs careers are able to get actual benefits, mostly management, corporate, and hourlies that work more than thirty hours a week. Those benefits include health/vision/dental insurance and a uniform allowance.  All employees get access to free uniforms, a 401K, meal discounts, and paid vacations, if you work more than twenty hours a week.
Portillo's Hot Dogs Job Descriptions
Restaurant Manager – You will work in the kitchen to keep crew members motivated while trying to keep expenses to a minimum.  In order to make sure that everything is working smoothly, you'll need to be able to delegate responsibilities accordingly. Compensation is around $40,000 a year.
Cashier – As each customer meets your station, you'll greet them with a smile before making sure that their order is correct and accepting payment.  As needed, you may be assigned other tasks around the restaurant.  Compensation is around $20,000 a year.
Cook – By making sure the kitchen is clean and meets federal, state, and company standards, you'll be able to turn out the famous food that this company is known for.  Knowing the recipes by heart is a major part of this job.  Compensation is around $20,000 a year.
Busser – Maintaining a clean dining room is what this position is all about.  As customers leave, you will thank them for coming before clearing the table and trash cans quickly in order to get the next group seated comfortably.  Compensation is around $20,000 a year.
Portillo's Hot Dogs Interview Questions
These are some questions that you may be asked at your interview:
Why do you want to work at Portillo's Hot Dogs? As this is an extremely common interview question, you should be prepared for it.  Talk about what drew you to the company, whether it was the company culture or benefits and why it's your first choice in places to work.
What experience do you have? Highlight any relevant experience that you have.  If you don't have any, make sure to talk about what you can bring to the position and offer the company.  Use plenty of examples to enhance and support your claims.
Where do you see yourself in the next few years? Your interviewer wants to know if you see yourself with the company.  Be realistic in your career expectations, but make sure your interviewer knows that you're willing to take on extra challenges and responsibilities in order to move up in a company.
As this company relies heavily on customer service, you may be asked this question in the form of a hypothetical situation: How would you take care of an upset customer? Be practical and realistic as you walk your interviewer through the steps you would take, making sure to explain the logic behind your actions.
Several positions require you to stand for a long period of time or to lift heavy objects, so you may be asked this question: Are there any physical limitations that we should know about? Be honest.  They'll try to make sure that there are positions available or that can be edited to fit your needs.
Advice for Application Process
How to apply for Portillo's Hot Dogs online: start by deciding what area you want to work in management, corporate, or crew member.  Follow the appropriate link and read up on the positions before looking at the available positions at the bottom of the page.  If you're applying for a crew member position, follow the third link to fill out your Portillo's Hot Dogs application.  There is no printable application for Portillo's Hot Dogs.
Before you go in for your interview, do research on Portillo's Hot Dogs and the industry in order to have a list of questions that you can ask. This may seem excessive, especially for an entry level position, but it will place you in front of the other candidates as it shows that you that you think ahead and are prepared.
Have a positive and friendly demeanor when you attend you interview, it will give a good impression and show that you're ready to work in customer service.  Dress nicely for your interview as it will be in a semi-formal setting.  If you've applied for a managerial or corporate position, a suit would be appropriate.
Show gratitude at the opportunity to interview with Portillo's Hot Dogs.  After you interview, inquire about the best way to check on your hiring status as few applicants will learn if they got the position during their interview as Portillo's Hot Dogs will want to screen all candidates before making a final decision.
Also See:
Baja Fresh: Baja Fresh offers opportunities for both, beginners and experienced roles.
Sonic Drive-In: Visit the Sonic Drive-In application.
Krystal: For career opportunities, fill out the Krystal online application.
McDonald's: McDonald's offers opportunities for both, beginners and experienced roles.
Whataburger: Whataburger offers opportunities for both, beginners and experienced roles.
Company Links
https://rn21.ultipro.com/POR1000/JobBoard/ListJobs.aspx
http://shop.portillos.com/join/apply.asp