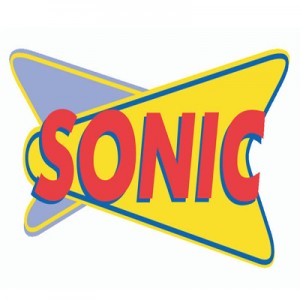 Sonic Drive In is an American drive in fast food restaurant. Across 43 states, there are over 3,500 locations that serve an estimated 3 million people a day. It is known mostly for the use of servers that they call "carhops" that use roller skates to travel to the cars parked outside. They serve food on their roller skates, similar to what was seen in the 1950's and memorialized on television and movies of that era.
Guests drive in to spots, and order their food on the speakers in their parking spots. There are also now patio seating and drive-thru lanes for people to get their food at as well. They are primarily a place that sells American food like burgers and hot dots, and also known for "carnival style" food. They have low prices with decent quality food, which keeps customers coming back. Customers also love the amazing customer service they receive here.
Many changes have occurred within this franchise since it was first opened in 1953 in Shawnee, Oklahoma and was named "Top Hat". In 1959, the company was named "Sonic" after it was discovered that "Top Hat" was already a copyrighted name. Soon after, it started branching out into other locations. Now it is a franchised company found across America.
On top of being known for their unique service style and excellent prices, Sonic Drive In has a reputation for being kind to organizations that give back. Being charitable is a main focus of this business, and they have placed an importance on giving back.
Their national outreach program is called "Limeades for Learning". This charity gives back to teachers and students in local communities. Since its creation in 2009, it has raised $2.7 million dollars and has helped countless teachers and students.
If you are looking for a fun and unique place to work, this company could be an excellent fit for you.
Sonic Drive In Careers
How old do you have to be to work at Sonic Drive In? The minimum age of employment here is 16 years of age. This is for an entry-level type position, like a carhop or cashier.
Get Your Degree!
Find schools and get information on the program that's right for you.
Powered by Campus Explorer
Sonic Drive In is a great place for first time job seekers or ones with little experience. This is because you can turn your job into a Sonic Drive In career, where you can move up the ranks within the company.  They have established the Sonic School of Management, which is additional training employees can receive to move up at the restaurant.
On the Sonic website, job seekers are able to read the job descriptions and responsibilities for each position. This can make it easier to figure out which position is the best fit for their particular skill sets and talents. A person should only apply for a job that they are qualified for, which is why a person should read through the job descriptions to ensure that they are qualified.
There are also corporate positions that are available for those who qualify. These positions are generally found where the company is located, which is in Oklahoma. These positions generally higher level positions that require more education and experience than the restaurant level positions. They also have a wider variety of positions.
To find positions that are hiring, visit the website and apply today.
Wages at this company are based on the same considerations that are at other companies. These considerations are job title, education, and years worked with the company. As you earn more years with the company and with proven performance, your salary may increase especially if you get promoted within the company.
For instance, a carhop may only make $6.70 an hour. A member of the kitchen crew might earn $7.50 an hour. A shift manager might earn $9 or $10 per hour. A store manager can earn $44,000 a year. An assistant manager can earn $29,000 a year. Wages can vary, depending on the state the restaurant is located in and their minimum wage laws.
Employee benefits have their own set of considerations. For instance, a full-time employee may get more benefits than a part-time employee. Some benefits will depend on job title or time worked within the company. Other benefits can vary depending on location, as Sonic restaurants are independently own companies within the franchise.
An employee may get free uniforms, competitive wages, and flexible hours. They also may be eligible for medical insurance and discounted meals. Some other benefits are retirement benefits and 401(k), vacation, and life insurance. There may be additional benefits, but you can find out more about the benefits you are eligible for by asking the franchise owner or manager.
The hours of operation for this restaurant can vary depending on location. An average Sonic will be open as followed: Monday – Thursday from 7:00am – 11:00pm, Friday and Saturday from 7:00am – 12:00am, and on Sunday from 8:00am – 12:00am. These hours can also vary based on holidays.
After applying for a position that you are qualified to work as with a company like this, a person should hear back about their application within a reasonable amount of time. If not, you are able to call and check the status of your application. You might want to check to see if they are still hiring for that position when you call.
The expectations for potential employees are clearly listed in the job description. Sonic Drive In is looking for cheerful people with great interpersonal skills to fill their ranks. A cheerful and positive employee will help keep the environment fun for the guests, which will keep the customers returning to the restaurant. Good service can sometimes stand out more than the food. Luckily, with this company customers are treated to both.
Sonic Drive In Job Descriptions
Here is a closer look at the career opportunities that one may find at a company like this.
Entry-level
A person who does not have previous work experience can gain valuable experience at this company. There are positions offered here in which a person can easily move up the ranks with the proper training and hard work. This is not some company where you will work as a carhop for 20 years without any upward movement.
Here are some entry-level positions:
Carhop or Skating Carhop
Cashier
Crew Member
Cook
Kitchen Crew
For more information about this positions or others like it, please visit the company website.
Management or Other High Level Position
As a result of the Sonic School of Management, it is easy to move up the ranks within this company if you show dedication and have an amazing work ethic. You are also able to qualify for these higher level positions if you have gained valuable work experience elsewhere. Some positions may have an educational requirement in order to qualify, so you should read the job descriptions before applying.
Here is some management level or other high level positions one can find here:
Assistant Manager
General Manager
Store Manager
Crew Lead
Shift Manager
For more information about these positions or others like it, please visit the company website.
Sonic Drive In Interview
Here are some tips for applying for a position at this company:
Apply for positions that you are qualified to work. By not doing this, your application may be dismissed or not taking seriously. If applying in the restaurant, dress in neat and appropriate attire. When applying, be sure that you fill out the application in accordance with the instructions provided. By not doing so, your application may not be taken seriously.
When you apply, you should submit your updated resume. This can give the hiring manager a clearer look at your talents and experience while also giving additional information not asked for on your application.
Here are some tips to help you prepare for your interview and succeed during your interview:
Dress appropriately for your interview. First impressions are very important and you want to be taken seriously for the position. Prepare for your interview in front of the mirror. Ask yourself potential questions, and answer them aloud so that you can watch your body language while speaking. This will help you look more confident, speak more articulately, and be less nervous which can impress the interviewer.
Bring along two copies of your resume to your interview. One should be given to your interviewer, in case they do not have the copy you submitted with your resume. The other copy is for you to follow along with in case the interviewer has any questions or need an item clarified. After your interview, you should call back to check the status of your application and be sure to thank them for their time. While calling back, you might consider asking if they have any additional questions for you or if they need clarification on something.
Advice For Application Process
How do you apply for a job at Sonic Drive In? A job seeker that is looking for a Sonic Drive In career can directly apply on the Sonic Drive In Jobs online site. A person may also apply for a Sonic Drive In job in the location nearest to them. There is no place on the website to find a downloadable application. There is also no place to find a printable application on the website.
The fast food industry is a very large industry with so many different varieties. This can be great for people who are looking for these types of positions found in this industry. Two similar competitors to Sonic Drive In are Carl's Jr and Hardee's.
All of these places sell shakes and burgers, but Sonic is also known for their "make your own refreshments" and other carnival like cuisine. These are all fast food places that are popular in America, and serve millions of people daily.
The biggest difference between a place like Sonic and Carl's Jr or Hardee's is the unique position of the carhop and the ability to order in a parking spot through a microphone rather than have to go through a drive-thru window.
Also See:
Lee's Famous Recipe Chicken: Checkout the application page for work at Lee's Famous Recipe Chicken.
Qdoba: See our guide for careers at Qdoba.
Freebirds World Burrito: See our guide for careers at Freebirds World Burrito.
Moe's Southwest Grill: Use the Moe's Southwest Grill job application to apply here.
Noodles & Company: See this page for jobs at Noodles & Company.
Company Links
https://www.sonicdrivein.com/jobs/drivein