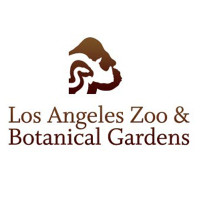 The Los Angeles Zoo aims to inspire learning and discovery in all people that come through their gates.  Also, they aim to support programs geared towards conserving natural habitats and biodiversity.  Links to apply for jobs at Los Angeles Zoo are at the bottom of the page.
Originally, the Los Angeles Zoo was called the Griffith Park Zoo and was opened in 1912, two miles away from its current location.  In 1966, it was moved to the current location.  During the early 1990s, the zoo was falling apart, a burst pipe in 1992 left half of the zoo lacking water.  In 1995, the Los Angeles Zoo was in its worst state, almost losing their accreditation.
However, with the arrival of a new director, the zoo made a quick rebound.  Starting in 1998, new exhibits were opened, including Chimpanzees of the Mahale Mountains, Red Ape Rain Forest, Botanical Gardens, a Komodo Dragon area, Winnick Family Children's Zoo, Children's Discovery Center, Sea Life Cliffs, and several more exhibits with more on the way.  They are also encouraging local businesses to join the zoo in various ways, one of which is bringing locally-made beer into zoo restaurants.
Those who apply for Los Angeles Zoo jobs online know that it will probably entail lots of walking, as the zoo covers one hundred and thirty-three acres. The Los Angeles Zoo houses over one thousand animals covering over two hundred and fifty species.  Although the Zoo is supported by the city, they still get help from their fundraising team, the Greater Los Angeles Zoo Association.
Los Angeles Zoo Careers
If you put in a Los Angeles Zoo application for a permanent position, you will be working for the City of Los Angeles, as the zoo is owned by the city.  As such, taking and passing a Civil Service examination is mandatory before even being considered for an interview.
For those that are seeking seasonal or volunteer positions, you'll be working and interviewing directly with the Los Angeles Zoo.  For volunteering positions, you will have to go through various courses, usually given through UCLA, before starting your position.  Generally, there will be a thirty day probationary period before becoming a confirmed volunteer.
How old do you have to be to work at Los Angeles Zoo? Age requirements vary by job.  For some volunteering positions, you need to be over the age of eighteen.  Make sure you read all Los Angeles Zoo jobs requirements closely, as some require various degrees or experiences before applying.
Those with Los Angeles Zoo careers are employees of the city.  As such, the zoo is only open Monday through Friday from eight am until five pm, like most city-operated buildings.  The Los Angeles Zoo is always closed on weekends and Christmas day.
Los Angeles Zoo Job Descriptions
Muriel's Ranch Volunteer – You will work in one of the most popular areas, the petting zoo, as a go between with the public and the animals as you strive to educate the visitors through various interactive educational games.  Assisting at both the gate to keep animals from escaping and in the yard to make sure that the animals are being treated properly are big parts of this position.
Enrichment Workshop Volunteer – During workshops, you will help create various enrichment devices for the animals.  The devices could be created with paper-mache, firehoses, and all sorts of objects.  This volunteering opportunity may also include installing the enrichment toys in the various exhibits. Being comfortable around power tools is a big must for this volunteering position.
Food Prep Volunteer – Assisting in the food preparation for animals is what this position is all about.  You will help by sorting and chopping food, lifting various boxes, and standing for long periods of time. Be aware that you may work with extremely smelly food, like fish and mealworms.
Docent (Volunteer) – Educating the public is what you'll be doing in this position. By leading school groups and family tours, you will spread the zoo's message of animal conservation as far as you can.  You should be great with kids and teaching for this position.
Los Angeles Zoo Interview Questions
Here are some questions you may be asked during a job or a volunteer interview:
Why do you want to work for the Los Angeles Zoo? As this is an extremely common interview question, you should be prepared for it.  Explain what drew you to the zoo, whether it was the education opportunities, the benefits, or the culture, and why it's your first choice.
What experience do you have? Highlight any and all relevant work experience that you have.  As several jobs and volunteer opportunities require teaching the public about the animals, talk about any experience that you have in that field.
Where do you see yourself in a few years? This question is for people who are applying for full time positions.  Be realistic in your career expectations, as they want you to stay with the zoo.  Talk about how you're willing to take on extra challenges and responsibilities to make sure that the animals get the best care that you can give.
As the zoo is heavily focused on education, this question may be posed to you in the form of a hypothetical situation: How would you deal with a disruptive person? Make sure to be straightforward and practical with how you would react.  Explain exactly what you would do and why. 
If you're applying to work directly with the animals, you may be asked: How quickly do you get to know your animals? This is an important question, as you'll work closely with your animals to make sure that they're as healthy as you can get them.  The faster you get to know them, the better.  Make sure to be honest about this, as it is an important part of your job.
Advice for Application Process
How to apply for Los Angeles Zoo online: if you're putting in a Los Angeles Zoo application for a full time position, you will actually be going through the City of Los Angeles.  Follow the second link until you find the job that you're interested in, click it.  Make sure to read all job requirements closely before hitting the apply button.  If you're going for a seasonal or a volunteer position, follow the first link.  Read the jobs descriptions and then click the area that you're interested in applying to on the sidebar.  Click the apply button and follow the instructions.  There is no printable application for Los Angeles Zoo.
Before your interview, do research on the zoo and the industry.  Have a list of questions prepared that you can bring with you.  Although several of your questions will probably be answered during the interview, it will show that you thought ahead and are prepared.
On the day of your interview, have a positive and respectful attitude. Make sure to arrive early, it will give you time to relax a little.  Dress professionally, with minimal jewelry as it will show that you're serious about working for the zoo.
Show gratitude for the chance to interview with the Los Angeles Zoo.  After your interview, make sure to enquire about the best way to check on your hiring status.  No applicant will learn if they got the job during their interview as the zoo and the city will want to screen all candidates before making a final decision.
Also See:
Knott's Berry Farm: Use the Knott's Berry Farm job application to apply here.
Redbox: Visit the job application for Redbox to apply today.
Cinemark: Use the Cinemark job application to apply here.
Legoland: Visit the Legoland application.
Universal Studios: Visit the job application for Universal Studios to apply today.
Company Links
http://www.lazoo.org/about/jobs/
http://www.lacity.org/for-job-seekers