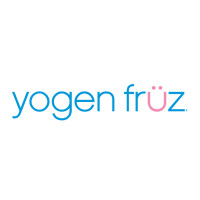 Yogen Früz operates all across the US and internationally, providing a healthier alternative to ice cream with its range of frozen yoghurts and smoothies.  To find out how to apply for Yogen Früz online, follow the link at the bottom of the page to submit your Yogen Früz application today.
The company offers a range of 12 different basic flavors of frozen yoghurt that can be mixed and matched to create your own taste.  In addition they also serve 17 types of ü-sensations, tasty products with less sugar and fat than regular desserts.  Their menu also offers lots of different toppings so that you can have it a different way every time.
The company was founded in Thornhill, Ontario in Canada in 1986.  The two brothers who started it all off, Michael and Aaron Serruya, opened one store in a mall, and two years later they were already up to 50 locations.  Now there are over 1,300 locations in over 25 countries across the world.
The unique business plan that has made the company so successful is partnering with 'Master Franchisees'.  Instead of just normal franchise sales, the company sells the rights to entrepreneurial people to also be able to sell franchises themselves.  This accounts for the rapid expansion of the company and means that it is going to keep on going upwards.
Yogen Früz Careers
There are many Yogen Früz jobs based in their stores for both hourly and managerial positions.  The most common openings available are Servers, Sales Associates, Team Members, Assistant Managers and Store Managers.  For many of the entry-level positions you won't need a lot of experience but it helps to be able to work evenings and weekends.
There are also many Yogen Früz careers in the corporate side of the industry.  The Markham headquarters is currently receiving applications for vacancies in the departments of Accounting, Graphic and Web Design, Executive Office, Facilities Management, Franchise Sales, Legal, Operations and Research and Development.  The requirements for these jobs vary but you will often need a degree and relevant experience.
How old do you have to be to work at Yogen Früz?  You must be 16 years old or over to submit a Yogen Früz application.
The stores generally open at 10am and close between 10 and 11pm, except on Sundays when the opening times are from 12pm to 10pm.
When you apply for jobs at Yogen Früz, you're joining a company that likes to promote from within, so you can start from the bottom and work your way up the management ladder with opportunities for further training and career development.  Full-time and corporate employees may also qualify for benefits including healthcare and retirement plans.
Job Descriptions & Salaries
Server – The position of Server is very similar to Sales Associates/Team Members and in some locations the two positions might be combined.  Servers will normally have more of a role in the preparation of the frozen yoghurt orders as well as basic maintenance of the machines.  This is typically a minimum wage role. 
Sales Associate – Working as a Sales Associate or Team Member you will have a number of duties around the store.  Most of the time you will be serving customers by taking and preparing their orders and then afterwards taking payments.  There will also be other tasks on a daily basis including cleaning and restocking.  The pay is usually $8-9/hour.
Assistant Manager – As an Assistant Manager there will be various responsibilities organizing and training the Team Members in the store and ensuring that they keep to all necessary standards of cleanliness and hygiene as well as customer service.  The typical salary for this position starts at around $25,000 a year.
Store Manager – The job description for a Store Manager will require you to supervise all aspects of the store.  Managers handle the hiring, training and supervision of the Sales Associates and make sure that they are constantly living up to customers' expectations.  The salary for this role can be up to $40k/year.
Yogen Früz Interview Questions
Most interviews for Yogen Früz jobs will center around behavioral questions to see how you would cope in likely scenarios in the store.
Why do you want to work here?  Always do some research on any company that you apply for before you get to the interview so that when you're asked this question you can say what it is you like about them.
What do you know about the products?  When you're doing your research look up the kinds of products they have on offer.  You can talk about your favorite flavor and why you like it. 
How would you handle an angry customer?  It's important that you are able to remain calm under pressure, especially if there are other customers in the store.  It helps when you're answering if you include examples of similar situations from your previous employment experience.
What are your greatest strengths? When you answer questions like these you need to remember to keep your answers on topic.  Every strength that you talk about should be relevant to the job and show that you are the best candidate.
What is your availability?  The ability to be flexible in your schedule will provide more job opportunities because they won't be able to hire you if there are too many people already working the shifts that you want.
Advice For Application Process
If you're looking for jobs based in the stores then you can't apply online but many local stores will advertise openings in their storefronts, or you can ask the manager.  The best way to apply is to make a direct application in person by requesting a free application form in store.  You can't download a printable application for Yogen Früz.
You can only submit a Yogen Früz job application online for careers in their headquarters.  By searching Yogen Früz jobs online you will see the departments that have openings on their website.  Fill in the online application and upload your resume to express your interest in working for the company.
For in-store positions you may be asked to come for an interview not long after you apply, in some cases it may even be on the same day.  You should make sure you are prepared for an interview just in case this happens.  Turn up well presented to give off a good first impression and practice some typical interview questions.
During any interview it is very important to be friendly and positive as well as professional.  Always remember to smile and maintain eye contact with your interviewer.  It might sometimes be necessary to follow up after your interview by phone or email to check on the status of your application.
Also See:
Smoothie King: See our resource page for more information on Smoothie King careers.
Auntie Anne's: Visit the job application for Auntie Anne's to apply today.
Braum's Ice Cream And Dairy Store: For career opportunities, fill out the Braum's Ice Cream And Dairy Store online application.
Orange Leaf: For employment at Orange Leaf visit the application page.
Cold Stone Creamery: See our resource page for more information on Cold Stone Creamery careers.
Company Links
http://www.yogenfruz.com/careers/
http://www.yogenfruz.com/about-us/