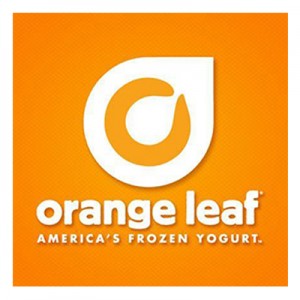 Orange Leaf are one of the premier self-serve frozen yogurt chains in the United States. The company was founded in 2008, and was originally based in Oklahoma. Mike Liddell and Reese Travis saw that there was a franchise called Orange Tree Frozen Yogurt doing well. They purchased the franchise in 2009 and then the whole company in 2010. After that the company was moved to California and the name was changed to Orange Leaf and the true birth of the company was complete.
They've gone on to produce many different frozen yogurt flavors and varieties, including two vegan friendly frozen yogurt flavors and two sugar free flavors. They continue to add to their list of flavors and make new ones all the time.
By April 2011 there were 63 stores in the United States, and they expanded to 111 locations by September 2011. They expanded to Australia in 2011 as their first international store. By October 2013 they had stores in over 300 locations and in 2014 it was reported they were opening in Asian markets, including China. They operate on a global scale and continue to expand as new stores are opened all the time.
In 2014 they also announced a long term partnership with the star and MVP of Oklahoma City Thunder Kevin Durant. They partnered with Share Our Strength's No Kid Hungry® campaign this year, for the second straight year, to help end child hunger in the United States. They sell limited edition cups with the profits going directly to helping starving children in the United States.
Individual local store owners choose to partner with local charities a lot, so the company really cares about giving back to their community and helping out on a local level, as well as a more national level.
They have their own unique spoons. They also come in different designs. They operate a loyalty card system where you can get money off future frozen yogurt purchases. Orange Leaf were listed as #127 in the Entrepreneur Franchise 500 in 2014 and #3 in their list of top new franchises in 2013. Their stores have over 30 different kinds of toppings.
Orange Leaf Careers
The main requirement for Orange Leaf Careers is that you have to purchase the store yourself and that you pay a fee of 6% of your sales as royalties and 2% of gross sales (less sales tax) is taken as advertising/marketing fees.
Get Your Degree!
Find schools and get information on the program that's right for you.
Powered by Campus Explorer
There are no specific requirements for owning an Orange Leaf franchise but you do have to be old enough to own your own franchise. As far as how old you have to be to work at Orange Leaf? That depends on where you live but the general age is 18, as you have to be old enough to enter into a legal contract. If you're old enough then you can begin working one of the careers that they offer.
If you are able to pay the basic franchise fee of $30,000 and the Turn-Key development cost fee, that typically comes to between $263,000 and $453,500 (this includes the franchise fee) then you can open a store if your Orange Leaf job application is successful. When it comes to working in their corporate headquarters then the main thing you will need is relevant experience and an idea of what you want to do there.
You get to keep any money that you make outside of the fees that they would take of your earnings. Your salary would be your takings, minus the salaries for any employees you hire, and minus the fees. Outside of that there are no real benefits. You will essentially be self employed as a business owner and it will be up to you to take care of things like a 401k.
As you will be self-employed then, provided the business is doing well and you have all the help you need, you can go on holiday when you would like. It is on you to take care of the business and make sure that it is a success. The company cannot tell you the average income of their stores until after your application is successful. One of your main responsibilities is making sure that the store is run well.
The site doesn't list average salaries or job benefits of working in their corporate offices. You will be told what those are should your enquiry be responded to and your career there starting.
The hours stores are open vary from store to store. Their mobile app lets you keep up to date with your local store so you know when it's open or closed.
Orange Leaf Job Descriptions
There are always job opportunities at Orange Leaf as they are always hiring franchise owners, and the main job opportunity that the company offers is the chance to open your own store wherever you would like, typically your own local area if there is space. The company still operates on a franchise basis so it's possible to apply online with their free online application form.
The application form is a direct application through their website. To apply for Orange Leaf jobs you have to go to their website and fill out all of your details in the online application and then send them off. They will then get back to you if your application is successful and help you put together a store in your area. A basic job description of what you will do is own the franchise yourself. It will be up to you to hire any employees you need and you will have to make sure the store is run well and turns a profit.
While it is possible to work at a store as one of the employees there, there are no resources available through the website to do that. You would have to use their store locator to find a store near you and apply directly with the owner. You can apply for jobs at one of their stores by either stopping by the store or calling if they have a number.
Lastly you can apply to work in their corporate headquarters, as well as open a franchise. These jobs are in the Oklahoma headquarters so only apply if you live in the area. To apply for these jobs go to their website and fill out the online application there.
They have jobs available in finance, Franchise development, Franchise Operations, or sales. Please note that this is only an inquiry. You fill out the form, paste your resume into the text box, and send it off. If they are interested in hiring you then they will get back to you personally.
Advice For Application process
The best way to get ahead with your Orange Leaf job application is to be earnest in the comments section. There aren't too many ways you can really sell yourself in the application. There isn't even a way to send in a resume. There is just one small comment box at the end of the application form. There is no printable application form, or a way to download application forms. You have to apply online.
Knowing how to apply for Orange Leaf online is the first step and that's as easy as just going to their website and filling out the Orange Leaf job application online. This is a direct application. Just be confident about yourself and believe that you can make the store a success and you will be well on your way to beginning your Orange Leaf career. Orange Leaf
If you choose to seek employment as a franchise employee then be sure to answer any questions that the owner might ask, and remember the basic rules of an interview. Be confident and don't paus when you give answers. Fill out any applications they might have and, if possible, have relevant experience. That's always a plus when it comes to applying for jobs.
When it comes to working in the corporate division then the same rules for working in a store apply. Keep in mind that it is just an inquiry, and sell yourself as best as you can in your resume. If you have a good enough resume and they need someone with your expertise, then there's a good chance you'll be hired.
If you're interested in Orange Leaf careers, and working in the frozen yogurt industry, but would like to be hired directly rather than own a store, and miss out at working for their corporate division, then there are other companies in this business sector that you can consider applying for. Dairy Queen offers the chance to work in stores, own a franchise, or work in their corporate office through their website.
Baskin Robbins are another frozen yogurt/ice cream store that offer the chance to work in their stores rather than own them outright, which would be the case with Orange Leaf jobs.
Also See:
Krispy Kreme: See our resource page for more information on Krispy Kreme careers.
Tropical Smoothie: For career opportunities, fill out the Tropical Smoothie online application.
Carvel: For career opportunities, fill out the Carvel online application.
Haagen-Dazs: For career opportunities, fill out the Haagen-Dazs online application.
TCBY: Visit the TCBY application.
Company Links