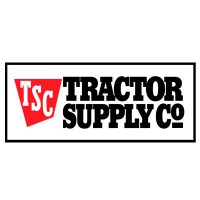 As a successful rural lifestyle retail company, Tractor Supply Company has become known as a leader in the retail industry. If you have an interest in working for a fast growing, established company, information about filling out a Tractor Supply Company application can be found below.
Tractor Supply Company provides more than just retail services to their communities. They are the largest operator of rural lifestyle retail merchandise in the United States. From welders to generators, animal care to men and women's work wear, power tools to lawn mowers, and much more, this company's merchandise fits any and all rural lifestyle needs.
Due to their enormous success, this company offers numerous opportunities for people to begin Tractor Supply Company jobs on their way to a lasting career. Founded in 1938 they got their beginning as a catalog business delivering to only certain areas of the country. Now, they operate 1,400 retail stores out of 49 states with over 21,000 employees at the helm. Their annual revenue has reached upwards of $5.7 billion and continues to grow.
Home to multiple locations, Tractor Supply prides themselves on customer service and knows they would not have achieved what they have without their employees. It is because of their mission, vision, and 10 core values of 1) ethics, 2) respect, 3) balance, 4) winning attitude, 5) communication, 6) development, 7) teamwork, 8) change, 9) initiative, 10) accountability that they have managed to build a successful team.
Tractor Supply Company Careers
Throughout their stores, Tractor Supply Company careers offer a wide range of possibilities for everyone. They offer in store positions including hourly team members, shift supervisors, operations managers, assistant managers, general managers, and many more. This comprehensive list should give any potential applicant confidence that there is always a position for them with Tractor Supply Company.
Upper managerial titles (area and district manager), distribution center positions, and corporate posts are also available. The main office, located in Brentwood, Tennessee, as well as all other store locations can be reached by the telephone numbers available on their website for any enquiries regarding the company or how to apply for Tractor Supply Company online. Most Tractor Supply stores are open from 8:00 AM to 8:00 PM Monday through Saturday and 9:00 AM to 6:00 PM on Sundays. The corporate office is available during normal business hours of 8:00 AM to 5:00 PM Monday through Friday.
How old do you have to be to work at Tractor Supply Company? Most entry level positions require a minimum age of 16 years old. However, some positions may require you to be either 18 or 21 depending on the duties the position calls for.
A few of the things offered to Tractor Supply Company staff are competitive salaries, holiday pay, paid vacations, and paid medical leave. Health benefits include medical, dental, vision, life, disability, accident, and critical illness coverage. Associates also have access to a 401(k), stock purchase plan, flexible spending accounts, and various leaves of absence. These are just a few reasons to apply for jobs at Tractor Supply Company and seek employment with a company whose job opportunities are never ending.
Job Description and Salaries
Store Receiver: A store receiver is primarily responsible for the unloading and receipt of all shipments, ensuring incoming merchandise is in proper condition, preparing and shipping outgoing freight, processing outdated merchandise, and completing all assigned paperwork. They must also greet customers, provide register support, ensure feed rotation, and promote sales. The average starting wage is around $11.00 an hour.
Store Team Leader: These employees must promote the company's mission and values while leading sales team huddles and supervising team members. They will execute assigned merchandising responsibilities, handle and resolve customer complaints, organize and prioritize workflow, ensure store security, and maintain the team leader binder. Applicants should have basic computer skills, be able to operate equipment, and meet physical requirements. They will make around $10.00 an hour.
Assistant Manager: An assistant manager must deliver customer service, provide hands-on leadership, and develop an understanding of all aspects of the retail operation. They will supervise staff, train staff members, and handle receiving, displays, freight movement, and front-end control. All applicants should possess a high school diploma or GED, be motivated, and have great communication skills. The annual salary for this position is $37,000 a year.
Retail Store Manager: These individuals will be expected to build and lead a terrific team while increasing sales and profits. It is a hands-on position that requires the manager to be on the sales floor interacting with customers and associates. 2 years of retail experience is required as well as a high school diploma or equivalent and a background in shrink control. The annual pay is $50,000.
Tractor Supply Company Interview Questions
After searching for Tractor Supply Company jobs online and filling out your free application, it's time to begin preparing for the possible enquires made during the in-person process:
What do you believe is required of a team lead? This will only be asked if you're applying for a leadership position. Assure the interviewer you believe being a fair and helpful leader while still maintaining an environment that demands hard work is of the utmost importance to the success of the company.
What have you learned from your most recent job? Any answer is acceptable, just be sure to explain how the lessons you learned can translate to your job with Tractor Supply Company if you are hired.
Out of our 10 core values, which one stands out to you? Again, any of the core values are good answers. However, don't simply pick one of the values, be sure to explain why you chose that value and what it means to you personally.
Who has been one of the most positive role models in your life? Simply be honest with your answer and be explanatory. Tell the hiring manager why that person had such a strong influence on you, what you learned from them, and how those things correlate to your work ethic.
How open are you to relocation? Typically this is asked only of those applicants who are seeking an upper managerial position. If you are one of those people, it's important that you be open to relocation because it assures them you are looking to advance within the company.
What are some of your personal achievements? Keep your answer to a maximum of three achievements to avoid bragging, but to be sure you are still coming off confident in your abilities and successes.
Advice for Application Process
Whether you are looking for a printable application for Tractor Supply Company, a direct application, or a simple "download application form" tab the Tractor Supply Company application process is easy to use for everyone. The easiest way is to apply online by utilizing the second link listed below. There you will find a search engine where you can search available openings by category or by location.
To complete the online application you will be required to search for openings, choose a position, read the description carefully and thoroughly, and then click the "apply now" button at the bottom of the page. Simply follow the provided directions to fill out as many applications as you'd like. Unfortunately, there is not a printable application form on the Tractor Supply Company website, how visiting your local store for a hard copy is always an option. Just be sure to take in a copy of your resume.
For the in person meeting with the manager it is important to remember to dress professionally, exhibit good hygiene, and show your personable nature. This company is primarily based in the customer service business, therefore, being friendly and energetic is vital to your success.
Remember, it is always a good idea to have a few enquiries of your own.  A few examples of these could be:
When are you looking to fill the position?
What do you expect from an employee?
How often do you promote employees?
This will show you are an eager applicant. It would also be beneficial to you to reveal any and all company knowledge you possess. Doing a little research beforehand can only help. At the end of the meeting, thank your interviewer for the chance to meet with them and shake his or her hand before leaving.
Also See:
Party City: Visit the Party City application.
Build-A-Bear Workshop: Visit the job application for Build-A-Bear Workshop to apply today.
ABC Fine Wine And Spirits: For career opportunities, fill out the ABC Fine Wine And Spirits online application.
Dollar Tree: Checkout the application page for work at Dollar Tree.
GameStop: Visit the job application for GameStop to apply today.
Company Links
http://tractorsupply.jobs/article/careerareas
http://tractorsupply.jobs/?cm_sp=footer-_-2015Q2-_-tsc+careers