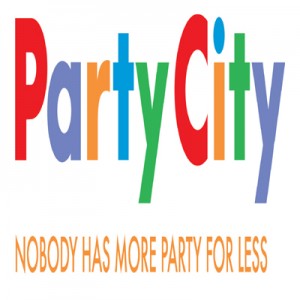 At Party City, fun is serious business. With nearly 800 stores operating in the United States, and locations in Asia, Australia, Europe, and Canada, they are the party headquarters for all of your celebration needs. From theme parties and birthdays, to weddings and holiday parties, you can find everything you need at a store location or online.
Partnered with Sesame Workshop, Nickelodeon, and Hasbro, you can find over 100 children's themes offering balloons, disposable plates and cups, snacks, decorations, gifts, and more.
Also, as an official partner of the NFL, NHL, NBA, MLB, and NCAA, you'll find an assortment of sports themed merchandise perfect for any game day occasion.
The franchise opened in East Hanover, New Jersey in 1986 and quickly began to expand across the Northeast U.S. By 1992, the company had opened stores in Tennessee and Georgia, and began buying up smaller party stores and reopening them under their own banner. In 2004, the company hit one-billion dollars in sales, solidifying their position as the leading party supplier worldwide.
If you have a knack for event planning, and you enjoy inspiring others to make their special day a memorable one, apply today, and make every day a party waiting to happen.
Party City Careers
Hiring requirements for Party City careers vary greatly depending on the desired position. Sales Associates must be friendly, customer oriented, and able to work with the public. Applicants must also be able to lift up to 25 pounds, and a high school diploma or equivalent (GED) is also preferred.
Management level jobs (either Assistant, General Manager, or District) generally require the following:
Get Your Degree!
Find schools and get information on the program that's right for you.
Powered by Campus Explorer
High school diploma or equivalent (GED)
1 to 4 years of management level experience
Physically able to lift up to 25 pounds, climb ladders, and stand for an entire shift
Managers are also expected to be highly organized, display strong leadership abilities, and be able to deal with high stress conditions and situations.
All corporate level careers require a Bachelor's degree and 1-3 years of field associated professional experience. Applicants must also display a team oriented attitude, possess exceptional written and verbal skills, and be able to associate and collaborate with senior staff and subordinates in a professional manner. Corporate applicants also need to be fluent in the use of field associated software and tools.
How old do you have to be to work at Party City? Entry level work requires that applicants  be at least 16 years of age. Management and corporate level applicants are generally required to be at least 18 years of age.
Party City Job Descriptions
The company offers retail employment opportunities at both the associate and corporate levels. Responsibilities and job opportunities vary at each level of employment, as do available employment locations.
Store based jobs include Sales Associate, Assistant Store Manager, General Store Manager, and District Manager. All of these jobs center on a specific location, or a group of stores in a given area.
Sales Associates manage all daily store activities, from stocking shelves to ringing up customers. These are entry level opportunities with possible advancement potential.
Assistant Store Managers handle administrative duties such as opening and closing, training incoming employees, and maintaining a safe and positive work environment. These are skilled positions, but they are available to entry level candidates possessing the proper qualifications.
General Store Managers deal with ordering merchandise, analyzing financial statements, hiring new employees, and a host of other supervisory responsibilities. General Store Managers require strong managerial skills and management level credentials.
District Managers are responsible for profits related a to group of stores in a given area (generally 8 – 10 stores). These are high-level management jobs responsible for the supervision of every aspect of store operations and profitability, and are therefore only open to qualified candidates possessing specific past experience at the District Manager level.
Corporate careers range from accounting and sales, to marketing and logistics careers. The groups corporate headquarters is located in Elmsford, New York. Some corporate jobs offered include:
Marketing Coordinator
Human Resources Manger
Financial Analyst
E-commerce IT Project Manager
Space Planning Specialist
Assistant Merchandise Manager
Part Time Help Desk Associate
Program Developer
Customer Service Representative
Staff Accountant
These are all skilled roles generally requiring college level course work and previous corporate level employment.
Salaries & Benefits:Qualifying employees receive a competitive benefits package including a 401(k) plan, employee discounts, healthcare options, and life insurance. Employees also enjoy a paid training period, career development programs, and company supplied uniforms.
Salary for most Sales Associates average from $7.00 – $9.00 an hour nationally. Minimum wage and other wage related regulations will apply.
Assistant Managers average between $24,000 and $38,000 annually, while Store Managers earn an average salary of $42,000 to $68,000 annually.
Corporate career earnings average between $37,000, to upwards of $100,000 yearly depending on the responsibilities associated with the position and the required qualifications.
Following are some other common company titles and their average annual salaries:
Customer Service Representative – $26,000 – $36,000
District Manager – $65,000 – $100,000
Front End Supervisor – $23,000 – $30,000
Executive Assistant – $40,000 – $49,000
Executive Manger – $37,000 – $63,000
Assistant Operations Manager – $18,000 – $40,000
Regional Vice President – $141,000 – $170,000
It's important to note the wide gap in wages in each employment group. Such a wage gap illustrates the vast advancement opportunities available to both entry level and skilled employees. The company prides itself on advancement from within, and the above numbers are proof of that philosophy.
Advice For Application Process
There are many ways to apply for jobs at Party City. First we'll look at how to apply for Party City online. The Careers section of the company website offers an easy way to apply for Party City jobs online.
You'll need to fill out a short profile form, including a user name and password before you can fill out a free application. Once your account is confirmed you can search Party City jobs by location and position, research hiring requirements, or fill out a Party City job application online.
If you apply online with a direct application, you'll be given the option to receive free emails regarding open job listings as they become available.
Their online portal is quite involved, listing all available Party City careers in their respective locations accompanied by an extensive job description for each position. Searches are broken down according to the following structure.
Store Positions
Corporate Positions
Job Fair / Open House Positions
Store Positions include everything from entry level associates to management careers. Corporate Positions covers all upper-level corporate jobs. Job Fair / Open House jobs are not always available, and seem to run on a need-based schedule. You'll need to check their website often to see when Job Fair / Open House Positions are open.
A printable application form for Party City is also available online. Follow the link at the bottom of this article to either print or download the online application form. If you fill out a printable Party City application, or if you choose to apply in person or with a resume, applications for Party City jobs can always be dropped off at a location near you.
If your called in for an interview, you'll be sitting down with a hiring manager for a one-to-one discussion regarding your past work experience and qualifications. One of the most common questions asked by their hiring managers is, "Why do you want to work here?"
Answer the question truthfully, but remember to state that you have a desire (interest, passion, etc.) for event planning and would like the opportunity to inspire customers with your enthusiasm and ideas.
Competitors
Two other companies committed to providing top-quality merchandise for celebrations and holidays are the Disney Store and Spirit Halloween.
The Disney Store is mainly child themed, offering costumes, themed accessories, toys, and gifts. With nearly 100 retail locations nationwide, and open job listings for both entry level and skilled job seekers, you're sure to discover a fun and exciting job opportunity with this world recognized organization.
Spirit Halloween, a division of Spencer's, only operates during the Halloween season (October), but those who are successful in securing a seasonal position and perform well are generally taken on year after year. Their employment schedule runs from July to November for District Mangers, and from August to November for Assistant Managers, Store Managers, and Sales Associates.
Though both of the above named retailers specialize in a particular industry niche, they are both organizations that encourage their employees to be creative while inspiring others to produce a special celebration, no matter what the season or occasion.
Also See:
1-800-Flowers: Checkout the application page for work at 1-800-Flowers.
Hobby Lobby: See our guide for careers at Hobby Lobby.
Bath & Body Works: See our resource page for more information on Bath & Body Works careers.
Claire's: See our guide for careers at Claire's.
Disney Store: Visit the job application for Disney Store to apply today.
Company Links
http://www.partycity.com/category/customer+service/about+us.do