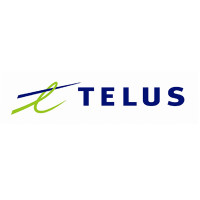 Telus is a telecommunications company that is found in Canada. They offer service such as internet access, voice, entertainment, satellite television, healthcare and video. They also have a wireless division called "Telus Mobility", offering a variety of mobile phone networks including LTE. It is the current monopoly holder in British Columbia and Alberta, and a major carrier in Ontario and Quebec. Interested in a Telus application? Read on below.
Telus was formed in 1990 by the Alberta government as TELUS communications. It acquired Edmonton Telephones Corporation, giving it a monopoly of those services in that area. In 1999, Telus and BCTel merged into one company, where its name was changed to "Telus Corporation", and then became Canada's second largest telecom with 22% of the market share.
Currently, Telus is headquartered out of Vancouver, British Columbia, Canada. They have over 43,000 employees, and earn around $10.60 billion in revenue. They also operate globally through their Telus International division. They have centers located in the Philippines, the United Kingdom, the United States, and Central America. They also have locations in Eastern Europe, referred to by "Telus International Europe".
Telus is not only a company that is extremely focused on providing homes and businesses with everything for their telecommunication needs, they are also a company that understands the importance of giving back. They have donated over $245 million to charities and other non-profits, as well as volunteering over 4.1 million hours.
Telus Careers
There are many branches to this company that needs employees of all types to fill the ranks. There are positions at the corporate office as well as their individual customer service centers and retail locations. At any of these locations, you can find entry-level jobs to start at before moving up to a Telus career. Some positions at the centers and retail include customer service representative, technician, and sales.
The corporate office heads the operations out of Vancouver, so you may need to relocate if you are interested in a job here. There is a wide array of positions at these locations, so everyone can find something that is a match for them. Some of the corporate office positions include human resources, marketing, and IT.
How old do you have to be to work at Telus? Because of the nature of the work, a person must be at least 18 years of age to work here. Most positions will require at least a high school diploma or equivalent. Specializes positions, such as a technician, will have to complete all required training courses before being able to work.
Telus is a company that shows its appreciation for their employees by offering a competitive benefits package for their industry. An employee must meet eligibility requirements to receive benefits. Some benefits include performance based compensation, medical and dental plans, and a health spending account. They may also receive short-term and long-term disability and life insurance. There are only a few of their benefits.
The retail hours will vary depending on location, so you should contact them for more information. Often locations are open from 8:30am to 5:00pm daily with limited hours on weekends. As for the call center and the technician hours, these are available 24 hours a day, 7 days a week.
Job Descriptions & Salaries
Technician- A technician is responsible for installing and maintaining both copper and fiber optics cabling. They must also be able to diagnose problems in order to help a customer get back to their normal routine. They will also help customers learn how to use their new equipment and answer any other questions that they may have. A technician may earn around $14 per hour.
Customer Service Representative- A customer service representative is responsible for answering customer phone calls at the call center. They will help assist them with over the phone trouble shooting, schedule service calls, and help accept payments over the phone. They will also help set up new customers with services. A customer service representative may earn around $12.30 per hour.
Sales Manager- A sales manager will general be responsible for selling telecommunication products to small businesses and other local businesses. They will also be responsible for leading their sales staff in meeting their sales goals for their regional area. The sales manager must also provide reports as requested by the director of sales. A sales manager may earn around $50,000 a year to start.
Engineer- The engineer is responsible for developing strategies in order to optimize the use of resources. They will also perform audits to oversee and manage allocated resources. They will work closely with the IT department to help make processes run more smoothly, taking the role of project manager. An engineer may earn around $100,000 a year.
Telus Interview Questions
At your Telus job interview, you may be asked some of these questions.
What makes you want to work at Telus? For this question, you can answer about how you share their values and appreciate their emphasis on community service. You can also answer about how they offer great advancement opportunities and benefits. The interviewer wants to see what your motivations for applying here are. Try to avoid saying something like "I just wanted a job".
What would you to if you had a customer that you were unable to make happy? The interviewer is trying to get an idea of your skills in customer service. Answer about how it is important to stay calm, and try to do your best to be patient with the customer.
Have you ever had a time where you felt that you received poor customer service? The interviewer wants to know if you can acknowledge a deficit in customer service so that you can empathize with what a customer feels like when they do not feel that they are being heard. Answer honestly, and mention why it is important to be patient and kind with the customer.
What makes you the best candidate for the job? The interviewer is really looking for people to stand out in a positive way. This is your chance to highlight whatever strengths you may have that can be beneficial to this company.
Where do you see yourself in 5 years? With the benefits packages and advancement opportunities, this company is looking for people who want to be there for a significant amount of time. You should be honest about your intentions working here, discussing where this company fits into your overall plan.
Advice for the Application Process
If you are trying to figure out how to apply at Telus, it is as easy as logging onto Telus jobs online and filling out an application form to apply directly online. For retail positions, you may also be able to fill at an application at your nearest location. Unfortunately, you will be unable to find downloadable applications or printable applications.
You can find the job descriptions and responsibilities for all available positions clearly stated so that you can find the right position for your unique skills and talents. This way you can be sure to only apply for positions that you are qualified for. It also helps a great deal to submit an updated resume along with your application.
You may not hear back from this company for a couple of months after applying. If several months have gone by without hearing from someone, you can contact the location that you applied at in order to check your application status and to find out if they are still hiring for that position.
Preparing for your interview is the best way to do well. You can take the time you have before your interview to interview yourself and help you shake off any nerves that the interview may be causing. This is only half the battle. If you do not go in there dressed properly, you will likely not even be considered. Dressing in a professional manner will help give you an advantage.
Also See:
Texas Instruments: See our guide for careers at Texas Instruments.
P.C. Richard & Son: For career opportunities, fill out the P.C. Richard & Son online application.
Verizon: Verizon offers opportunities for both, beginners and experienced roles.
AT&T: For career opportunities, fill out the AT&T online application.
T-Mobile: See our resource page for more information on T-Mobile careers.
Company Links
http://about.telus.com/community/english/careers