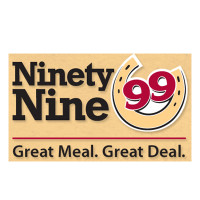 Ninety Nine Restaurant and Pub is a chain of casual dining restaurants that is owned by the O'Charley's brand, which also runs Stoney River Legendary Steaks.  To find out how to apply for Ninety Nine online, follow the link at the bottom of the page to submit a Ninety Nine application.
The menu offers a wide range of family favorites including steaks, sandwiches, seafood, salads, burgers and chicken as well as some tempting and decadent desserts.  The bars serve a large number of specially created signature cocktails along with some classics and different beers and wines.  They also offer catering services for large groups.
Most of the restaurants are in Massachusetts, where there are 63 locations alone.  Other locations are in Connecticut, Rhode Island, Maine, Vermont, New York and New Hampshire, giving a total of over 100 restaurants across the New England area.  This is in addition to the 200 or more locations operated by O'Charley's across the USA.
The Ninety Nine brand goes back to 1952 when Charlie Doe decided that there needed to be a family-friendly place for people to drink and eat with good service, big portions and decent prices.  The headquarters of the company are located in Woburn, Massachusetts and the brand as a whole has one of the lowest turnover rates in the industry.
Ninety Nine Careers
With so many locations across the country there are always many job opportunities in the restaurants and pubs.  Positions range from Dishwashers, Servers, Hosts and Hostesses, Line Cooks, Bartenders, Assistant Managers, Kitchen Managers and General Managers.  Many of these are entry-level jobs and they will accept applications from candidates without much experience.
If your career path is taking you in another direction, there are also Ninety Nine jobs in the corporate sector, although the number of positions is fewer.  The types of jobs available are in the areas of Administration, Project Management, Finance and Accounting, Human Resources, Information Technology and Sales and Marketing.
How old do you have to be to work at Ninety Nine?  You must be at least 18 years old or over to submit a Ninety Nine application, although for some jobs you will need to be older so make sure you check the exact specifications.
Most locations open at 11am daily and close at 11pm Monday to Thursday, 12am Friday to Saturday and 10pm on Sundays.
There are great benefits available to all members of staff with Ninety Nine careers.  The majority of hourly employees are eligible for 401(k) plans and paid time off and may become eligible for healthcare depending on the number of hours they work.  Full-time staff can choose from different medical, dental and vision insurance plans and have access to an Employee Assistance Plan.
Job Descriptions & Salaries
Server – Servers have many responsibilities that mainly revolve around customers and ensuring that they have a great experience every time they come in.  In addition to serving food you will also be required to help keep the restaurants clean and tidy and help with some basic food preparation.  The pay for this position starts at $5/hour plus tips.
Host/Hostess – As the first person that customers see when they come in it is very important that you have excellent interpersonal skills and greet every person with a warm and welcoming smile.  You will seat guests in the order they arrive and handle enquiries, especially when the place is busy.  The pay for this role can be above $12/hour.
Bartender – The job description for a Bartender is fairly standard across the industry.  Most of the time you will be taking drinks orders and serving customers, making sure that you check the IDs of some of the patrons.  You will also help to keep the bar clean and stocked and deal with other tasks as assigned.  This job is typically paid at minimum wage plus tips.
General Managers – The General Manager must be able to oversee all aspects of the restaurant, kitchen and bar at the same time.  You will be expected to handle the hiring, training and ongoing management of all staff members.  Managers need to ensure that guests are happy and deal with issues as well as handling administrative tasks.  The salary is up to $50k/year.
Ninety Nine Interview Questions
When you apply for jobs at Ninety Nine, practice some common interview questions to give yourself the best chance of employment.
Why do you want to work here?  It's important to be ready for this question as it will probably be the first one asked.  Always make sure you read up on the company before you go so that you can say what drew you to the company in the first place.
Are you good at multitasking?  You sometimes might have to deal with conflicting priorities with Ninety Nine jobs, so it helps to give examples of when you've had to deal with similar situations to demonstrate your ability.
Do you have customer service experience?  If you do have any experience working with customers then here is where you describe it.  If not, then talk about other experiences you've had that have required people skills.
What are some of your favorite dishes? You'll often be asked to make recommendations to customers so when you talk about your favorite meals, make sure you sell them to the person interviewing you.
How would you deal with an angry customer?  You'll need to be able to assure the hiring manager that you are able to stay calm under pressure and can still deliver great customer service even in difficult scenarios.
Advice For Application Process
If you search Ninety Nine jobs online you will be directed to the careers section of their website where you can see the vacancies available and find your local restaurant by entering your zip code.  You can then submit a Ninety Nine job application online for hourly, management and corporate positions by filling in their online application form.
If you don't want to apply online and instead want to make a direct application to a location then you can go down there in person and hand in your resume or request a free application from the manager there.  However, you can't download a printable application for Ninety Nine.
The entire application process is likely to take a few weeks to complete, and you may be asked to come to one or two face-to-face interviews with the General Manager and the District Manager.  Even though a full business suit probably won't be necessary for most jobs, it's still highly important that you are well presented and smartly dressed for your interview.
You should expect questions about your experience, especially if you're applying for corporate or managerial positions, and also behavioral questions to see how you would handle specific situations that you might be faced with.  Always answer their questions in complete sentences and remember to maintain a friendly and positive attitude.
Also See:
Round Table Pizza: See our guide for careers at Round Table Pizza.
Peter Piper Pizza: For employment at Peter Piper Pizza visit the application page.
Cash And Carry: See this page for jobs at Cash And Carry.
Papa Gino's: Visit the Papa Gino's application.
Hard Rock Cafe: Visit the job application for Hard Rock Cafe to apply today.
Company Links
http://www.99restaurants.com/about.aspx