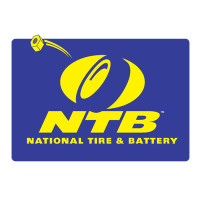 National Tire and Battery is a chain of 226 auto service centers located across the United States providing oil changing and tire and wheel services. The company was started by Sears in 1997, and then sold to TBC Corporation in 2003.
TBC Retail Group, a company owned by TBC Corporation, operates just under 800 tire and auto service centers, including National Tire and Battery, Tire Kingdom, and Merchant's Tire and Auto Center. The corporation was founded in 1956 in Dayton Ohio. TBC Corporation was originally known as Cordovan Associates.
Services offered at NTB stores include brake checks, wheel alignments, steering linkage inspections, battery services, and fluid services. They'll change your wiper blades, too. Of course, they'll also repair or change your tires. They carry fourteen different brands of tires, including Michelin, Goodyear, Bridgestone, and more. For a National Tire and Battery job application online, see their website below.
Corporate level National Tire and Battery careers are available through TBC Corporation. To browse current positions and to download application form, visit TBC's career web link, below. This company provides many benefits and incentives to its employees at the corporate level.
National Tire And Battery Careers
NTB offers service manager and store manager careers at its service centers, as well as higher management positions at the corporate level. If you are interested in a management position at one of their locations, see their website to send your resume or for a direct application.
Non-management National Tire and Battery jobs are General Service Technician, Technician, and Sales Associate. These jobs offer competitive pay and commissions. If you would like to apply for jobs at National Tire and Battery, go to their website to see if they are hiring at your local service center.
How old do you have to be to work at National Tire and Battery? You must be at least 18 years old to work at NTB. Management positions require experience. If you are interested in working in the automotive industry, go to the website below for a printable application for National Tire and Battery.
Most NTB service centers keep long hours for customer convenience. Typically, they are open Monday through Friday 7:30 AM to 8:00 PM, Saturday 7:30 AM to 7:00 PM, and Sunday 8:00 AM to 6:00 PM. Hours for individual locations are available on their website.
National Tire And Battery Job Descriptions
Store Manager – As a manager, you would hire, train, and manage the staff. You would make sure that the store was being run according to the company's policies and safety guidelines. The manager tracks the sales and profits of the store. You could expect an annual salary around $50,000.
Service Manager –The Service Manager manages the service department of the store. You would assess the abilities of auto repair applicants, explain services to customers, and pitch in as needed. Service Managers make about $45,000/yr. To apply for National Tire and Battery jobs online, see their website.
Technician – As a Technician, your job description would be to do inspections, estimates, and repairs on brakes, wheel alignments, and more. The technician also does oil changes, and drives the customers' cars. Technicians must use high powered equipment safely. You could expect pay of about $12.00/hr. and up. You can apply online today.
General Service Technician –The General Service Technician installs and repairs tires. This job's responsibilities include ordering tires and parts, and keeping the service area clean. If you are interested in National Tire and Battery jobs, see the website for a printable application form.
Sales Associate – The Sales Associate sells tires and services to the store's customers. Sales Associates must know all of the products, be able to explain them thoroughly and politely, and follow the company guidelines with customers. This position starts around minimum wage, which is at least $7.25/hr. For a National Tire and Battery application, visit the website below.
National Tire And Battery Interview Questions
These are some questions you may be asked during your interview with this company.
Why would you like to work for National Tire and Battery? The interviewer wants to know that you understand what kind of work you would be doing, and how interested you are. Be sure to let them know that you are familiar with the company. If you love cars, let them know it.
Are you familiar with our products and services? This one is a must. You can't sell the products and services if you don't understand them. Show that you know some of the brands that the company sells, and that you understand what the service center does.
What kind of experience or training do you have? The different jobs the company offers require different amounts of experience. If you are seeking a management career, you'll need to have retail experience and references. If you want a technician job, you'll need to have had training. Show them any certification you might have.
Do you have reliable transportation? The interviewer needs to know that you will be able to show up on time for your scheduled shifts. Let them know how you plan to get there, and your availability. Some positions require a driver license, so let them know if you have one.
Advice For Application Process
Once you've been granted an interview, take care to create a good impression. Since this job is in the automotive industry, be prepared to talk about cars and tell them about any mechanic skills that you have. If you want to know how to apply for National Tire and Battery online, see their website below for an application form.
With 226 auto service centers across the United States, this company offers many job opportunities. For a free application, and to see what positions are available at your local store, see their website, listed below, and click the link to the online application. You may have to wait to find out whether you get the job. Don't forget to check back with them on your hiring status if you don't hear from them.
Also See:
Hyundai: Visit the Hyundai application.
Longs Drugs: For employment at Longs Drugs visit the application page.
Rite Aid: Visit the job application for Rite Aid to apply today.
Goodyear: Use the Goodyear job application to apply here.
Midas Mufflers: See this page for jobs at Midas Mufflers.
Company Links