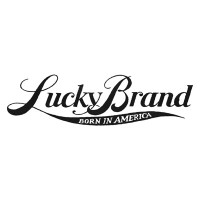 As you fill out a Lucky Brand Jeans application, know that you're striving to join a company that works to be at the forefront of fashion.  With their products in the United States, Canada, Australia, Europe, and several other countries, Lucky Brand Jeans is quickly becoming global.  Links to apply for jobs at Lucky Brand Jeans are at the bottom of the page.
During the 1970s, Gene Montesano and Berry Perlman opened a shop call Four Way Street in Florida that specialized in jeans.  Every evening, they would take their jeans, some bleach, and a pocketful of quarters to a laundromat in order to customize their product, laying the ground work for their company. In 1978, Montesano left Four Way Street and moved to L.A. hooking up with Michael Caruso and launching Bongo, where he stayed for fifteen years.
Montesano left Bongo in 1990 and rejoined Perlman, opening Lucky Brand Jeans, striving to maintain a brand that is known for its great humor and quality.  Liz Claiborne Inc. acquired the company in 1999 and encouraged the company to expand.  In 2005, they did, creating lines for children.  A year later, stores catering exclusively to this new line were launched.  In December 2013, the company was bought by Leonard Green & Partners.
People with Lucky Brand Jeans jobs know that their company has a very Bohemian style.  It is expected that their high-end jeans are good quality.  In 2013, the company brought back their Made In America jeans, with all the products and stitching being done in the United States in both their men's and women's lines.
Lucky Brand Jeans Careers
At the Lucky Brand Jeans corporate level, there are several positions available, most of which are available in Vernon, California.  However, there are many corporate jobs available across the country making sure that stores are working properly and meeting their sales goals.
At the local level, you'll be working in one of the many chain stores in the United States or Canada.  Within the stores, making sure that customers have a great experience and come back to shop is a major part of what store employees are expected to do in order to help meet sales goals.
How old do you have to be to work at Lucky Brand Jeans? Age requirements vary by location as several entry level positions depend on the minimum age to work.  As you browse Lucky Brand Jeans jobs online, make sure to read all job requirements closely as some positions require various experiences, degrees, or certifications.
Those with Lucky Brand Jeans careers know that each store maintains different hours.  However, most stores open between nine and ten am Monday through Saturday and close anywhere between eight and ten pm.  Sundays, all the stores have reduced hours, opening between ten and twelve and closing anywhere between six and ten.  Some stores also have reduced Saturday hours.
Lucky Brand Jeans Job Descriptions
Assistant Store Manager – By coaching and developing your team, you will help guide them towards success in meeting the store sales goals.  You will train your staff to make sure that all customers have a great experience whenever they walk into your store.  Compensation is around $50,000 a year.
Supervisor – You are the role model of the store.  By keeping yourself to a high standard in customer service and knowing about the brand and various sales, you'll push your staff members to work as hard as you do.  Compensation is around $30,000 a year.
Sales Associate – As customers walk into the store, you will make sure to have a friendly smile and demeanor so they feel welcomed into the store as you strive to meet company and store sales goals.  Compensation is around $25,000 a year.
District Manager – Knowing business trends is a big part of this job as you will be creating strategies for the stores in your district.  Maintaining great business relationships inside and outside of the company is a big part of this job as you strive to constantly push your stores to improve.  Compensation is around $55,000 a year.
Textile Assistant Designer – Being able to sketch an idea from a concept while taking a project from start to finish is a big part of this position.  You will work with prints to scan, color, recolor, and create repeats.  Compensation is around $35,000 a year.
Lucky Brand Jeans Interview Questions
These are some questions that you may be asked during your interview:
Why do you want to work for Lucky Brand Jeans? As this is an extremely common interview question, you should be prepared for it.  Talk about what drew you to the company, whether it was the company culture or benefits and why it's your first choice in places to work.
What experience do you have?  Highlight all of your relevant experience.  If you have any customer service experience, make sure to talk about it and what you enjoyed about it.  Make sure to provide plenty of examples to back up your claims.
Where do you see yourself in the next few years? Your interviewer is looking to see if you're planning on staying with Lucky Brand Jeans.   Be realistic in your career expectations, but make it clear that you're willing to take on extra challenges and responsibilities in order to move up in the company.
As this company is heavily driven by customer service, you may be asked this question in the form of a hypothetical situation: How would you take care of an upset customer? Be realistic and practical as you explain the steps you would take to turn the customer's experience around.
Lucky Brand Jeans is a clothing store, and they expect their employees to be familiar with their products, so you may be asked this question: Do you wear Lucky Brand Jeans clothing? Be honest.  Talk about whether or not you wear the brand and how familiar you are with their clothes.
Advice for the Application Process
How to apply for Lucky Brand Jeans online: start by selection the region that you're in.  The first link below is for the United States, the second is for Canada.  Then, search for the position that you're interested in and start filling out a Lucky Brand Jeans application.  If you don't have a position in mind, search for a Retail Career Opportunities and fill out a general application.  There is no printable application for Lucky Brand Jeans available on their website.
Before attending your interview, do research on the company and industry to have a list of questions prepared that you can ask at your interview.  This may seem excessive, especially for an entry level position, but it will place you in front of the other candidates as it will show that you think ahead.
Have a positive and friendly demeanor when you attend your interview, as it will give a good impression.  Dress in business casual as the interview will be in a semi-formal setting.  If you've applied for a managerial or supervisory position, a suit would be more appropriate.
Make sure to show gratitude at the opportunity to interview with Lucky Brand Jeans.  After your interview, inquire about the best way to check on your hiring status as few applicants will learn if they got the position they applied for during their interview as Lucky Brand Jeans will want to see all candidates before making a final decision.
Also See:
Old Navy: For career opportunities, fill out the Old Navy online application.
Frederick's Of Hollywood: Frederick's Of Hollywood offers opportunities for both, beginners and experienced roles.
The Limited: Use the The Limited job application to apply here.
David's Bridal: Use the David's Bridal job application to apply here.
Catherines Plus Sizes: See our guide for careers at Catherines Plus Sizes.
https://www.youtube.com/watch?v=-F_5MNdfwUM
Company Links
http://www.luckybrand.com/us-careers/careers-us.html
http://www.luckybrand.com/careers-in-canada/careers-ca.html