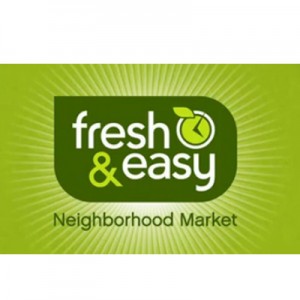 Fresh & Easy is a new kind of market. They offer a simpler, more affordable way customers can buy groceries offering healthy products that don't cost a fortune. Fresh & Easy grocery stores are designed with low cost for them in mind so they can pass the savings to you. Everyone wants both value and quality, why not have both? They've also taken confusion out of sales gimmicks and keep prices simple every day for everyone.
Their purpose: They create value for their customers so they will come back again and again.
Their values: They treat people how they would like to be treated, and nobody tries harder for their customers.
Their customers: They think fresh, wholesome food should be accessible and affordable for everyone.
Their neighbors: They're a neighborhood market, so it only makes sense that they care about their neighbors.
Their people: People who are valued are better able to value customers, so creating a rewarding workplace is very important to them.
Fresh & Easy truly believes that their values and principles reflect those of their customers in the Southwest, United States. In 150+ locations in California, Arizona, and Nevada, they're providing high-quality food at affordable prices.
This is not just a great place to shop. It's also a great place to work. Their strong values apply to everyone they come into contact with whether it's their staff, customers, or anyone in between. Does this sound like a great place to work? Are you interested in joining the team and making a difference? Keep reading and learn about job opportunities and Fresh & Easy careers.
Fresh & Easy started as a subsidiary of Tesco, the world's third largest retailer. They started in the Southwest United states in 2007. Fresh & Easy is headquartered in beautiful El Segundo, California near Manhattan Beach and the LAX airport. Fresh & Easy brand foods never contain high-fructose corn syrup, added trans fats, artificial colors, or artificial flavors. This is part of their commitment to providing high quality foods at a great value.
Fresh And Easy Careers
Hiring requirements for Fresh & Easy jobs vary depending on which position you're interested in. One requirement that all applicants must meet: a commitment to providing quality food at a great value in a friendly, green environment. Visit the careers website so you can see responsibilities and a job description of a job you're interested in. The application form will indicate any specific hiring requirements.
They will accept your resume, cover letter, and Fresh & Easy application for consideration. All qualified, motivated candidates will be contacted in order to advance with their interview process. This is where more information about salary and benefits will be shared so they can answer any questions about them or the position.
How old do you have to be to work at Fresh & Easy? The minimum age for a job with this company is 16 years old. There is no maximum employment age; all applicants above age 16 may apply online.
Any asset of a business must be taken care of in order to perform at its highest level. Since their most valuable asset is their amazing staff, they take care of them with competitive wages and benefits. See below for a few average wages than can be expected at this company. Clearly, there is a lot of room for growth in a career in this business.
Customer Assistant – $10.76/hour, Team Leader – $13.88/hour, Assistant Manager – $16.89/hour, Store Manager -$25.48/hour, Functional Analyst – $60,171/year, Corporate Manager – $85,063/year
Wages aren't the only reason this business is a great place to work. They also offer employees a fantastic benefits package. Benefits of a career with them could include the following.
Insurance, Health, & Wellness
Health Insurance, Life Insurance, Vision Insurance, Dental Insurance, Disability Insurance, Occupation Accident Insurance, Accidental Death & Dismemberment Insurance, Flexible Spending Account, Health Savings Account, Mental Health Care, Retiree Health & Medical
Financial & Retirement
Retirement Plan, 401K Plan, Performance Bonus, Supplemental Workers' Compensation, Equity Incentive Plan
Family & Parenting
Family Medical Leave, Military Leave, Unpaid Extended Leave
Vacation & Time Off
Vacation & Paid Time Off, Paid Holidays, Bereavement Leave, Sick Days, Volunteer Time Off
Perks & Discounts
Employee Discount, Employee Assistance Program, Commuter Checks & Assistance, Mobile Phone Discount, Company Social Events, Gym Membership
Professional Support
Professional Development, Tuition Assistance, Job Training, Apprenticeship Program
Fresh And Easy Job Descriptions
Fresh & Easy is in search of people who share with them a passion for food. They're looking for people who respect others, work well in an energetic, team based environment, and can get excited about being part of a growing, unique business.
There are Fresh & Easy careers available in every segment of their business. If you're looking for something in corporate, manufacturing, retail, distribution, or if you're interested in an intern position, they have options. See below for departments in each segment.
Corporate
Finance, Human Resources, Information Technology, Legal, Loss Prevention, Manufacturing, Marketing, Merchandising, Real Estate, Retail Operations
Manufacturing
Engineering, Food Technology, New Product Development, Production
Retail
Customer Assistant, Team Leader, Assistant Manager, Store Manager
Distribution
Distribution Associate
Internships
Corporate Intern, Manufacturing Intern
If these positions and departments interest you, find the Fresh & Easy job application online.
Advice For Application Process
This company wants your job inquiry with them to be successful. They want applicants to find a job with them that would be a good fit. When considering a position with this company, consider your own skills, knowledge, and qualifications. Which positions are your qualifications compatible with?
When filling out a Fresh & Easy application, be thorough, honest, and accurate. Be sure all relevant experience and education is included. The employer wants a chance to get to know potential employees when examining applications. How your application is filled out is their first impression of you. It's a good idea to review all information after your initial completion of the application before submission and ensure accuracy.
An extra advantage when applying for a job can easily be obtained by writing a well written cover letter. This is a good, easy way to get more positive attention from your potential employer. This will also further help them in understanding why you're interested in a job with them.
If there is potential for a job for you, they will try making contact via telephone or email. Please make sure you're providing them with current contact information. Stay on top of your phone calls and emails in case they are trying to make contact so you can move forward with the application process.
If you're chosen to be interviewed for a job, make sure you're at the right place at the right time. If you have any questions regarding time or location of an interview, then please do not hesitate to contact the employer. They should be happy assisting potential employees. You may find several jobs that you're qualified for and interested in on the website. If so, feel free to submit multiple applications.
Fresh & Easy sincerely believes that the grocery store industry is a great one no matter where you work. While there are no other grocery stores just like this one, there are plenty of options for good, quality grocers where you could work. For Fresh & Easy jobs, helpful application links are listed below. Fresh & Easy jobs online are easy to find. A printable application for Fresh & Easy is not available so please apply for any available positions online. Since they do not have a printable application form, there is no need to submit a physical, direct application.
Men and women seeking employment can visit the Fresh & Easy website for a free application. They are constantly improving the Southwestern United States and focusing on customers' daily needs. If you're interested in being part of that vision, please apply for jobs at Fresh & Easy with their online application.
Fresh & Easy hours of operation vary depending on the location. Some locations are open 24 hours a day. For hours of the store you'd like to work in, please check the store locator on their website. For distribution, manufacturing, and corporate positions, hours will be discussed in the interview process so they can find a shift that works for all parties involved.
This diverse business is an equal opportunity employer. They are constantly seeking out a diverse group of people who can help them improve their business, making customers' lives better. One of the top competitors is Trader Joe's. Trader Joe's also offers high quality, natural foods and has a greater nationwide presence. If you are not local to any Fresh & Easy locations, there could be a Trader Joe's near you where you could work.
Another competitor in this industry is Whole Foods. Whole Foods is quite similar to Trader Joe's offering quality, natural groceries. They also have a large, national presence so there is a good chance there is either a Trader Joe's or a Whole Foods near you if you are not in the Southwest United States. The Fresh & Easy difference is their focus on low prices and their corporate culture.
Also See:
Smart & Final: Visit the Smart & Final application.
Schnucks: Visit the job application for Schnucks to apply today.
Pricerite: Checkout the application page for work at Pricerite.
Shaw's: Shaw's offers opportunities for both, beginners and experienced roles.
Ralphs: Ralphs offers opportunities for both, beginners and experienced roles.
Company Links
http://careers.freshandeasy.com/
http://www.freshandeasy.com/about-us/who-we-are/