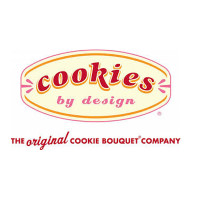 If you have an interest in baking and decorating cookies for people on a number of holidays and special events, fill out a Cookies by Design application. By being creative and inventive, you can join a team that aims to make every treat special.  Links to apply for jobs at Cookies by Design are at the bottom of the page.
Cookies by Design was opened in 1983 by Gwen Willhite in Oklahoma.  Originally, the company focused on making edible arrangements of cookies.  With the success of the company, Willhite moved it to Dallas, Texas in 1986.  Once the store was established, attention was turned to franchising the company, the first of which was opened in 1987.  The company was originally called Cookie Bouquet, but changed it to Cookies by Design in 2004.
Currently, Cookies by Design has around two hundred and fifty locations in over two hundred cities across the United States.  There are a number of international franchises also scattered across the world, which are usually found in larger cities to give the company a solid customer base.
Although this company is known for their cookies, the company has started to roll out other products to become more diverse.  In 2013, they started to roll out cupcakes, which have proved to be extremely successful.  To serve customers that may not have a store near them, Cookies by Design has also started overnight shipping to help their products remain fresh.
Cookies by Design Careers
Local Cookies by Design jobs are found in franchises across the United States.  There are very few franchises within the same city around the country, so knowing which store you're applying to is extremely important.  If you're hired at a brand new franchise, you may find yourself sitting through a two week training course.
Cookies by Design careers at the corporate level are either geared towards designing and creating new products, helping new franchises get off the ground, or maintaining the company and franchises.  A majority of corporate positions are at the headquarters in Plano, Texas, but some may be scattered around the country to help franchisees.
How old do you have to be to work at Cookies by Design? Age requirements vary by position.  As you cannot look at Cookies by Design jobs online, make sure to ask about any job needs that the position may have, like various experiences, degrees, or certifications.
Because there are Cookies by Design locations scattered all over the country, hours tend to vary.  A number of these locations also offer delivery services for products offered online through the corporate website or in the store.  The times offered for delivery will also vary by location.
Cookies by Design Job Descriptions
Baker – On a daily basis, you'll help make the sweet treats for customers, making sure that everything is made to the company's expectations.  As needed, you will decorate the cupcakes and cookies to the customer's specifications as well as arrange any baskets that may be ordered.  Compensation is around $30,000 a year.
Cashier – When customers come in, you'll be the first person that they see and make sure that they get outstanding service.  Any questions that they may have about the products or making a basket for someone, you will be the person that they ask.  Compensation is around $20,000 a year.
General Manager – You will oversee the day to day operations of the store and check to see that every employee is doing their job properly and meeting the expectations of the corporate offices, franchisee, and the customer's.  Compensation is around $40,000 a year.
Shift Leader – You'll work closely with the General Manager to keep everything running on track.  As needed, you will answer and take care of any customer issues that arise and are settled amicably.  You will work to schedule all shifts and train any new employees.  Compensation is around $25,000 a year.
Cookies by Design Interview Questions
These are some questions you may be asked during your interview:
Why do you want to work at Cookies by Design? This is a common interview question, so you should be prepared for it.  Talk about what drew you to the company, whether it was the culture or benefits, and why it's your first choice in places to work.
What experience do you have? If you have any relevant experience, make sure to highlight it. If you don't have any, talk about what you can bring to the position and offer the company.  Use plenty of examples to back up and support any claims that you may make.
Where do you see yourself in the next few years? Your interviewer wants to know if you see yourself with the company.  Be realistic in your career expectations and let them know that you're willing to take on extra challenges and responsibilities in order to move up in the company.
Because Cookies by Design relies heavily on customers for their business, you may be asked this question in the form of a hypothetical situation: How would you take care of an upset customer? Walk your interviewer through the steps you would take to turn the customer's experience around, making sure to be practical and realistic.
During the holiday season, a majority of stores will face immense customer pressure, so you may be asked this question: How do you react and work under pressure? Talk to your interviewer about your reaction and about how you're working on changing anything about your reaction that you don't like.
Advice for the Application Process
How to apply for Cookies by Design online: in order to become a franchise owner, follow the second application link and read your way through all the provided information in order to decide if you would like to become a franchise owner.  At the local level, it would be better to go to the store that you're interested in working at and filling out a Cookies by Design application.  There is no printable application for Cookies by Design available on their website.
Before attending your interview, do research on the company and industry in order to come up with a list of questions that you can ask.  For an entry level position, this may seem excessive, but it will place you above the other candidates as it shows that you think ahead and are prepared.
Your interview will probably take place in a semi-formal setting, so you should dress in business casual at the very least.  If you've applied for a managerial or supervisory position, a suit would be appropriate.  Have a positive and friendly demeanor when you attend the interview because it will give a good impression.
Show gratitude at the opportunity to interview with Cookies by Design and inquire about the best way to check on your hiring status.  Few applicants will learn if they got the position they applied for as Cookies by Design will want to screen all candidates before making a final decision on who they hire.
Also See:
Yogurtland: See this page for jobs at Yogurtland.
Otis Spunkmeyer: See our resource page for more information on Otis Spunkmeyer careers.
Rocky Mountain Chocolate Factory: Visit the job application for Rocky Mountain Chocolate Factory to apply today.
Robeks: Visit the Robeks application.
Haagen-Dazs: See this page for jobs at Haagen-Dazs.
Company Links
http://www.cookiesbydesign.com/contactus.aspx
http://www.cookiesbydesign.com/franchiseinfo.aspx