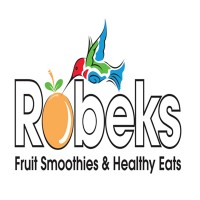 Robeks is a chain of smoothie stores in the US. They offer delightful smoothies made with fresh ingredients. They sell superfood smoothies, classic smoothies, fresh juices, bowls, and many more.
The company was founded in 1996 by David Robertson who worked as an investment banker. His business started as a small smoothie store in Los Angeles, CA. Today, the company is managed by its President and CFO, David Rawnsley.
David's determination to grow his business helped him to open more branches of Robeks all over the country. Today, the company has more than 90 independently owned stores in different states and cities.
Robeks employees receive medical insurance, 401(k) retirement plans, paid time off, and other competitive benefits for staff members. Entry-level employees gain benefits like flexible work schedules, paid training, casual uniform requisites, and career growth opportunities.
People love working for this company because they are exposed to a fun working environment. Also, employees appreciate the company's efforts to promote healthy living by offering the healthiest drinks for everyone.
How old do you have to be to work at Robeks?
Interested applicants for entry-level positions like cashiers must be at least 16 years old. Aside from the age requirement, candidates should be at least high school graduates or GED holders.
Robeks Careers
Robeks offers various entry-level and managerial positions. These jobs are offered with competitive salary packages and opportunities for professional growth. The company is continuously looking for hardworking and motivated individuals for the following positions:
Cashiers: They interact with valued customers every day. Cashiers start approaching people by greeting them and taking their orders. They use a POS terminal in all transactions. By using cash registers, cashiers take the money from customers and give them back their change with the receipt.
Smoothie Makers: Smoothie makers are the first faces that customers will see when they enter a smoothie store. Their job involves greeting and entertaining customers. Smoothie makers offer what's on the menu and they suggest the best-selling products. They build rapport with people, turning them into regular customers. Also, their job involves minor troubleshooting of blenders and food processors.
Shift Leaders: Shift leaders manage the workforce under the supervision of the restaurant managers. Their everyday roles include enforcing the company's policies, training and educating new team members and assisting customers with their concerns. Shift leaders motivate their subordinates and encourage productivity within the store.
Food Preparation Workers: Their job includes cleaning the work areas, utensils, equipment, silverware and dishes. They store food in containers while keeping the food storage areas clean to avoid spoilage. Food preparation workers prepare food based on customers' orders. Also, they manage serving of food, whether for dine in or take-out.
Pricing Coordinator: A pricing coordinator works closely with purchasing, production, and research personnel while getting the necessary product cost details. Also, he or she works with marketing, sales and customer service associates to learn how people distinguish the price structure. As the pricing coordinator discovers more regarding the company, he understands how the business runs.
Assistant Managers: They hire potential candidates to fill the vacancies in the store. They are customer service experts as they interact every day with customers and other employees. The assistant managers take on all responsibilities in the absence of the managers. They cooperate with customers who have complaints and concerns, while observing the behavior of their subordinates at work.
Restaurant Managers: They manage the store's daily operations with particular focus on beverage, hospitality, service and culinary. They are accountable for hiring, educating and training new members of their teams. Also, restaurant managers oversee checking and ordering the supplies. They address customer complaints and other issues in the store.
Administrative Assistant: The administrative assistant answers and directs phone calls. His roles include scheduling the appointments and taking detailed minutes of meetings. He writes and distributes email, memos, faxes, letters, and forms. Updating and maintaining office procedures and policies are also part of his job.
HR Coordinator: An HR coordinator is the one who fulfills different administrative roles for the HR Department in small and big companies. This person is responsible for different tasks like helping the HR managers in recruiting new staff. He arranges the schedules of interviews for all potential hires. Also, an HR coordinator maintains employee records and conducts orientations.
Service Engineer: A service engineer repairs different machines and pieces of equipment in the company. He plans the entire servicing work beforehand so the company's output is left unaffected while he's working. A service engineer works closely with other employees and he assigns tasks to each team member.  
Robeks Application
Each Robeks store is privately owned and managed, so applicants should apply in person. Candidates may also visit the contact page on the official website to know a bit about the employment terms. The website does not have a page for careers.
The application form is available only in all Robeks stores within the country. The company's website does not offer a printable copy of the form. Applicants should dress up properly when visiting the stores.
When filling the application form, job seekers must check everything they write down. All entries in the form should be correct and accurate. Also, they have to keep the form clean and free from erasures.
Applicants must also submit the latest copy of their resume with a recent ID picture. It should contain the same details as the application form. Also, keeping their resume simple and well-formatted is important.
The hiring managers will call candidates who appear fit for the job. The interview is the ultimate test for candidates. So, applicants for interview should prove their eagerness in getting the job by arriving on time and wearing presentable clothing.
Facts about Robeks
The company offers a great place to work, which promotes openness of communication with the manager and coworkers. Employees help one another grow, improve and succeed in every challenge. Also, the company's culture fits everybody.
The company is always looking for ways to serve their valued customers better, so they add new choices in their menu regularly. At the same time, they launch rewards programs to make their customers more satisfied with their purchase.
The chain of smoothie stores is known for selling delightful smoothies and juices. Their products are made of natural ingredients including fresh fruits and vegetables. They offer different kinds of smoothies and more flavors to choose from.
Each smoothie store organizes its own fundraising and catering events. The company recommends visiting a store to know how its management tries to give back to the community. In general, the company shows interest in supporting humanitarian projects in the society.
Application Links
Company: http://www.robeks.com
Careers: N/A
Application: N/A