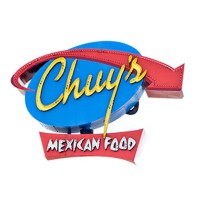 Chuy's proudly describes itself as being 'Deep in the Heart of Tex-Mex'.  This chain of restaurants serves a full range of authentic tasting Mexican food to its customers.  To find out how to apply for Chuy's online, follow the link at the bottom of the page to get started on your Chuy's application.
The company was founded back in 1982 in Austin, Texas where it still has its headquarters today.  It started out in an abandoned barbeque joint, but it has grown significantly since then and now has over 50 locations.  Each location is designed slightly differently, making it a unique experience every time you find a new restaurant.
Every year, Chuy's likes to pay its respects to the King himself, Elvis Presley, on his birthday.  They do this by throwing him his own party, bringing out an Elvis impersonator to entertain the customers.  From time to time they also hold other special events such as the Green Chile Festival to honor the harvests that come out of Hatch, New Mexico.
The food in Chuy's in made to be as authentic and fresh as Mexican food in Texas can possibly be.  They hand roll the tortillas, baking them fresh in the kitchen every day.  They proudly display their ten signature sauces, making them at different levels of hotness for everyone to enjoy.  They have also created unique drinks to go along with their food.
Chuy's Careers
Chuy's jobs based in their restaurants include the positions of Servers, Dishwashers, Bussers, Cooks, Assistant Managers and General Managers.  Most of these are entry-level positions that will require little to no experience, although it's always handy to have.  For management positions candidates will need prior experience in a similar role.
Chuy's careers are also accepting applications for their corporate positions located in their offices in Austin, Texas.  These types of careers are not as common as jobs in the restaurants so you will need to keep an eye out for when they open up.  Typical positions will be in Administration, HR, Finance, Sales, Marketing and other departments.
How old do you have to be to work at Chuy's? You must be at least 18 years old to be eligible for Chuy's jobs.
The restaurants are open 7 days a week and open daily from 11am and close at 10/10.30pm.
Working in hourly positions you will enjoy the benefits of flexible scheduling as well as the opportunity to make good money in tips.  Many employees will also be entitled to other perks such as a health insurance package, a 401(k) retirement plan and paid leave.  Employees will have many opportunities for career advancement.
Job Descriptions & Salaries
Server – As a Server you will have a variety of tasks on a daily basis such as serving customers and taking their orders and then delivering it to the tables.  You'll also have duties including cleaning the restaurant and restocking certain items.  Servers are expected to handle payments and be able to answer customer enquiries.  Servers are typically paid $2-3/hour plus tips.
Busser – The role of a busser is usually relatively simple.  You'll be responsible for clearing the tables when customers leave, ensuring that the tables are cleaned properly, and then afterwards you will need to reset the table for the next lot of customers.  There may be other duties from time to time.  Bussers share tips with servers and earn around $2/hour.
Cooks – Of course restaurants can't function without cooks to prepare the meals!  You'll need to keep to strict food safety and hygiene policies in this role as you prepare the various menu items.  There will also be other tasks including inventory of food items and cleaning duties.  The hourly rate for this role is usually $10.
Restaurant Manager – If you have experience in leadership roles in the food service industry then you can apply for this role.  As a manager you'll have responsibilities over all aspects of the restaurant including supervising and training staff and ensuring that they deliver high standards of customer service.  You will also be expected to manage sales goals and handle administrative work.  The typical salary is up to $75k/year.
Chuy's Interview Questions
When you apply for jobs at Chuy's, give yourself the best chance of employment by preparing answers to common interview questions.
What do you know about Chuy's? Always read up on the company before heading out to an interview.  You'll need to show knowledge of the different types of food and services that they offer. 
What is your favorite menu item here?  This will catch you out if you've never been there before so make sure you have eaten there at least once.  Be positive about the food as you will need to demonstrate that you can upsell items to customers.
How would you deal with an angry customer?  It's unfortunate but it can happen, so you will need to be able to show that you can remain calm and professional in this type of stressful situation.  It's important to be able to maintain a high level of customer service.
Give me an example of when you worked in a team.  This doesn't have to be an example from the food service industry.  You can talk about sports teams or other team activities but make sure you can make it relevant to the job description by describing what skills you learnt.
What is your biggest weakness? This can seem like a tough question to answer as you want to remain positive, but you can do this by describing to the interviewer what you have been doing to overcome whatever weakness you choose.
Advice For Application Process
There are different ways to submit a Chuy's application depending on what type of career you're applying for.  If you interested in hourly job opportunities then you can use the link on the website to download a printable application for Chuy's and take it down to your local restaurant to make a direct applications.  Alternatively, you can take your resume in and request a free application in store.
For managerial and corporate jobs you'll need to apply online by searching Chuy's jobs online and seeing which locations are currently hiring.  Using their portal you can submit a Chuy's job application online by filling in their online application form.  Make sure you double-check the information you're submitting before you turn it in to see if you've made any mistakes.
Depending on which of the Chuy's jobs you're applying for you may be required to attend more than one interview, first with a General Manager and later a District Manager.  It's important to be suitably dressed for your interviews, even if you're applying for an hourly position.  Most roles are customer facing and it's crucial that you can make a good first impression.
The most important thing to remember in your interview is to show off your natural personality.  Customer service is such a major part of the industry and it's all about being able to communicate and keep a friendly and warm attitude.  Make sure you smile at your interviewer and maintain eye contact throughout.
Also See:
IHOP: For career opportunities, fill out the IHOP online application.
Waffle House: See our resource page for more information on Waffle House careers.
Famous Dave's: Checkout the application page for work at Famous Dave's.
Togo's: Use the Togo's job application to apply here.
LongHorn Steakhouse: Visit the LongHorn Steakhouse application.
Company Links