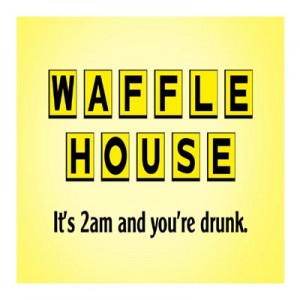 To serve on both sides of the counter is the Waffle House Inc. philosophy.  There are locations in 25 states, which are company owned or franchised.   Family owned and privately held it has been in existence for almost 60 years. A goal of the organization is that every customer leaves happy.  Though it is a nationwide chain, it strives to operate as a local neighborhood restaurant, staying open in and after severe weather, and building ties with local communities. From its origin in 1955 to present day, they continue to serve "good food fast".
Beginning as the dream of two neighbors, Joe Rogers, Sr., and Tom Forkner the corporation is dedicated to both its customers and employees.  They wanted to have a place that friends could gather to eat, and be served by friendly staff. This concept has contributed to rapid growth.  Unlike many other chains, the corporation owns much of the property on which its stores are built.
To support organizations that provide assistance to their associates and to invest in those entities that have the greatest positive impact on their program participants, a foundation was created.  The funds given are reserved for Atlanta area organizations and are used for specific projects.  In this way the corporation is able to give back to its community through a program of corporate giving.  The goal is to improve the quality of life in the communities they serve.  They include health and human service organizations, youth and educational program, the disadvantaged and other civic causes are all considered.
While steeped in the history that made it successful, the company also uses cutting edge technology.  They make full use of social media and a free application can be downloaded for Android or iPhone.
Based in Norcross, Georgia, it has more than 2,100 locations.  A humorous reference to their menu, Georgia is smothered with 381 stores. South Carolina (144), North Carolina (142), Florida (133), Alabama (128), and Tennessee (103) are covered.  Scattered are Texas (99), Mississippi (72), Louisiana (66), Kentucky (64), Ohio (64), Arkansas (41), Virginia (40), and Missouri (39). Arizona (18), Indiana (17), Oklahoma (16), Colorado (11), Maryland (11), and Pennsylvania (11) are chunked. Diced are Kansas (6), West Virginia (4), Delaware (3), Illinois (2), and New Mexico (2).
Waffle House Careers
Individuals with little or no work experience are given opportunities at this company. You can begin as a server or dishwasher without prior experience.
Billed as "America's Place to Work", there are a multitude of jobs and careers offered.  Some common jobs are waitress, grill operator, server, and salesperson.
Get Your Degree!
Find schools and get information on the program that's right for you.
Powered by Campus Explorer
With more experience you may start your employment with a higher salary, or apply for a managerial position. Some common management jobs are unit manager, district manager, unit manager trainee, restaurant operations manager, relief manager, general manager, manager trainee, and human resource specialist.
This company is customer service oriented.  They practice "homegrown management" by promoting from within.  All people in management started as a single-restaurant manager. Managers are in the restaurants every day and leading from the front.
How old do you have to be to work at Waffle House?
The minimum age to work for the restaurant in an hourly position is 16 years old.  If you are applying for management, you are required to be at least 21 years old.
Waffle House Job Descriptions
Employment opportunities are regularly available for many different types of Waffle House jobs and Waffle House careers.
One distinct job description is that salespeople are servers and grill operators are cooks.
Chef associates prepare food orders, among other duties. It is a fast-paced position where confidence is an asset. A kitchen porter serves as an assistant to chef's position. You could expect to be working with dish preparation, washing dishes, and doing some general cleaning.
Managers have a great deal of additional responsibilities. It is their job to present outstanding meals and customer services to guests.  Common management jobs are manager trainee, unit manager, district manager, and division manager.  Within five years, managers may become division managers.  The manager trainee phase can last up to twelve weeks. Unit managers take charge of restaurant locations. The next level of advancement is district manager overseeing two or three units. Promotion to division manager can occur after the prerequisite experience has been obtained.
Whether you are looking for your first job or aspiring to a professional career, the restaurant has many job opportunities available.
Average Wages and Salaries
Average wage for a chef is $9.00 per hour. Kitchen porters and servers earn minimum wage plus up to $5.00 an hour additionally in tips.  For careers in management, you can expect to earn a salary, on average of $26,244 to $100,000.00 annually.
Salespeople and grill operators are paid weekly in cash.  Bonuses based on shift sales can be earned.  Salespeople (servers) have scheduled raises totaling a minimum of $.40 per hour during their first year in the same store.  Other raises are based on longevity and earned after each year of employment.
Benefits
Training is emphasized at this company.  The method is to learn by doing.   You learn the job by doing the job during hands-on, in-store training.  If you're in management, you will also be paired with a training unit manager, following their schedule and learning about service and production, company leadership, and food safety. Case studies on restaurant situations are also covered.  You'll attend a monthly Trainee Day, with other and senior managers, to learn more about operations.  After this initial training, you attend WHU in Norcross, Georgia.  This consists of three days of classroom instruction.
All associates are allowed the opportunity to own stock and share in the success of their company. It is not publicly traded and only its employees are able to purchase the stock.  The actual net worth of the company determines the value of its stock. Stock option grants are also offered, and employees can participate in a direct purchase plan for the stock.  Shares of stock have increased in value every year for the last 57 years.
Other benefits eligible employees find at the company include a paid training program, promotion based on performance, flexible schedule, health insurance, medical plan, dental insurance, life insurance, vision discounts, paid vacation, and cash bonuses.
Advice For Application Process
How to Apply for Waffle House Online
You are able to search for certain Waffle House jobs online. An online application is available only to those interested in management careers. Apply online by navigating to the link for Waffle House job application online.  The online application asks for your name and social security number, and the state where you would be working.  It also asks questions pertaining to basic minimum requirements for leadership positions.
Obtain an online application if you are applying for a management position.  There are no printable applications for Waffle House.  There is no place to download application form. There is no printable application form for hourly employees.
You Can Apply in Person
For hourly jobs, you should make a direct application to your local restaurant.
To apply for an associate's position, applicants should speak to a restaurant manager at their local restaurant, or those locations where they want to work. Ask for a paper application form and instructions on applying. Be presentable when you are in the store.  These people may be your future employers and they will form an impression of you when they meet you.
Interview
An interview for employment after applying online and meeting the requirements for the position you are seeking might happen soon after you have submitted your documentation. You will be asked to undergo background checks, and drug testing and you may be tested more than once.  A credit check may be required. You may be asked to take a test during the interview process.  The normal interview process begins with a human resources interview, security screening, division interview, management assessment, area interview, on-the-job evaluation, senior level interview drug screening, ending with the hoped for offer.
An hourly position interview can occur a few days to a few weeks after submitting your application or applications.  Arrive on time, dress appropriately, and bring any documents, including your resume, that have been requested. Ask questions regarding the industry, the job you would be performing, hours you would be required to work, and anything else of interest to you about the position. Drug screening is done on all employees.
Why Work Here?
A flexible schedule, good benefits, and competitive pay are some of the reasons a person may want to have a working career here. The fun, fast-paced, friendly atmosphere is appealing. Many current and former employees summarize by saying, benefits are good, and food is good, great co-workers and guests.
Competitors
IHOP is a family restaurant chain that has been in business for 54 years, specializing in pancakes and hiring for similar positions.  They operate in United States, Canada, Guatemala, Mexico, Puerto Rico, and the U.S. Virgin Islands. Perkins, another competitor in the industry, was founded in 1958 and operating 410 stores in 33 states and five Canadian provinces.
Also See:
Carino's Italian Grill: For career opportunities, fill out the Carino's Italian Grill online application.
Johnny Rockets: See our guide for careers at Johnny Rockets.
Piccadilly Cafeteria: See our resource page for more information on Piccadilly Cafeteria careers.
Texas Roadhouse: See our resource page for more information on Texas Roadhouse careers.
Buca di Beppo: See our guide for careers at Buca di Beppo.
Company Links