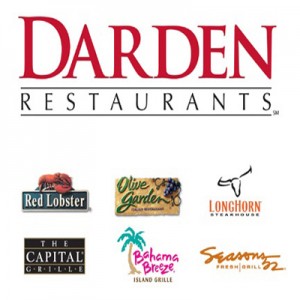 LongHorn Steakhouse is a restaurant that strives to be the best steakhouse, offering up Legendary Steaks of different varieties. In addition to serving steak, it features chicken, salmon, burgers, and salads among its entrees. It has extensive lunch and dinner menus, desserts like the Molten Lava Cake, and specialty drinks including Perfect Margaritas. The restaurant prides itself on its "Genuine Western Hospitality" and dedication to friendly customer service.
LongHorn Steaks was founded in Atlanta, Georgia in August of 1981. A freak snowstorm in 1982 drove customers to seek shelter in the restaurant, and its popularity quickly spread from that point on. By 1990, the restaurant had expanded throughout the East, Midwest, and Southwest United States as well as Puerto Rico. Its name changed to LongHorn Steakhouse in 1996, and by 2001, there were over 136 locations. It was purchased by Darden Restaurants, Inc. in 2007, and there are now more than 450 locations.
It plays an active role in its communities by supporting local organizations through donations and volunteering. It makes efforts to improve its sustainability and reduce its impact on the environment. For example, it uses carpet tiles that are made from 100% recycled material. To save water, it uses a natural, enzyme-based cleaner that saves millions of gallons of water every year because it doesn't require rinsing. To reduce electricity usage, it is switching to LED lighting. By participating in the Darden Harvest program, it contributes high-quality food items to community food banks. It is a member of the Red Cross Annual Disaster Giving Program to donate meals when local families are affected by natural disasters and need assistance.
Longhorn Steakhouse Careers
Employees in LongHorn Steakhouse careers enjoy working with their co-workers who are supportive and friendly, and management is helpful. They also like that they get great benefits and the opportunity to grow within the company. It provides flexible schedules that employees appreciate when they have school or other obligations in their lives.
Hours vary at the different locations. A common schedule is similar to Sunday through Thursday 11 AM to 10 PM, with Friday and Saturday being open from 11 AM to 11 PM instead.
How old do you have to be to work at LongHorn Steakhouse? You must be at least 16 years old to fill out the application form. Some positions require you to be 18.
The company is looking for energetic, team-oriented people to fill its positions. In addition, you should have a passion for serving the needs of the guests, which you will need to do in a friendly way that delivers "Genuine Western Hospitality." You should be able to work in a fast-paced and high-volume environment.
Get Your Degree!
Find schools and get information on the program that's right for you.
Powered by Campus Explorer
For many positions, no experience is required. For leadership and management roles, specific experience in customer service, the restaurant industry, cooking, etc. may be required. The various requirements for experience and education are described in detail in each job description.
The average hourly salary of some common positions includes:
Hostess – $6.05/hr, Food Server – $9.49/hr, Cook – $11.83/hr, Line Cook – $13.11/hr
The average annual salary of other positions includes:
Server – $24,935, Restaurant Manager – $45,000, Assistant Manager – $51,322, Managing Partner – $64,118
Benefits for team members include:
Medical, Vision, Dental, and Life Insurance, Pet Insurance, Short and Long-Term Disability, Employee Stock Purchase Plan, Darden Employee Credit Union, Paid Vacation, Competitive Salary, Flexible Spending Accounts, Work/Life Balance, Group Legal Plan, Employee Assistance Program, Nationwide Darden Discount Mall, Dining Discount, Darden Dimes, Critical Illness and Accident Insurance through AFLAC, Darden Savings Plan 401(k)
Longhorn Steakhouse Job Descriptions
Positions exist both as team members and at the management level.
Team Member Opportunities
Team members have the largest direct impact on the customers' experience. Some positions include:
Server Assistant
Server
Bartender
Line Cook
Prep Cook
Utility/Dish Machine Operator
Management Opportunities
Managers are responsible for leading the team members and providing the best possible experiences for them and the restaurant's guests. Positions in this capacity include:
Service Manager
Culinary Manager
Staffing and Training Manager
General Manager
Future Career Growth
The company offers extensive training to best prepare employees for the challenges of higher-up jobs. Its management training programs are considered among the best in the industry. The Manager-in-Training (MIT) Program is a thirteen-week program in which employees get an overview of every employee and manager position. They then travel to the Darden Training Center for specialized training in Orlando, Florida. After that, they are assigned a coaching manager to mentor them for a few weeks to gain hands-on experience in managing the department before they officially take over. This program ensures that managers are fully prepared for their new role and will be more likely to succeed.
Manager Skill Sessions occur throughout the year so that managers can continually acquire new skills and improve the ones they already learned. The Leadership Assessment and Development Center gives managers a way to showcase their skills and talents when they would like to be promoted to General Manager.
Longhorn Steakhouse Interview Questions
After applying to LongHorn Steakhouse jobs online, you may receive interviews that follow up on your online application. These could be over the phone, in person, or both. You will most likely interview with three managers. In order to present yourself in the best possible light, dress nice and don't be shy. Answer questions honestly and concisely after giving them some thought.
Some of the questions you might be asked during interviews for employment in LongHorn Steakhouse jobs include:
What do you do in your spare time?
What did you do in your previous jobs?
Why should we hire you?
Sell me a menu item.
Describe your favorite meal to cook.
Why do you want to start a career here?
Tell me about a time when you turned a bad situation into a good one.
Describe a time when you delivered great customer service.
After your interview, you will be notified if you got the job or not.
Advice For Application Process
There is not a printable application form, and you cannot download the application form. Since there is no printable application for LongHorn Steakhouse, you must apply online with a free application. You are only able to apply to positions for which the company is currently hiring. The LongHorn Steakhouse job application online could take at least 45 minutes to complete, so make sure you have that much time available before starting the process.
If there are no current positions that interest you, you are encouraged to check the LongHorn Steakhouse careers page often because it is updated regularly with new openings to which you can send more applications. You can also create an account and then set up a search agent to notify you when jobs that match your interests are posted.
How to Apply for LongHorn Steakhouse Online
When you want to apply for jobs at LongHorn Steakhouse, you first go to the careers page. Click "Search and Apply Now" in order to access the application system. Next, click "Search openings" to be taken to a page where you can specify job type and location. If you don't enter any search criteria, you will be shown a list of all jobs currently available.
You are able to browse through LongHorn Steakhouse jobs and click on them to read the requirements and responsibilities for each posting. When you find a position with a job description that interests you, click "Apply to job" to fill out a direct application for that position. If you don't have time to fill out the application now, click "Save to cart" so that you can apply later.
After you click "Apply to job," you will be prompted to log in if you already have an account. If you have never created an account before, click "Create a login." Make sure you write down your email address and password you use for your account because you will not be able to retrieve your email address in the future if you forget which one you used. After you create your account, you can upload your resume and complete the LongHorn Steakhouse application.
Once you have an account and have applied to a job, you can log back in later to check on the status of your application. You can also search more openings, access any assessments that are required for your LongHorn Steakhouse application, edit your profile if any of your information changes, manage your search agent if you want to be notified of job opportunities that interest you in the future, view your job cart so you can apply to jobs you previously saved, complete any application drafts, and access email communications.
Texas Roadhouse and Saltgrass Steak House are similar restaurants where you could apply to work. Texas Roadhouse is another restaurant that features steaks in its menu. It has a fun, family-friendly atmosphere including line dancing servers. Almost everything served is handcrafted, and the portions are large. Saltgrass Steak House aims to capture the flavor of the open campfire, as it is named for the historic trail that Longhorn would take on their way to market in the 1800s after grazing on the coastal salt grass along the Texas Gulf Coast. The restaurant features chargrilled steaks, chicken, and seafood along with plenty of side items made from scratch.
Also See:
Souplantation: See our resource page for more information on Souplantation careers.
Smokey Bones: For employment at Smokey Bones visit the application page.
Buca di Beppo: For employment at Buca di Beppo visit the application page.
Rainforest Cafe: Visit the Rainforest Cafe application.
Fuddruckers: See our guide for careers at Fuddruckers.
Company Links
http://www.longhornsteakhouse.com/careers