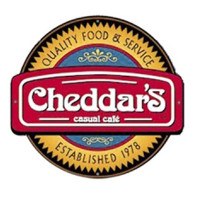 Cheddar's Casual Cafe is a restaurant chain that is located in the United States. These restaurants serve steaks, chicken, seafood, burgers, salads and desserts, as well as a full bar. This company has repeatedly top lists for best restaurants, including topping Zagat's 2012 #1 Full Service Restaurant Chain, Top Overall American Cuisine and Top Rated Food. If you want information on the Cheddar's Casual Cafe application process, read on below.
Cheddar's Casual Cafe was founded in 1979, when founders Aubrey Good and Doug Rogers opened up their first location in Arlington, Texas. Their aim has been, and still is today, to be a restaurant that served up high quality and fresh food items for an inexpensive price. They take great pride in their menu and the atmosphere they have created within their restaurants.
Today, this company is headquartered out of Irving, Texas. In 2013, this chain had over 130 establishments that can be found across 23 states. They have quickly expanded during their time, due to the delicious food offerings and affordable prices. Customers love the décor found in these establishments, making them feel comfortable while dining.
Cheddar's Casual Cafe takes as much pride in their customer service as they do in their food. Their staff is attentive and dedicated to ensuring that the customer's visits to their establishments are memorable and that they keep returning for more.  As a result, they are looking for employees that are examples of the values and standards they have at this company.
Cheddar's Casual Cafe Careers
Cheddar's Casual Cafe is an equal opportunity employer that has openings available at their corporate office and restaurant level. There are Cheddar's Casual Cafe career advancement opportunities at this company. The restaurant level of this company offers great entry-level opportunities. Restaurant positions include cook, bartender, busser, server, and dish technician.
The corporate office is where the restaurant operations are located. There are so many pieces to the puzzle here in order to make operations run smoothly that they need people with a variety of skills and talents to work here. Some of these positions include quality assurance, real estate development, and information technology.
With the huge variety of positions at this company, there are a different set of requirements to work at certain positions. Most jobs do require a minimum of a high school diploma or equivalent. How old do you have to be to work at Cheddar's Casual Cafe? Due to the nature of selling alcohol, a person must be at least 18 in order to work here.
As far as the food service industry goes, this company offers average benefits in comparison to other places. Benefits are only offered to full-time hourly employees. The corporate office may offer additional perks for workers. Benefits include employee discounts, advancement opportunities, and an employee assistance fund. Other benefits are a 401(k) plan and paid time off.
Locations may have different hours, depending on where they are and holiday considerations. Some holidays will cause the restaurant to be closed. For details, you can contact your nearest location to find out the hours. Hours are usually Sunday through Thursday from 11:00am to 11:00pm and Friday and Saturday from 11:00am to 12:00am.
Job Descriptions & Salaries
Server- A server must take the drink orders and food orders for customers at their table. They will make note of any special requests and allergens to make sure that the customer gets exactly what they want. The server should continually check in on their customers to make sure they have everything that they need. A server may earn around $2.70 hourly, not including tips.
Line Cook- A line cook is responsible for cooking the food according to company recipes, customer orders, and in accordance with health regulations. They will be responsible for ensuring that all the food in the kitchen area is not expired and ensuring that the kitchen areas are clean at all times. A line cook may earn around $10 per hour.
Kitchen Manager- The kitchen manager is responsible for handling the kitchen staff. They will often conduct job interviews and hiring for this department, and ensuring that the inventory of food is properly stocked at all times. A kitchen manager will ensure that their staff is properly trained, and are following company policies and health regulations. A kitchen manager may earn around $52,000 a year.
Operations Manager- The operations manager is in charge of overseeing the operations of the restaurant. They will hire the necessary staff, be responsible for recruitment, and conducting job interviews. The operations manager will ensure that the restaurant meets all sales goals as set by the company. An operations manager may earn around $55,000 a year.
Cheddar's Casual Cafe Interview Questions
This is a list of some questions that you may be asked during your Cheddar's Casual Cafe job interview.
What should an employer expect for their employee? This question may be asked for both managerial positions and entry-level positions. The interviewer is looking to see, if you are capable of properly leading employees. As another member of the staff, they want to see if you understand your role at this company. Answer, discussing how you feel these roles are set up.
Do you typically form a good working relationship with your co-workers? This team is most successful if everyone can work together to help the restaurant run well. The interviewer wants to see if you are a person that is easy to get along with and works well with others. Answer honestly; mentioning how important a good relationship is with other people.
Why do you want to work at Cheddar's Casual Cafe? The interviewer is trying to get a feel for your motivations for applying here. They want an employee who is serious about their job. Mention why you want to work here.
Do you have a favorite item on the menu? The interviewer wants to see if you are familiar with the products offered at this establishment. It helps to look over their menu beforehand, even if you have never eaten here.  Answer with any items that stand out to you, and be detailed when doing so.
What are your strengths? The interviewer is looking to see what makes you stand out from the other applicants. This is your chance to really discuss your strengths and how you feel the company would best benefit from them.
Advice for the Application Process
If you were looking into how to apply at Cheddar's Casual Cafe, it is an easy process. You can fill out an application form and apply directly online at Cheddar's Casual Cafe jobs online. You may also fill out an application at your local establishment. You cannot find any downloadable applications or printable applications online.
There are no job descriptions and responsibilities listed on the website for job seekers to get information about these positions. You just apply at the company, and they will help match you with a position that they feel you may be qualified for. It is a good idea, especially when applying for corporate positions, to submit an updated resume along with your application.
The recruitment process can take a few days or a month to get contacted by a hiring manager. If this time has passed without hearing back from this company, you should contact the location that you applied at. You can check the status of your application and check to see if they are still hiring.
There are things that you can do in order to prepare for your interview to increase the chances of getting the job. You can practice the interview questions out loud to help you know what to expect when you get there. You should also remember to dress in a professional manner to show that you are serious about this job.
Also See:
The Cheesecake Factory: Use the The Cheesecake Factory job application to apply here.
Carino's Italian Grill: Use the Carino's Italian Grill job application to apply here.
Fleming's Prime Steakhouse: Checkout the application page for work at Fleming's Prime Steakhouse.
Ryan's: See our resource page for more information on Ryan's careers.
Waffle House: Checkout the application page for work at Waffle House.
Company Links
http://www.cheddars.com/join-our-team/