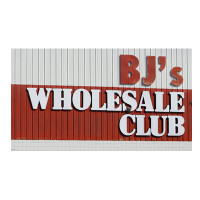 BJ's Wholesale Club is a U.S. membership-only warehouse chain operating on the East Coast and in Ohio. It was listed as #232 on Fortune magazines listing of America's 500 largest corporations in 2010. In 2011, its revenue was US$10,9 billion. It is headquartered in Westborough, Massachusetts and has 200 stores.
The company was developed as a part of the discount department store Zayre in 1984. The name BJ's comes from the initials of Beverly Jean Weich, who was the daughter of the company's first president. After bouncing around as an offshoot of several chains, BJ's Wholesale Club became an independent company in 1997.
Currently, BJ's has stores in fifteen states and employees about 25,000 people. Its main competition is Costco and Sam's Club. Members of BJ's Wholesale Club earn special member pricing on a lot of brand name products. As of 2011, a standard membership cost $50 a year. Members can also apply to buy merchandise for reseal. Some of the company's stores have additional services, including car rental, gas, and vacation packages.
BJ's Wholesale Club has its own brands of many products. These include Berkley-Jensen, Earth's Pride, Executive Choice, Lanesboror, Rozzano, and Wellsley Farms. In addition to carrying its own labels, the company, sells products from Kerrygold, Amy's Kitchen, Kashi, Newman's Own, and American Flatbread. All goods come from its three distribution centers which are in the following locations: Uxbridge, Massachusetts; Burlington, New Jersey; and Jacksonville Florida.
BJ's Wholesale Club Careers
BJ's Wholesale Club jobs include corporate positions. These range from brands to logistics to e-commerce, to finance to merchandise. You can fill out a BJ's Wholesale Club application for one of these positions on the company's career website. These positions will give you leadership and management experience that is only possible at large corporations like this one.
BJ's Wholesale Club jobs also include club jobs. These are the workers who manage the day-to-day running of the store. These positions include bakers, business sakes, cake decorator, cashiers, food merchandise, and maintenance. Many of these are entry-level positions that can give you the hands on experience necessary to jumpstart a career.
How old do you have to be to work at BJ's Wholesale Club? The minimum age requirement is 16 years old. Beyond age limits, there are some experience and physical requirements for club jobs. For corporate jobs, you often need special skills and degrees to be competitive for hiring. Look at the application form for more detailed job description. 
This company provides benefits for many of its employees. These include medical insurance, dental insurance, a 401(k) plan with a company match, membership in wellness programs, employee assistance program, a flexible spending account, long term disability, paid time off, and many others. BJ's Wholesale Club includes these benefits to ensure the wellness of its employees.
BJ's Wholesale Club Job Descriptions
Cashier – Cashiers process customer's purchases quickly and accurately. They must also remain friendly and helpful. Addition responsibilities may include verifying memberships, accepting money, assisting other cashier, and cleaning equipment. For employment, you must have good people skills and basic math skills. This is an entry-level position. Salary is minimum wage in each state.
Maintenance Team Member – This job is essential to the functioning of the store. This position requires working to clean the floors, offices, restrooms, and grounds around the store. You may be required to do some repairs. There are physical requirements, such as needing to be able to lift, bend, and work with cleaning chemicals. Salary begins at minimum wage.
Supervisor – Each department has a work supervisor. This position involves directing other employees, ensuring correct pricing, taking inventory, and training new staff. To do this job, you must have experience in the store, knowing all the standards of production. You must also have good interpersonal and communication skills. Salary depends on experience.
Personnel Clerical – These people are responsible for the hiring process. They coordinate new employee training, help solicit job opportunities, and update human resources record. They do payroll, answer employee questions, and handle all confidential information according to policy. They must have good people skills. Pay depends on state and experience.
BJ's Wholesale Club Interview Questions
The interview process many seem daunting, but preparation is key to a successful BJ's Wholesale Club application.
What do BJ's Wholesale Club careers mean to you? The interviewer is very interested in knowing why you want this job and what you know about it. This means doing some research by look through all the BJ's Wholesale Club jobs online and searching to find information about the company.
Tell me a little about yourself. This is a good time to summarize your resume and make reference to your answers from the online application. To make yourself stand out from the other applicants, it can be a good idea to talk about your hobbies and interests as well. If you can tie these into work at BJ's that would make a particularly strong answer.
What are your weaknesses? Come up with a couple substantial traits about yourself that you hope to improve. Talk about how you work to overcome these weaknesses. It could be a good idea to talk about a time when you made a mistake because of a weakness and then learned something from it.
Is there anything that would prevent you from doing this job? Be upfront about any physical limitations you have or skills you think you'll need but don't yet have. If you tell the interviewer straight out about your concerts, the company can work with you. Mention these sorts of things when you apply for jobs at BJ's Wholesale Club. 
Why do you want to work here? It can be hard to come up with significant reasons to use for an answer. Doing some research on the company and its careers could give you a sense of what makes it attractive to you and what they want from employees. Be specific in your answer.
Advice for Application Process
Starting the application process can be daunting and overwhelming. So, start at the beginning with a BJ's Wholesale Club job application online. Complete this with care. It could be a good idea to bring a completed printable application to the store you are applying at. If you can't apply online, go to the store to ask for a printable application for BJ's Wholesale Club.
Then, you should prepare for the interview. Review your application, so download the application form. Read through the company's website and make sure you understand a little about it and that you know a lot about the position you are applying for. Do a mock interview, practicing the questions listed above.
On the day of the interview, bring a copy of your free application with you. Dress well. Show up early. As you answer questions, speak slowly and clearly and look the interviewer in the eye. Remain engaged by asking questions of your own and keeping your answers brief. Remember that the interviewer has looked at lots of applications, so you want to be memorable.
Working in this industry is an exciting opportunity that you should take advantage of. Use the link below to search for local jobs and to find a direct application. It turns out that it is pretty simple how to apply for BJ's Wholesale Club online. With a little time and effort, you can become part of this fun, dynamic, and engaging community.
Also See:
Nordstrom: For career opportunities, fill out the Nordstrom online application.
Neiman Marcus: For career opportunities, fill out the Neiman Marcus online application.
Lord And Taylor: Visit the job application for Lord And Taylor to apply today.
Von Maur: Von Maur offers opportunities for both, beginners and experienced roles.
Dillard's: See our guide for careers at Dillard's.
Company Links
http://www.careersatbjs.com/jobs/
https://www.bjs.com/about-us.content.about.A