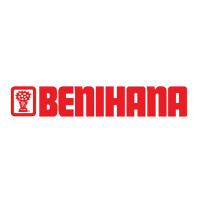 Benihana is just one of the restaurants that are affiliated with the American restaurant company, Benihana, Inc. All the restaurants in this chain serve Japanese style cuisine. Meals are served and cooked around a teppanyaki table which is surrounded by a wooden surface for guests to dine on. For information on your Benihana application, follow the link below.
It was founded in 1964 by Hiroaki "Rocky" Aoki, who was a 25-year-old wrestler that started a restaurant with the $10,000 that he earned from driving an ice cream shop. The restaurant was named after the café his parents owned in Tokyo. The concept was a chef would joke and perform while cooking the food in front of the customers.
Today, Benihana operates over 100 restaurants under both their original Benihana brand, as well as their Haru and RA Sushi brands. They have over 5,000 employees and earn around $314 million dollars in revenue each year. They are headquartered out of Doral, Florida. There are Benihana restaurants in about 22 countries across the globe.
Benihana is a fun environment for people to enjoy a night out. They are looking for employees that show exhibit this fun, but hard working attitude. They want employees that provide their customers with a positive experience that keeps them returning for more. As a result, they also want employees to have amazing customer service skills to provide this positive experience.
Benihana Careers
There are many positions at this company between the corporate level and the restaurant level. The restaurant level has a lot of entry-level positions that they can grow their job into a Benihana career. There are positions that are a good fit for people of all skills and talents. Some positions are host/hostess, kitchen helper, teppanyaki chef, and server.
The corporate level offers many possibilities for people of all types of skills. The corporate level positions are often higher level positions that have more requirements to gain employment than at the restaurant level. The corporate office may sometimes even offer more benefits to employees. Positions at the corporate level include human resources, legal department, and restaurant support positions.
The hiring requirements for this company can vary depending on the position you are seeking. Entry-level positions often require little experience and little education requirements to gain employment. Higher level positions may require several years of experience, as well as a college degree. How old do you have to be to work at Benihana? The minimum age of employment is 16 years of age.
Benihana offers very competitive benefits for their industry. Employee eligibility can depend on job title and hours worked weekly. Some benefits include health insurance, dental insurance, life insurance and disability insurance. They may have access to profit sharing, discount stock purchase plan and paid time off. These are just some of the benefits employees have access to at this company.
The hours of operation can vary based on location and holiday hours. For more information on the hours of operation, check your local restaurant. Generally, hours are from Monday through Friday from 11:30am to 2:00pm and 5:00pm to 10:00pm, Saturday from 12:00am to 10:00pm and Sunday from 12:00am to 9:00pm.
Job Descriptions & Salaries
Server- A server is responsible for interacting with customers to ensure they are having a positive experience within the restaurant. They will greet customers at the table and inform them of any specials or changes on the menu. They will take food and beverage orders from the customer and handle the customer's payments. A server may earn around $6 per hour, not including tips.
Host/Hostess- The host/hostess will greet customers upon entering the restaurant. They will answer phones, take reservations, and escort guests to their seats. They are responsible for keeping their station neat and organized. They may also be responsible for ensuring the bathrooms are fully stocked and clean during their shift. A host/hostess may earn around $9 per hour.
Assistant Manager- The assistant manager will assist the general manager with running the daily operations of the store. The assistant manager is responsible for helping to train new employees. They may also assist with employee reviews. An assistant manager may also help the staff out when they are short-staffed. They will also help with customer service issues as they arise. An assistant manager may earn around $50,000 a year.
General Manager- The general manager is responsible for running the daily operations of their restaurant. They will hire and fire employees as necessary and are responsible for performing the job interviews. The general manager is responsible for scheduling staff, and managing their facility's payroll and budget. The general manager may earn around $75,000 a year.
Benihana Interview Questions
These are some questions that you may be asked during your interview.
Why do you want to work at Benihana? The interviewer wants to know how much you know about the company and their values. This question may require some research prior to your interview. You can answer with which values you feel that you share with the company and why that makes you a good fit to work here.
Do you have any previous food service experience? The interviewer wants to know how familiar you are with the standards and practices in the food service industry. Answer honestly about your experience in customer service or food service.
Why should we choose you over the other candidates? The interviewer is giving you the chance to sell yourself as the next employee of this company. Describe your strengths and why you feel the company would benefit from them. Try not to sound too arrogant when doing so.
When are you available to work? This company is ideally looking for someone with flexible hours and someone who is willing to work weekends. Answer honestly with your work availability, or if you are available to work whenever.
What is your 5 year plan? The interviewer is looking for an employee who will stay with the company for longer than a few months. Be honest about what your future career goals are and how this company fits into those goals.
Advice for the Application Process
Wondering how to apply at Benihana? You can apply for a Benihana job at Benihana jobs online. You may also fill out an application form at your local Benihana. There are no printable applications online. There are no downloadable applications online. The easiest way to apply is to apply directly online.
The company website has the job descriptions and responsibilities clearly stated for potential job seekers to find a job that is a good fit for your skills and talents. You should only apply for positions that you qualify for, otherwise your application may not be considered. You should remember to fill out your application completely. You should also submit an updated resume with your application.
After submitting your application, you should hear back from this company within a reasonable amount of time. If not, you can call up the location you applied at to check the status of your application and to see if they are still hiring for that position. They may also be able to provide you with additional information, like when interviews will begin.
You should practice for your interview beforehand. You can do this by asking yourself potential interview questions and answering them aloud. This will help you be less nervous during your interview, while making you more confident and articulate during your interview. You should dress in an appropriate manner. This can help your interview be more successful.
Also See:
McAlister's Deli: See our resource page for more information on McAlister's Deli careers.
Farmer Boys: Use the Farmer Boys job application to apply here.
Denny's: Denny's offers opportunities for both, beginners and experienced roles.
Buca di Beppo: Use the Buca di Beppo job application to apply here.
Friendly's: See our guide for careers at Friendly's.
Company Links
https://careers-benihana.icims.com/jobs/intro?hashed=0&mobile=false&width=910&height=500&bga=true&needsRedirect=false