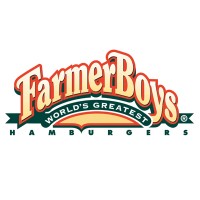 Farmer Boys Cinemas an American quick server restaurant that strives to serve freshly prepared foods in a casual atmosphere. The chain was founded in Perris, California in 1981. It grew rapidly and continues to grow. The chain now has over 79 locations across California and Nevada.
The company's inspiration is the American heartland. It strives to promote homegrown goodness and family pride. The chain's symbol is a traditional farmhouse bell. The bell is meant to honor the Farmer Boys family farm heritage. The chain also views it as a symbol of warm hospitality and home-cooked meals.
The company believes that good food comes from the earth and great food comes from local farms. It takes the "farm fresh" concept to heart and believes that food prepared fresh, rather than processed and frozen, tastes better and is more satisfying.
Farmer Boys gets their food from numerous local providers. Milk is from Alta Dena and comes from farms that do not use artificial growth hormones. Ice Cream comes from Thrifty Ice Cream and is rBST free. Bread comes from Galasso's Bakery and is delivered fresh from the oven to the restaurant. Lettuce is grown at Duda Farms. It is harvested by hand and delivered to the restaurant within a few days of picking.
Farmer Boys Careers
Farmer Boys believes that it isn't enough just to make great food. The chain strives to make friends of all they customers. They are always seeking employees who are committed to quality and want to learn and advance professionally with them.
The company offers industry standard wages.  There are many jobs openings across California and Nevada listed online the careers section of their website. Current openings include Cooks, Cashiers, Servers and Managers. 
How old do you have to be to work at Farmer Boys? In most states, you must be at least 18 years old to work but some states (including California) allow minors over the age of 14 to obtain a work permit. Nevada minors under the age of 14 need a work permit but minors over 14 don't need one. Be sure to check the age requirements for the job you are applying for.
Get Your Degree!
Find schools and get information on the program that's right for you.
Powered by Campus Explorer
The company seeks friendly and energetic team members that excel in custom service.  Entry-level positions find pay or at minimum wage.  Minimum wage varies by state. Some state minimum wages are set as low as $5.00 per hour while others states are set at nearly $9.00 per hour. In many states, tipped employees such as Servers and Bartenders make less than $3.00 per hour. Some positions require a high school diploma or equivalent.
Farmer Boys is an equal opportunity employer. Hours vary by location and position so contact the location directly for detailed hours of operation. Most theaters begin showing movies at 10:00am on weekdays and their last showings begin before 11:00pm but you may need to start earlier or stay later. Theaters can also have limited hours of operations on weekends and some holidays.
Job Descriptions & Salaries
Cooks – Quick service restaurant cooks perform a variety of tasks throughout their shift. Typical quick service restaurant cook duties include operating store equipment such as grills and friers and cooking and assembling food. Some quick service restaurant cooks also prep vegetables and make deserts. Additional duties may include cleaning the kitchen and kitchen equipment.
Cashiers – Quick service restaurant cashiers are primarily ringing up customers and operating the cash register. Other duties might include cleaning and maintaining the dining room and stocking table condiments.
Servers – Quick service restaurant servers are responsible for ensuring customers receive excellent food and service. Typical duties include, taking orders, serving food, refilling drinks, and clearing the tables.
Shift Leaders – Quick service shift leaders report directly to the manager. They are primarily responsible for ensuring that the crew provides excellent customer service and quality food during their shift. Some shift leaders assist the manager with training and help schedule employees. 
Managers  – Quick service restaurant managers are responsible for the day-to-day operations of the restaurant. They also hire, schedule, train and evaluate staff and ensure that employees meet all standards and policies.
Farmer Boys Interview Questions
Prepare for your interview with a few of these common interview questions.
Why do you want to work for Farmer Boys? This is a common interview question that you should always be able to answer. Take the time to learn about the Farmer Boys culture so you can tell the interviewer why it is your first choice. Don't just say something like "I like to cook." or "I need a job that is close to home."
What experience do you have? This is your chance to talk about any relevant work experience you have had. Try to think of things that are relevant even if you haven't worked in a restaurant before. Maybe your dad taught you to grill great burgers or you have helped make change at a community event.
Where do you see yourself in five years? This question isn't as tricky as it sounds. The hiring manager is just trying to gauge your level of ambition. Be honest, but you may not want to mention it if you only plan to work for them for a little while (unless you are applying for a temporary position). Applicants who show they are interested in taking on more responsibilities are often chosen over those who don't.
Manager job applicants are often asked: "Are you a natural leader?" or "What are some examples of how you were able to poor employee performance at a past job?" Think about why you consider yourself a leader and include it in your example. Are you organized and responsible? Do you have a talent for training and developing staff?
Advice For Application Process
Be positive and respectful. Always approach Farmer Boys hiring managers with respect. Most Farmer Boys job application processes are informal so you can dress casually but avoid sloppy looks such as flip-flops and baggy jeans.
Be sure you are presentable and well groomed. Your clothing should be clean and in good repair. Wear business casual clothing if you are interviewing for a manager. You don't need to wear a suit and tie but you should dress up a little.
Plan ahead for the interview and bring a list of things you want to make sure to say. You can just refer to your list if you are stumped by a question. It's also good to write down any questions you have about the company and the job. Don't be afraid to ask them, it shows that you have done your homework and will put you ahead of unprepared applicants.
Thank the hiring manager for the opportunity after the interview. They may offer you the position right or they may need to wait until they have interviewed all the qualified applicants before they make a decision. If they don't offer you a job on the spot, be sure to ask them how you can follow up with them. If someone else gets the job, ask the hiring manager if they have any other positions they might consider you for. Sometimes you will be better qualified for a different position than the one you applied for.
How to apply for Farmer Boys job online? Follow the links below, to find a Farmer Boys job application online, obtain a printable application for Farmer Boys, and to apply for jobs at Farmer Boys.
Also See:
Carrows: For employment at Carrows visit the application page.
Romano's Macaroni Grill: Checkout the application page for work at Romano's Macaroni Grill.
Maggiano's Little Italy: For career opportunities, fill out the Maggiano's Little Italy online application.
Old Country Buffet: For career opportunities, fill out the Old Country Buffet online application.
Cheddar's Casual Cafe: For career opportunities, fill out the Cheddar's Casual Cafe online application.
Company Links