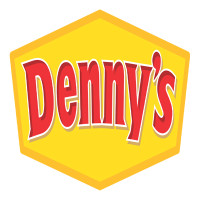 Denny's Diner or simply Denny's is a diner style restaurant chain. They are open 24/7 and all throughout the year, except when the law requires them to close. Denny's is also known for serving full meals and coffee throughout the day.
Co-founded by Harold Butler and Richard Jezak in 1953, Denny's Diner first started out as a humble donut stand. It was originally named Danny's Donuts, but the name was changed by Butler upon Jezak's departure from the business.
In 2000, Denny's was ranked 1st on Fortune Magazine's list of "America's 50 Best Companies for Minorities". They also ranked 1st on Black Enterprise Magazine's "Best 40 Companies for Diversity". There are over 1,700 Denny's all over the world.
The benefits offered at Denny's include but are not limited to: medical, dental, vision and life insurance, 401k, telecom allowance, 11 company paid floating holidays, two weeks of vacation accrual, and a tuition reimbursement program.
Current and former employees all say that Denny's a good place to work in since it has a fun and productive atmosphere, provides great benefits, and they also get discounted meals. People who experienced working there for their first job also recall it as being both challenging and enjoyable at the same time.
How old do you have to be to work at Denny's?
In order for applicants to be considered at Denny's, they must meet the minimum age requisite which is 16 years old. Note that the positions available for the younger employees are quite limited.
Denny's Careers
Denny's offers potential employees with a wide variety of job opportunities from entry-level to mid-level. This can range from the more common positions such as being a server or a cook to higher positions such as the general manager or restaurant manager. Below are some summarized descriptions of the more jobs available at Denny's.
Cook: other than being responsible for cooking and preparing meals, being a Cook at Denny's involves honoring guests' special orders, organizing the supplies and keeping the cleanliness of the working area maintained, and monitoring waste and other food costs. They are also expected to assist team members.
Server: A Server at Denny's is responsible for greeting and seating customers, taking their orders and delivering their food accurately. Additionally, servers are expected to suggest new menu items, point out limited-time offerings, and help keep the restaurant clean and orderly. They are also responsible for receiving payment for the cashier and giving the change.
Host/Hostess: A Host/Hostess at Denny's is responsible for greeting and welcoming customers and for verifying the number of people in their party. They are also in charge of assisting customers if they have special needs such as high chairs. Furthermore, they are responsible for resolving customer complaints and informing the manager of such complaints.
Dishwasher/Service Assistant: A Dishwasher/Service assistant at Denny's is responsible for cleaning and sanitizing all dishes, utensils, pots, pans, and any other such kitchenware. They are responsible for cleaning guest tables in the dining room, collecting the dirty dishes in said room, and delivering them to the dish room. Furthermore, they are tasked with keeping the restaurant clean and orderly.
Facilities Technician: A Facilities Technician at Denny's is responsible for helping support initiative being tested on the market and maintaining the restaurant's multiple lab locations. They are also responsible for the maintenance of the restaurant's satellite offices and the execution of deep cleaning schedules.
Shift Leader: A Shift Leader at Denny's is in charge of supervising and assisting 15-20 crew members, ensuring that the crew is executing restaurant operations on their assigned shift, and making sure that all customers are satisfied and provided for. Additionally, they are responsible for filling in the gap if a crew member is absent.
Call Center Technical Associate: A Call Center Technical Associate receives inbound technical calls from the field, restaurant, and support center staff. They are responsible for troubleshooting, documenting calls, and following up on questions, requests, promises, and open-tickets, that have not yet been answered. Additionally, persons responsible for this position research problems and concerns and bring them to the attention of the analyst and leader teams.
Guest Services Representative – Social Media: this position is responsible for the restaurant's social media account. This position involves answering queries with appropriate responses based on company policies. Additionally, the person in this position works in tandem with Denny's creative agency and guest services team to monitor general guest service issues and concerns across Twitter, Instagram, and Facebook.
General Manager: General Managers at Denny's are responsible for managing the hiring, training, evaluating, and the termination of employees. They are responsible for most of the restaurant operations. Furthermore, they are also in charge of checking the inventory, guest count growth, and sales building activities.
Restaurant Manager: Restaurant Managers at Denny's report to the General Manager. They are responsible for supervising, monitoring, and appraising 15-20 crew members. They ensure that restaurant operations are executed properly and that guests are provided with excellent customer service. Additionally, restaurant managers must understand profit and loss statements, operating plans, and costs. 
Denny's Application
To apply at Denny's, interested applicants can opt to visit their official website to view the available positions and requirements. If they are able to, inquiring and submitting their application at the nearest location to them would do just as well.
Applicants can also apply online if they cannot visit a nearby location or if there isn't one that's close to where they live. Another option is to apply directly at the official site through with LinkedIn.
Now, when filling out the online/application form, applicants must make sure that they fill out the required information, and ensure that they do so honestly. Always read the instructions carefully and double-check before submitting anything.
An applicant's resume must also be concise. It must highlight their strengths and skills that are related to the position they're vying for. They must show the interviewer that they can become an asset to the team if they were to become part of it.
To fully prepare for the interview, applicants must dress appropriately—business attire is a must. They should present themselves with confidence, without being haughty. Always approach questions with careful thought and answers need to be kept concise. 
Things to Know About Denny's
The work culture at Denny's is focused on encouraging diversity, responsibility, and performance. Employees of varied cultures are able to find advancement opportunities at Denny's.
Before becoming known for its employee diversity, Denny's has actually received flak for discrimination which was cited in several cases from 1993-1997. Denny's was able to successfully reform their working environment and has even received awards such as "Best Company for Minorities" and topped the "Best 40 Companies for Diversity".
Denny's is best known for serving breakfast, lunch, and dinner around the clock and for being open throughout the year. It is also known for its Grand Slam breakfast combo platter.
Denny's also gives back to the community through their philanthropic programs such as No Kid Hungry, which is a national fundraising event that focuses on feeding hungry children in America. Their other programs include the United Way and Hungry for Education. 
Application Links
Company: https://www.dennys.com/
Careers: https://www.dennys.com/careers/
Application: N/A