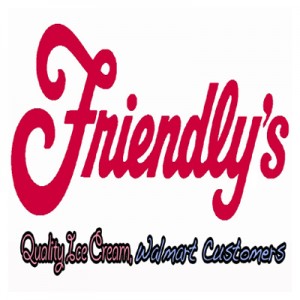 Friendly's was founded in 1935 in Springfield, Massachusetts by the Curtis Blake and S Presley Blake. The business first started out as an ice cream shop and they decided on the name, "Friendly" because it was their goal to make sure that their ice cream shop provided friendly service. The mission of Friendly's is not only to provide a friendly environment for customers, but also to provide its employees with a rewarding and exciting career.
In 1940, food was first included on the menu, beginning with the hamburger. In 1960, Friendly's moved their headquarters to Wilbraham, Massachusetts .By 1974, there were 500 restaurants in the Northeastern and Mid- Atlantic states. The Blake brothers sold to Hershey Food Corporation, who sold to Donald Smith and fellow investors from the Tennessee Restaurant Company.
Friendly's has been active in raising money for charities, partnering with Easter Seals for 25 years. They also sponsored a Valentine's Day fundraiser and have raised at least $25 million. The popular ice cream shop holds a unique record, having made the Guinness Book of World Records in 2013, for the world's largest desert party.
Those of you with ambition and have experience in owning or operating a restaurant might want to check into franchise opportunities. For more information, check out their website for specific requirements for owning a franchise.
Friendly's Careers
With 350 restaurants in 15 states, there are a lot of career opportunities in many different locations. Friendly jobs are available in the restaurants, distribution centers and the corporate offices. Job opportunities include both fixed salary and hourly positions.
As an employee of this companyS, benefits such as medical and dental plans, along with a health savings account are available. They also offer 401K and disability plans. Diversity is important to the company and everyone is welcome to apply. You might be a student interested in applying for a job, but how old do you have to be to work at Friendly's. The answer is that the restaurant hires applicants who are 16 years of age or older. Only full time employees are eligible for health benefits and 401K, but part timers will have a variety of opportunities for advancement within the company.
Managerial positions include general managers, food quality managers, hourly managers and guest experience managers. Recruiters are searching for qualified applicants in all of these management areas. Open positions at support centers include financial accountants and facilities clerks.
Get Your Degree!
Find schools and get information on the program that's right for you.
Powered by Campus Explorer
There are a wide variety of entry level positions currently open in franchises across the country. In the restaurants recruiters are hiring cooks, servers and greeters. Friendly's offers competitive pay and provides for many career advancement opportunities. If you want to apply for Friendly's jobs, go to their website, and find a Friendly's application to fill out and send to them online. There are many Friendly's careers, from management to servers, and all offer the potential for advancement.
Friendly's Job Descriptions
Restaurant General Manager – In the position of general manager, you are going to be responsible for the daily efficient running of the restaurant. You will be expected to focus on the smooth day to day operation, increasing the restaurant's profit margin and improving the experience of the guests. Your responsibilities will also include preparing schedules for employees, making sure there is enough staff to provide customers with quality service. Your job will also entail food inventory and keeping food costs at an acceptable level. You will also handle recruiting and hiring, as well as training.
Cook – As a cook, you have to be responsible for ensuring that the areas where food is handled are kept clean and safe, You will also ensure that all of the food that goes out is cooked and prepared to perfection. You will be required to work as a team player and to notify management if there is any problem that might cause delays. You will prepare food that appeals to the eyes, as well as the pallet.
Server – As a server you are going to be working to give each and every guest the best experience possible. You will present yourself with a smile and a great attitude, making your guests feel welcome and important. As server, you will also need to be aware of the surroundings and make sure that seating is efficiently maximized and that all areas of the dining area are clean and neat.
Server/Ice Cream Scooper – As a Scoopologist, you are expected to take great pride in your job, not just scooping ice cream, but presenting each guest with a work of art. You will be required to take good care of the premium ice creams and scoop your work of art quickly, but with that special sense of fair. You will also be expected to keep a watchful eye on the supply of ice cream at hand so that you never run out. Restocking the retail cases and keeping them neat and clean will also fall under your job description. You must be able to handle online orders and take phone orders efficiently and quickly.
Greeter – As a greeter at this fine restaurant chain, you are expected to greet each guest with a warm and sincere welcome. It is going to be your place to make them feel like they are your special guests. Take great care to be especially friendly to the kids. You will need to know what your guest need before they ask, and you will take silverware to tables with the rolling silverware trolley. You will be expected to keep a vigilant watch on the dining room, making sure it stays neat and clean and that the seating is always set up properly.
Employment is also available in the food distribution Centers and the corporate offices. Check out the company's online website to find out more about these positions.
Friendly's Interview Questions
Before you go for your interview for a position, you will want to prepare yourself by becoming familiar with the types of questions you may be asked. During the interview, the interviewer will not only be listening to your answers, but he or she will also be watching body language. Now, they expect everyone to be nervous and they will take that into account. The best advice is to be yourself and answer the questions truthfully.
What is your greatest strength?  Interviewers ask this question to get a feel of who you are and your self-confidence level. Don't waste time being modest here. Talk about your strengths honestly. You want to make yourself sound good, but never tell any lies. Tell the interviewer your strong points working in the restaurant industry, For example, talk about how you react in difficult situations and how you are strong at being a team player and working through problems effectively?
What is your greatest weakness? Again, be totally honest when you are answering these questions. Tell the interviewer where you find that you are the weakest when working at a restaurant, or any job, for that matter.
Tell me of a time when you faced a difficult situation at work. What was the situation and how did you handle it? This is another time when you need to dig into your past experiences, whether in restaurant work, or any other area of your life. What the interviewer wants here is to get a deeper insight into skills you have to be able to handle adversity.
Why would you make a good addition to our restaurant team? Interviewers typically will ask this question and you just need to be able to tell them how you could help the team and be a part of the restaurant's success.
Advice For Application Process
During your interview, always be courteous and respectful, shaking the interviewer's hand and introducing yourself. Dress in semi-professional attire. Do not show up in blues jeans and a cut-off shirt or flip-flops. Remember to dress for success because first impressions have a lot of influence with management.
You can usually pick up a free Friendly's application at one of the restaurant locations and most of the time you can fill it out there. You can apply for Friendly's jobs at their online application site, where you can find downloadable application forms, as well as a printable application form.
You can apply for jobs at Friendly's by using some online job search engines, where you will find a direct application, taking you right to their website. If you want to know how to apply for Friendly's online, just go to their website and look at Friendly's careers. When you find a local job you are interested in, click on apply and it will take you to a printable application for Friendly's.
Also See:
Fuddruckers: Visit the Fuddruckers application.
Outback Steakhouse: See our resource page for more information on Outback Steakhouse careers.
Ruth's Chris Steak House: Visit the Ruth's Chris Steak House application.
Perkins Restaurant And Bakery: See this page for jobs at Perkins Restaurant And Bakery.
McAlister's Deli: Use the McAlister's Deli job application to apply here.
Company Links