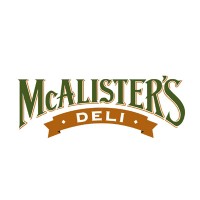 Mcalister's Deli sweet tea is so popular that it is available by the gallon at some of its locations.  It has been serving sweet tea and other delicious menu items for over 25 years now.  To find out how to apply for Mcalister's Deli online follow the link to the Mcalister's Deli application at the bottom of the page.
Mcalister's Deli had humble beginnings when Dr. Don Newcomb, a retired dentist, decided to set up a restaurant in a renovated gas station in 1989.  But it's proud of its roots and many local restaurants still use a garage style door.  What started in Oxford, Mississippi has now spread to include over 300 locations in 23 different states across the USA.
The company is always looking to expand and has multiple franchise opportunities available.  Last year it was named among the "Best Franchise Deals" by QSR magazine as well as one of the "Top Franchises" by the Franchise Business Review.  You can request more information about the franchise opportunities via their website.
Mcalister's Deli prides itself on its All-American food that includes items from all of America.  They offer sandwiches, "Texas-size" potatoes, soups, salads, desserts and of course the famous sweet tea that remains a staple of the menu.  It also offers catering services at selected locations for all types of events.
The restaurant operates in a uniquely clean and fresh environment.  Things that you won't find there are alcohol, cigarettes, fryers and grease.  So whether you're a customer or an employee you won't have to spend your day in a greasy and smoky atmosphere but you can enjoy the food the way it was meant to be served.
Mcalister's Deli Careers
There are always lots of positions open at entry-level including Hosts/Hostesses, Dishwashers, Team Members, Cashiers and also Assistant Managers and General Managers.  For many of these jobs it is your attitude that is most important but managerial roles will require you to have leadership and experience in the food services industry.
From time to time there may be Mcalister's Deli jobs at their corporate headquarters in Ridgeland, Mississippi and Alpharetta, Georgia.  These roles will require relevant experience and are often in the departments of Finance, Administration, Purchasing, Development and Sales and Marketing amongst others.  You can join their Talent Network to be kept up to date with new vacancies.
Get Your Degree!
Find schools and get information on the program that's right for you.
Powered by Campus Explorer
How old do you have to be to work at Mcalister's Deli?  For some Mcalister's Deli jobs you only have to be 16 years old or over but check the job specifications first.  Remember that you will be asked to work evenings and weekends as the typical opening hours are 10.30am to 10pm every day. 
Mcalister's Deli careers come with many benefits.  This includes a comprehensive insurance package with medical, dental and vision insurance as well as life insurance and other supplemental insurance plans.  You will also receive paid vacation, a 401(k) plan and short and long term disability.  They also operate cafeteria programs and discounts on food.
Job Descriptions & Salaries
Cashier – For this role the main responsibilities will be in handling transactions using various methods including cash and card payments.  You will help to take customer orders and so you'll need great customer service skills.  It also helps to have sales skills to suggest different menu items to customers.  Cashiers usually get paid between $8-9/hour.
Catering Delivery Driver – For this position you will need to have had a valid driving license for at least three years and proof of insurance.  You will deliver the catering items from the restaurants to the clients making sure that the customer has everything they need and answering any questions they have.  The wages are typically $8-9/hour.
Team Member – The most important part of working in the restaurant is superior customer service.  You will need to have a friendly and positive attitude throughout your shift while taking customer orders, running the orders to tables and handling other daily tasks as assigned.  This role is a minimum wage job paid at a rate of $8-9/hour.
General Manager – As Restaurant General Manager you will oversee all aspects of the restaurant from the front of house services to back office administration.  This is a fast-paced environment so multitasking is essential.  You'll lead by example, managing and training staff and driving sales goals.  The salary starts at $30-35k/year.
Mcalister's Deli Interview Questions
After you apply for jobs at Mcalister's Deli prepare for your interview by practicing some answers to common questions.
Why do you want to work here? Don't be caught off guard by this question.  Make sure you know a bit about the company and its history before you submit a McAlister's Deli application so that you can talk about it on cue and say what drew you to the company in the first place. 
What is your biggest weakness? This sounds like a hard question to answer but what they're really looking for is the ability to be self-critical and come up with a solution.  Identify something about yourself that needs improving and say what you're doing to overcome it.
What experience do you have in customer service?  When you talk about your experience give specific examples and talk about the skills you've gained from it.  If this is your first job then give examples from other situations where you've had to interact with a lot of different people and how you handled it.
How do you motivate others in a team? This is likely to come up for managerial jobs but teamwork is an important part of all roles.  Show that you are a positive person who has a good work ethic and are able to influence others in your team.
Tell me about a problem you've had and how you overcame it.  You can talk about situations from places you've worked or from school/college.  Show how you approach problems and think through them logically.  Also remember to say what you could have done better looking back.
Advice For Application Process
Search for Mcalister's Deli jobs online to be directed to the careers page of their website.  From there you can either apply online by filling in their online application form or you can choose to download a printable application for Mcalister's Deli.  Select a location first to make a direct application.  You could also pick up a free application in person.
Be careful when you submit a Mcalister's Deli job application online to ensure you haven't made any spelling or grammar mistakes.  This gives off a bad first impression to your potential employer.  You will need to provide information about your previous employment and education.  It's always a good idea to edit applications to fit the specific job description.
If you're looking for a career in their corporate division it's probably best to try and contact them directly with your resume and a covering letter detailing what kind of job opportunities you're looking for.  Include examples from your previous jobs to demonstrate your skills and include your qualifications and salary expectations.
The application process shouldn't take more than a week or two.  A hiring manager will contact you for an interview which will most likely last only 15-20 minutes for entry-level positions.  Make sure you take your time answering their questions and answer in full sentences giving examples where possible.  Always remember to smile and maintain eye contact with the person interviewing you.
Also See:
Mimi's Cafe: For employment at Mimi's Cafe visit the application page.
The Cheesecake Factory: For employment at The Cheesecake Factory visit the application page.
Perkins Restaurant And Bakery: Visit the job application for Perkins Restaurant And Bakery to apply today.
Ponderosa Steakhouse: See this page for jobs at Ponderosa Steakhouse.
Red Robin: Checkout the application page for work at Red Robin.
Company Links
http://www.mcalistersdeli.com/careers/join-us