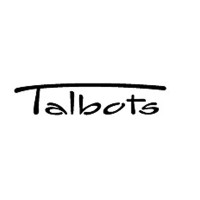 Talbots is a retail company that specializes in classic women's clothing available in petite, plus, and regular sizes. In addition to clothing the store offers swimwear, shoes, and accessories. Customers can shop online, through catalogs, or at their brick and mortar locations. Find a Talbots application link at the bottom.
The company was founded in 1947 by Nancy and Rudolph Talbot in Hingham, Massachusetts. The couple started their direct mail business in 1948. There are currently nearly 500 Talbots stores throughout the United States and Canada. See their website, at the bottom, to look for employment opportunities at your local store.
The couple owned the business until they sold it to General Mills in 1973. The company has changed hands since then, and is currently owned privately by Sycamore Partners, which acquired it in 2012 for $391 million dollars. The retailer's catalog reaches 45 million people, and more than 70% of their sales are conducted online.
The company employs more than 9000 people. The working environment is positive and focused on customer satisfaction. Employees enjoy competitive pay and a comprehensive benefits package, including discounts on the products they sell. To browse Talbots jobs, read any job description, and get a printable application form, visit the website below.
Talbots Careers
The company is hiring for dozens of careers in their corporate offices and their retail establishments. Corporate positions are available in Apparel Design, Accounting/Finance, Marketing, Human Resources, Product Development and Production, Information Technology, and more. These positions offer competitive salary and benefit packages for the retail industry.
Numerous job opportunities can be found online for the company's brick and mortar stores as well. Store Manager, Assistant Manager, Client Specialist, Sales Associate, Co-Manager, and General Manager are some of the positions available. If you would like to know how to apply for Talbots online, go to the website link below, read job descriptions, and fill out a free application.
How old do you have to be to work at Talbots? You must be 18 to work at Talbots. Entry-level jobs with this company require a high school diploma, and most other positions require experience. If you are interested in a career with this company, you can read job requirements and responsibilities, and apply online at their website.
Talbots careers come with a great benefits package. Employees can look forward to insurance, tuition assistance, retirement/savings, paid time off, and discounts on merchandise. With nearly 500 stores, their hours vary. Typical store hours are Monday through Saturday, 10:00 AM to 9:00 PM, and Sunday 11:00 AM to 6:00 PM.
Talbots Job Descriptions
Sales Associate – As a Sales Associate, you would be dealing directly with customers in the store. You would need to be a motivated seller. A Sales Associate needs to have some computer skills, be able to lift up to 25 pounds, and be willing to work a flexible schedule, including nights and week-ends.
Client Specialist – As a Client Specialist, your job would be to build relationships with customers and create a warm environment that encourages repeat business, while promoting sales of the merchandise. This position requires a high school diploma, and some computer skills. Expect a starting pay a bit above minimum wage.
Assistant Designer – This retailer offer many opportunities for clothing designers. As an Assistant Designer, you would track current fashion trends and assist in creating new designs. You would need a bachelor's degree, and more than a year of related experience. Expect pay around $50,000/yr. Visit the website to upload a resume.
Senior Programmer Analyst – This is one of the company's many corporate positions. As a Senior Program Analyst, you would research to keep the company's information technology up to date. You would train and manage other IT managers. Several years of experience is required. Expect pay around $90,000/yr. See the website below for an online application.
Talbots Interview Questions
These are some questions you may be asked at your interview after you've filled out a Talbots application.
What do you think this job entails? The interviewer wants to know that your previous experience hasn't left you with a wrong impression of what they want from you. You'll want to let them know that you understand the job description, but expect things to be different from your last job.
Why should I hire you? Working for a retail company involves selling the company products. Show your sales skills by selling yourself and showing a positive attitude. You can go to the website at the bottom to read about the company on their about page, and get a printable application for Talbots.
What clothing brands do you like? This company prefers to hire sales associates who are enthusiastic about fashion. Show your interviewer that you'll be able to discuss clothing with customers as well as with them. Show that you understand what it means to wear classic styles. See the website for Talbots jobs.
What are your future plans? Your interviewer will want to know if you are hoping for long term employment, or if you hope to advance with the company. It will help when answering this question to show that you are specifically interested in this company. Go to their website to download application form.
Advice For Application Process
Since this company has been selling classic women's clothing and accessories for over sixty years, you'll want to take care to show that you understand the brand by your choice of clothing for your interview. Be sure to view their current collection ahead of time as well. To fill out applications for the different positions, go to their website and view Talbots jobs online.
If you wish to apply for jobs at Talbots, you'll see from the job descriptions that they are looking for people who can follow their sales models and promote sales to their customers, while remaining friendly and upbeat. They are looking for a positive attitude and the ability to follow directions. Show them that you have both. Go to their website below for a direct application.
If you are interested in working for this well known, popular retail company and, would like to fill out an application form, see the website at the bottom to get a printable application for Talbots.
Also See:
Banana Republic: See our resource page for more information on Banana Republic careers.
Tommy Hilfiger: See this page for jobs at Tommy Hilfiger.
Buckle: See this page for jobs at Buckle.
Avenue: Checkout the application page for work at Avenue.
Gabriel Brothers: See our resource page for more information on Gabriel Brothers careers.
Company Links
http://www.talbotsinc.com/career/benefits.asp