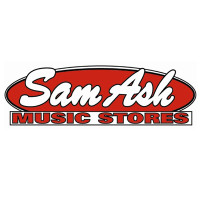 Knowing if you love music is a big part of deciding if you want to fill out a Sam Ash Music application because you'll be working with customers to help them find their love of the art.  Links to apply for jobs at Sam Ash Music are at the bottom of the page.
Sam Ash Music was founded by Sam Ashkynase, a Hungarian immigrant, and his wife Rose Dinin, a Russian immigrant, in 1924 when she decided that it was too precarious to make a living off of him playing for money on his violin.  In order for them to rent their first store, Sam was forced to pawn Rose's engagement ring to raise funds.  Sam and Rose managed to keep their store and family together throughout the Great Depression with Sam playing the few gigs he could on weekends while Rose ran the store and watched their three children.
During the Great Depression, Sam Ash Music became known as a reputable business because so many musicians hung out there during the day, waiting for business.  During the 1940s, the company added a record department, sheet music, and band instruments to their lineup.  Throughout the rest of the century, Sam Ash Music expanded, opening a number of new stores with new services to bring in new business.
This company strives to keep an eye on trends in order to offer their customers the best products that they can.  Sam Ash Music has forty-five locations scattered across the United States and offers a variety of products and services for their customers.  Several stores offer repair services for instruments and lessons for new students.
Sam Ash Music Careers
Sam Ash Music jobs at the corporate level will have you working for the Sam Ash Music Corporation, which means that you could work with any of their brands in the music industry or with any of their stores.  Several of their brands are well known in the music world and two of them, their Sam Ash Fuzz Boxxx and Same Ash Guitar Amps, are considered collectables.
Locally, Sam Ash Music careers are mostly in their stores serving customers in a variety of ways.  Besides selling instruments, several locations also offer lessons for people who are just starting out or repairs for various instruments.  At some locations, there may also be jam sessions or open mic nights to bring the community together.
How old do you have to be to work at Sam Ash Music? Age requirements vary by job.  As you look at Sam Ash Music jobs online, make sure to read all position needs carefully because some may need various certifications, degrees, or experiences before you take the position.
Store hours vary by location and day.  Most stores keep the same hours Monday through Thursday, opening by eleven am and closing around nine.  Friday, locations usually open an hour earlier and close by nine.  Hours on the weekend are usually reduced by an hour, at the very least, at either opening or closing.
Sam Ash Music Job Descriptions
Teacher – As customers sign up for lessons, you'll work to teach them in the store or answer any questions that they may have about the instrument(s) that you specialize in.  Knowledge and being able to teach at least one instrument is a must for this position.  Compensation is around $50,000 a year.
Sales Associate – Having a love for the instruments you sell is a big part of this position because you'll need to know as much as you can about them to answer any general questions that customers may have for you.  Compensation is around $20,000 a year.
Repair Technician – When customers bring in instruments for repairs, they'll come to you. You will need to know about the repair work that goes into them in order to return the instrument to the customer in better shape than it came in.  Compensation is around $30,000 a year.
Warehouse Worker – You'll work to fill and ship orders that are done online in a quick and timely manner.  When valuable equipment is shipped, you will need to make sure that it is packed in a secure manner to make sure that it is not damaged in transit.  Compensation is around $20,000 a year.
Sam Ash Music Interview Questions
These are some questions you may be asked during you interview:
Why do you want to work for Same Ash Music? This is an extremely common interview question, so you should be prepared for it.  Talk about what drew you to the company, whether it was the company culture or benefits and why it's your first choice in places to work.
What experience do you have? If you have any relevant experience, make sure to highlight it.  If you don't have any, talk about what drew you to the company, whether it was the culture or benefits and why it's your first choice in places to work.  Use plenty of examples to back up and support any claims that you may make.
Where do you see yourself in the next few years? Your interviewer wants to know if you see yourself with the company.  Be realistic in your career expectations, but talk about how you're willing to take on extra responsibilities and challenges in order to move up the company.
Because Sam Ash Music relies heavily on customers for their business, you may be asked this question in the form of a hypothetical situation: How would you take care of an upset customer? Walk your interviewer through the steps that you would take to turn the customer's experience around, making sure to be practical and realistic.
Several positions may require you to stand for long periods of time or carry heavy objects, so you may be asked: Is there anything that could keep you from doing your job? The company is willing to work with you if you're straightforward and honest in explaining anything that may stop you from doing your job to the best of your capabilities.
Advice for Application Process
How to apply for Sam Ash Music online: there is a single Sam Ash Music application online for all of their interested applicants to apply to.  Make sure to read all of the fields carefully as you fill them out before hitting the submit button.  There is no printable application for Sam Ash Music available on their website.
Before attending your interview, do research on Sam Ash Music and the industry in order to create a list of questions that you can ask.  This may seem excessive for an entry level position, but it will place you above the other candidates as it shows that you think ahead and are prepared.
Your interview will take place in a semi-formal setting, so you should dress in business casual.  If you've applied for a managerial or corporate position, a suit would be appropriate attire.  Have a friendly and positive demeanor as it will give a good impression and show that you're ready to do some work in customer service.
Show gratitude at the opportunity to interview with Sam Ash Music; and, after your interview, ask about the best way to check on your hiring status.  Some applicants, but not all, will learn if they got the job during their interview because Sam Ash Music will want to screen all candidates before making a final decision on who they hire.
Also See:
Gymboree: See this page for jobs at Gymboree.
Bottega Veneta: Use the Bottega Veneta job application to apply here.
A.C. Moore Arts & Crafts: Visit the job application for A.C. Moore Arts & Crafts to apply today.
Vera Bradley: For career opportunities, fill out the Vera Bradley online application.
Fossil: Fossil offers opportunities for both, beginners and experienced roles.
Company Links