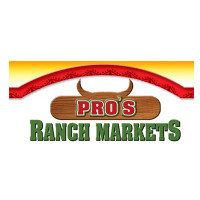 Los Altos Ranch Market is a grocery store specifically catering to the Mexican, Central American, and Southwestern cuisines.  They aim to be a one-stop-shop for all customers and offer several different departments, trying to make sure that they stock food that would normally be found in specialty markets.  However, the storeis most well-known for their bakery that has over fifty kinds of freshly made tortillas and is willing to bake for almost any occasion.  A link to apply to Los Altos Ranch Market jobs online is at the bottom of the page.
Pro's Ranch Market was founded in Southern California in 1982.  In 2002, they expanded to Arizona and opened several more stores across the Southwest within the next ten years.  In 2013, however, Pro's Ranch Market filed for bankruptcy.  By early 2014 Cardenas Markets and Northgate Gonzalez Markets came together to create the Cardenas Northgate Group Ranch LLC and bought out Pro's Ranch Market.  The company was revitalized and renamed to Los Altos Ranch Market; it is expected to keep growing and expanding.
Los Altos Ranch Market currently has two thousand employees and is still getting stronger.  As you fill out a Los Altos Ranch Market application, know that they currently have eleven stores, with a majority in the Pheonix area.  They strive to invest in their workers in order to promote from within and meet whatever job needs there are from within the company.
When people apply for Los Altos Ranch Market jobs, they're looking to join a work force that aims to be positive and fun as well as promote feelings of security, value, and a place where they feel like they belong. They want people with Los Altos Ranch Market careers to have great teamwork, innovation, and put quality into their work.  With a clean and safe environment, Los Altos Ranch Market strives to be a great place to work.
Los Altos Ranch Market Careers
Currently, all open Los Altos Ranch Market jobs are in the grocery stores themselves as the markets are run by a board of directors and through different company.  The stores themselves are spread across the Southwestern United States, specifically in Arizona, Texas, and New Mexico, so when you apply for jobs at Los Altos Ranch Market, be careful about where the store is, as the application is specific to the store.
How old do you have to be to work at Los Altos Ranch Market? Age requirements vary by job, but sixteen is the minimum for most jobs.  For certain jobs, you must be able to lift certain amount of weight as you put stock on store shelves, unload truck, and take stock.  You will also have to maintain strict standards for your appearance in order to be in compliance with store and government standards.
The benefits for the Los Altos Ranch Market workers are comprehensive, including health insurance and a 401K.  There is also paid time off, wellness programs, and dental benefits.  Also, there is an employee discount on all merchandise.  All benefits are dependent on the position that you hold.
Although the stores are spread out across several states, hours are very similar.  In Arizona, Los Altos Ranch Market store hours run from six am to eleven pm.  Store hours in Texas are from seven am to ten pm.  New Mexico store hours are from eight am to ten pm.  Hours will vary in every store depending on if there are holidays or special occasions.
Los Altos Ranch Market Job Descriptions
Produce Clerk – By clearing out old, spoiled, and damaged merchandise you keep the store to federal and state safety codes.  You must know how to cook and prepare all the various types produce, as well as answer any customer questions in a polite and friendly manner. Compensation is above minimum wage.
Cocina Clerk – Taking stock, removing damaged stock, and marking prices are key parts of this job.  It's expected for you to make sure that the store is clean, well maintained, and that all stock is facing the appropriate way.  You must have a friendly and knowledgeable demeanor when you deal with fellow staff members and customers. Compensation is above minimum wage.
Baker – You will help with unloading and receiving in order to make sure that all the merchandise arrived properly as well as rotate bakery stock and ingredients to department standards.  Baking is a key part of the job, as well as having great customer service. Compensation is above minimum wage.
Courtesy Clerk – Working in the front of the store to bag customer's purchases is a major part of this job.  You will also take stock that customers don't want back to the shelves and do price checks as needed.  Making sure that all displays are clean and neat are a part of this job. Compensation is above minimum wage.
Cashier – Aiding customers with bulk items as well as checking them out while providing great customer service is what this job is about.  When there is an issue with prices, you're to immediately notify a manager and record them.  Compensation is above minimum wage.
Los Altos Ranch Market Interview Questions
Here are some questions that you may be asked during your interview:
Why do you want to work at Los Altos Ranch Market? An interview question that is commonly asked so you should be prepared for it.  Speak about what drew you to the company, whether it was the company culture or benefits.
What experience do you have? Highlight all your relevant work experience.  If you're applying to be a baker, make sure to talk about previous jobs that you've had.  Use plenty of examples from any other places that you've worked.
Where do you see yourself in the next few years? The interviewer is trying to establish whether or not you see yourself with the company. Be realistic in your career expectations, but show that you're willing to take on extra responsibility and challenges, especially if you're interested in going up in the company.
How much can you safely lift? As many of these jobs require heavy lifting, be honest about anything that can keep you from doing your job to the best of your ability.  Be as straightforward as you can.
How would you go above and beyond in customer service? Because the company is so focused on great customer service, be straightforward in your answer.  Explain how you would make an irate customer happy with your customer service by using examples.
Advice for Application Process
How to apply for Los Altos Ranch Market online: go to the jobs searching site, select the job that you're interested in.  Make sure that the job you want is being offered in your area, as the company is spread out across the Southwest.  Then, click the button that says apply now and follow the instructions to set up a profile and submit a Los Altos Ranch Market application.  There is no printable application for Los Altos Ranch Market offered on the website.
Be positive and respectful towards your interviewer, it will help you stand out from other candidates.  The interview process will be informal, encouraging you to be relaxed and talk with in a more conversational tone.  Although there are no management positions available, still dress nicely.  Business-casual at the very least.
Interviews may only last fifteen minutes, but you should still do a little research on the company and industry.  Come with a list of questions about Los Altos Ranch Market, it will help you stand out, even though many of your questions may be answered during your interview.
After the interview, make sure to show gratitude for the opportunity; ask questions about the best way to check on your hiring status.  Some, but not all, applicants land the job during the interview, but the company may choose to screen all candidates before making a final decision.
Also See:
Mi Pueblo Food Center: Use the Mi Pueblo Food Center job application to apply here.
ShopRite: See our resource page for more information on ShopRite careers.
Foodtown: See our guide for careers at Foodtown.
IGA: Checkout the application page for work at IGA.
Whole Foods: Visit the Whole Foods application.
Company Links
https://recruiting2.ultipro.com/NOR1022/JobBoard/06aa4fef-2a20-4e38-91ec-d75f1ebc86b6
https://recruiting2.ultipro.com/NOR1022/JobBoard/06aa4fef-2a20-4e38-91ec-d75f1ebc86b6/Account/Register?redirectUrl=%2fNOR1022%2fJobBoard%2f06aa4fef-2a20-4e38-91ec-d75f1ebc86b6%2fOpportunity%2fApply%3fopportunityId%3d6184d6ad-92bb-4b61-b185-ed15ca052b78