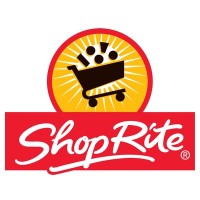 Following the end of World War II, independent grocers faced the challenge of finding ways to remain competitive against the buying power of the larger supermarket chains. In 1946, several independent Newark, New Jersey grocers banded together to form a collective to leverage the buying power that would give them the ability to purchase larger quantities at a lower cost.    Seven grocers each invested $1000, and Wakefern Food Corporation came into being.
After several years of continuing to advertise under their individual names, the members of the Wakefern Food Corporation cooperative decided to create a single entity called ShopRite, so that they could focus their advertising efforts on a single name.   The resulting dramatic increase in sales attracted other members to the cooperative and by 1952 the Wakefern Food Corporation cooperative contained more than 50 members and expansion was underway.
Within ten years, the brand had grown to more than 70 members and store sales had reached $100 million.  The cooperative bylaws were modified during the 1970's to give each member an equal voice when it came to decisions that would affect every member of the cooperative, and the company grew to become the largest retailer-owned cooperative in the U.S..
With 220 store locations today, the retailer is the largest employer in New Jersey, and Wakefern and ShopRite combined boast a workforce of over 50,000 employees in New Jersey, Connecticut, New York, Maryland, Pennsylvania and Delaware.
Through the evolution of the ShopRite brand, family owned and operated stores passed down from generation to generation have become a tradition and a unique characteristic of this northeastern United States grocery chain.
Stores are also known for their active participation in the communities whose residents support them and drive their success.
Hours of Operation: Standard hours of operation are 6am to 12am daily. Many stores are family owned and operated and hours of operation can vary significantly based upon location. Store hours may also be adjusted seasonally to reflect holiday hours.
Get Your Degree!
Find schools and get information on the program that's right for you.
Powered by Campus Explorer
Shoprite Careers
General qualifications for employment include: The ability to read, write and speak in the English language. Basic math skills (perform simple math calculations). The ability to tolerate dust and cleaning agents. Be able to regularly lift 25 lbs. and occasionally lift 50 lbs. The ability to stand/walk for the duration of a scheduled shift
Job applicants may be expected to pass a drug test, criminal background check, and must have a high school diploma or GED (or be in the process of earning a GED).  Assessment/entrance exams are administered during the hiring process.
If hired, the employee must participate in any training required for their position and are expected to dress according to company policy, which may include a uniform, name badge and hat, or hair restraint.
Management employees are expected to be familiar with child labor laws as they apply to associates under age 18, and must have a full understanding of register operations and all aspects of successful retail management.
Additional qualifications for a supervisory/management position include: Four year college degree. Prior retail experience and knowledge of store operations, including gross profit and merchandising. The ability to create action plans to improve business results. Excellent communications skills, both written and verbal. Demonstrated leadership abilities, including coaching and mentoring skills
How old do you have to be to work at ShopRite?Applicants age 16 or older with good customer service skills are encouraged to apply for entry level positions.
Some positions require an applicant to be 18 if the job will require the employee to operate potentially dangerous equipment, such as balers and slicing machines.
The minimum hiring age may be higher in some states if the sale of tobacco and/or alcohol is a job requirement.
Average wages/salaries & Benefits:The company offers its employees a competitive salary, flexible work schedules including full time and part time jobs, promotion/career advancement, and paid holidays.
Some locations are unionized and additional benefits are negotiated by the union, so there is no standard company benefits package that applies to all locations.
Starting salaries depend upon a number of factors, including position, location, responsibilities, and level of experience.
Shoprite Job Description
The company offers flexible scheduling, part time and full time positions, and a variety of entry-level opportunities, as well as management and career growth opportunities.
On-the-job training is in place to help new hires on their path to career success.  In late 2014 the company entered into a joint initiative with the city of Newark, New Jersey to establish a training center offering classroom and hands-on training to local residents interested in pursuing one of the 200 positions expected to become available when a new store is opened in Newark in early 2015.
If you are applying for entry level jobs, browse through the following:
Deli Clerk, Meat Clean Up, Meat Cutter, and Meat Wrapper, Bagger, Bookkeeper, Cashier, CSA/Carts Clerk, Customer Service/Courtesy Counter, Front End Runner, Floral Clerk, Dairy Clerk, Food Service, Frozen Foods Clerk, Grocery Clerk, Night Crew, Receiver, Health and Beauty Clerk, LiveRight Clerk, Maintenance Clerk, Non-Foods Clerk, Salad Bar Clerk, Seafood Clerk, Scrunchy Clerk, Shop from Home Clerk, Bakery Clerk, Scanning Clerk
If you are applying for jobs requiring experience or special training, browse through the following:
Pharmacy jobs, including Pharmacist, Pharmacy Clerk, and Pharmacy Technician
Supervisory/Management jobs including Assistant Manager, Department Supervisor, and Store Manager
Other positions include Baker, Driver, Liquor Store, and Loss Prevention.  Contact a local store to request a job description for these positions.
Not all jobs listed above will apply to all locations.
Advice For Application Process
To learn how to apply for ShopRite online, go to the corporate website and click the Careers icon located on the upper right corner of the Home page.
To display a printable application for ShopRite, click the "Building on the Best" brochure icon on the left Career Opportunities panel, or to apply for ShopRite jobs online, find the link that says "Click here to view current ShopRite Retail Opportunities" and click the link to access the Retail Career Opportunities screen where you will be able to view ShopRite jobs and apply for jobs at ShopRite by submitting a ShopRite job application online.
Search for ShopRite careers using this screen by searching for a store location using the State, City, and Store dropdowns to make your selections.   After selecting values for all three fields, a "Click here to apply online" link will display.  Click on the link to access a screen where you can view job descriptions for various positions before submitting a ShopRite application, or enter location information in order to create a ShopRite application intended for a specific store location, and then select the position desired.
Once you select a position and store location, an electronic consent form will display.  You must provide consent to engage in electronic transactions in order to apply online.
A screen containing disclosure information will display, explaining the steps involved in the ShopRite Careers application process.
The direct application contains an application form consisting of separate sections.  Following the Consent and Terms and Conditions screens, you will be prompted to enter resume information.  You may upload a resume document or import your data from LinkedIn, cut and paste resume information, or elect not to add a resume to your application.
Next you will enter personal information, including your contact information, and create a job search account before continuing on to complete additional sections of the free application.
Once you have completed your online application, your application will be kept active for a period of 90 days, during which time you will be contacted only if you are being considered for the position.
The printable application form and download application form options on the Careers page don't replace the online application process, therefore it is recommended that a job search account be created so that you can track your job applications and view new opportunities as they become available.
If you are selected as a candidate, the hiring process will include a battery of skills and personality tests to determine your compatibility with the position desired and whether or not you will be a good fit for the company.
If you are chosen to interview with the company, a wise approach is to emphasize the skills and qualities that are most valued in a fast-paced retail environment when responding to questions:  friendliness, energy, enthusiasm, solid work ethic, flexibility, and poise under pressure.
Competitors
In 2011, the retailer was able to overtake its #1 local market competitor, Acme Markets, (which is a division of Albertson's) and has continued to dominate over its regional grocery industry competitors, which also includes retail superstar Wal-Mart Stores, Inc..
Also See:
Shaw's: Visit the Shaw's application.
Martin's Food Markets: See this page for jobs at Martin's Food Markets.
Winn-Dixie: Visit the Winn-Dixie application.
Stater Bros.: Stater Bros. offers opportunities for both, beginners and experienced roles.
Jewel Osco: See our guide for careers at Jewel Osco.
Company Links
http://www.shoprite.com/about-us/