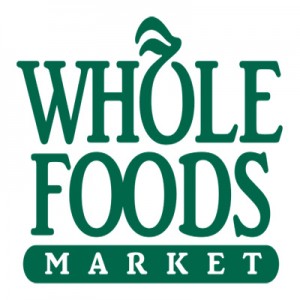 Whole Foods is a specialty grocery store with exceptionally high food standards. It features fresh, wholesome foods that do not have artificial preservatives, sweeteners, flavors, colors, or hydrogenated fats. There are high quality requirements for seafood, meat, animal welfare, organic body care, whole body, and premium body care.
It specifically promotes organically grown foods, and it was the United States' first nationally certified organic grocer. It has been chosen as one of FORTUNE magazine's "Best Companies to Work For" every year since the list started in 1998, making it one of only 13 companies to hold that distinction of long-running excellence. It was also chosen to be on FORTUNE's "Most Diverse" list in 2013 for having a workforce that was 44% women and 43% minorities.
Company History
The first store opened in September of 1980 in Austin, Texas to create a local supermarket for the natural foods industry. It was founded by four local businesspeople and had a staff of only 19 people at a time when the United States had just a handful of natural food supermarkets. In 1984, it began to expand to Houston and Dallas, and its expansion hasn't stopped since. In 2002, the company expanded into Canada, and in 2004, it expanded into the United Kingdom. There are now 80,000 employees of over 50 nationalities working in more than 360 stores in Canada, the United States, and the United Kingdom.
Company Policies
The company has an equal employment opportunity policy extending to all job applicants and Team Members without regard to race, religion, color, sex, sexual orientation, gender including gender identity and expression, ancestry, citizenship status, ethnicity, genetic information, national origin, uniform service membership/veteran status, marital status, pregnancy, age, disability, medical condition or any other protected status in accordance with local, state/provincial or federal laws.
Whole Foods Careers
The company is looking for people with a great attitude. You must be positive, like to serve people, and like to make people happy. In addition, you must be willing to work hard and learn new skills. For many positions, no experience or licensing is required. For leadership or specialist roles, specific experience in the grocery industry, customer service, management, cooking, etc. may be required. The various requirements are described in detail on each job listing.
Get Your Degree!
Find schools and get information on the program that's right for you.
Powered by Campus Explorer
How old do you have to be to work at Whole foods? You must be at least 16 years old to fill out the application form.
Whole Foods Job Descriptions
Whole Foods careers can be broken down into eleven position types:
Store – Team Member
Store – Associate Team Leader
Store – Team Leader
Store – Associate Store Team Leader
Store – Store Team Leader
Facility – Team Member
Facility – Leadership
Regional Office – Team Member
Regional Office – Leadership
Global Support Center – Team Member
Global Support Center – Leadership
Entry-Level Jobs
There is a wide variety of part-time and full-time job opportunities. Most entry-level jobs are as a Team Member in each department, such as Seafood Production, Bakery Service, Meat Service, Produce Service, Prepared Foods Production, Overnight Grocery, Healthy Eating, Sanitation/Housekeeping, and Specialty Service. Other jobs include Cashier, Cashier Assistant, Dishwasher, and Equipment Maintenance Technician.
Jobs for Candidates with Experience
Some jobs involve special knowledge and experience. These include Floral Buyer/Specialist, Dairy Buyer/Specialist, Frozen Buyer/Specialist, Produce Supervisor, Prepared Foods Supervisor, Front End Supervisor, and Team Leader for each department, as well as leaders of stores, facilities, regional offices, and the global support center.
Future Career Growth
Whole Foods is committed to providing professional growth and development opportunities. It has an Academy for Conscious Leadership for its employees, and it primarily hires in-house for its leadership positions. Whole Foods careers include succession planning and career development training. Employees are encouraged to apply for open leadership positions as they gain knowledge and experience, so it is common for a brief job as a cashier to actually develop into a long-term career by being empowered to move up the ranks into leadership.
Average Wages/Salaries & Benefits
In the 2013 fiscal year, the average hourly wage was $18.89, and the average annual salary was $39,289. These amounts have been increasing every year; for the 2012 fiscal year, the average hourly wage was $18.63, and the average annual salary was $38,747. These numbers will probably continue to increase each year. Salary information for all employees is available to workers, making the company's wage transparency very unique in today's corporate world.
The company made FORTUNE's "Best Perks" list in 2013 for offering gym membership discounts, compressed workweeks, and gay-friendly policies and benefits. There is also a Global Team Member Emergency Fund that helps workers who are affected by any major disasters such as tornadoes, hurricanes, and wildfires.
Employees are eligible for benefits if they work at least 20 hours a week and have completed a probationary period of employment. Those who meet those requirements receive:
Generous store discount (20-30% for team members and their domestic partners)
Medical Care
Dental Plan
Vision Plan
Life Insurance
Retirement Savings Plan
Paid Time Off
Leaves of Absence
Gainsharing Program
Team Member Stock Option Plan
Team Member Emergency Funds
The Gainsharing Program rewards teams based on their productivity. The more productive the team is, the more money everyone on the team makes. In 2013, this resulted in an average wage increase of $0.86 per hour, or $1,788 per year for someone working full-time.
Advice For Application Process
There is not a printable application form, and you cannot download the application form. Since there is no printable application for Whole foods, you must apply online with a free application. You can only apply to positions for which the company is currently hiring. If there are no available positions that interest you, you are encouraged to check the careers page often because it is updated regularly with new openings. Under the "Jobs Management" tab in the online system, you can create job alerts to tell you when the company posts jobs that meet your criteria.
How to Apply for Whole Foods Online
When you want to apply for jobs at Whole foods, you first go to the careers page for the United States, the United Kingdom, or Canada, depending on where you want to work. In order to find jobs that match your interests and experience, use the search criteria; these include keywords in the job title or job description, when the job was posted, and the requisition number, location, department, position type, position level, and country. Alternatively, you can leave every field blank in order to see all of the Whole Foods jobs that are currently available.
You can then browse through jobs and read the requirements and responsibilities for each posting. When you find a position that interests you, click the blue "Apply" button to fill out a direct application for that job. If you have never applied to jobs here before, click the "Create an account" link under the "Not a registered user yet?" question, then create your basic profile, upload your resume, complete the Whole Foods application, and answer any job-specific questions. When you have answered all of the questions and submitted your application, you will receive a message indicating that your online application was successfully submitted. If you do not receive that acknowledgement message, it means that there was an issue with your application submission, and you will need to try again until you receive confirmation in order to make sure you are considered for the job.
If any of your information changes after you submit your Whole Foods job application online, you can log in to your account on the Career Center page to update your profile. You can also check the status of your applications when you are logged in.
Interview Process
After applying to Whole Foods jobs online, you may receive interviews. These could be done on the phone, one-on-one in person, with a panel of interviewers, or in a group of applicants.
Some of the questions you might be asked during interviews for Whole Foods jobs include:
What do you know about the company and its products?
What are your greatest strengths and weaknesses?
What didn't you like about your previous job?
How do you take constructive criticism?
How would you handle a difficult customer?
Do you have any food allergies?
After your interview, you will be notified if you got the job or not.
Facts about the Company
Current team members vote on whether or not to add applicants to their teams. A 2/3 vote is required for you to be approved to join the team. This increases accountability and helps make sure that each team is cohesive and able to get along productively.
The voluntary turnover rate for full-time employees is low for the retail industry, at 10%.
There is a salary cap to limit the salary of the highest leadership. Cash compensation is limited to 19 times the average of all full-time team members employed that year.
The Whole Planet Foundation helps to combat poverty and promote self-sufficiency in third-word countries that supply products sold in stores.
The Whole Cities Foundation helps bring fresh food and healthy eating education to communities that currently don't have the necessary access to improve their health and wellness.
The Whole Trade program highlights products that provide more money to producers and workers, are associated with better working conditions for workers, and promote sustainability.
The Whole Kids Foundation supports schools and families looking to improve children's nutrition, health, and wellness by encouraging them to eat more fruits and vegetables.
Why People Like Working Here
People are given higher wages and better working conditions than they would find at other workplaces. Employees feel empowered because they have a voice and are encouraged to move up to leadership positions. Individuals working here also like that they are able to be themselves and that their diversity is respected. It is also important to employees that their company cares about and supports the local community by stocking locally produced foods in stores and having a Local Producer Loan Program to provide local farmers and food artisans with up to $25 million in low-interest loans to help them succeed.
Hours of Operation
Hours vary at the different locations. A common range of hours is 7 AM to 10 PM, 7 days a week.
Competitors
Trader Joe's and WinCo Foods are similar companies in the grocery store industry. WinCo has an Employee Stock Ownership Program, if you are interested in another employee-owned grocery store. It is a smaller company, with 96 stores in eight states in the United States. Trader Joe's sells innovative specialty food items, and if you like stores that provide community support, Trader Joe's is also active in neighborhood involvement such as donating products to food banks.
Also See:
Fairway Market: Use the Fairway Market job application to apply here.
Save Mart Supermarkets: See our guide for careers at Save Mart Supermarkets.
Pathmark: Visit the job application for Pathmark to apply today.
Dierbergs: Dierbergs offers opportunities for both, beginners and experienced roles.
Safeway: See our resource page for more information on Safeway careers.
Company Links
http://www.wholefoodsmarket.com/
http://www.wholefoodsmarket.com/company-info