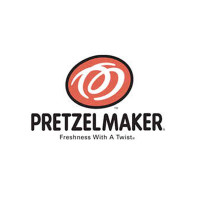 Even if you've never heard of Pretzelmaker before, you can probably guess what you'll find when you get there.  Pretzelmaker is a chain of stores serving different kinds of pretzels to hungry customers. To find out how to apply for Pretzelmaker online, use the link and information below to see the best way to submit a Pretzelmaker application.
Both Pretzelmaker and Pretzel Time both came from one man, Jeffrey Tripp, who originally named his store Pretzelvania back in 1991.  The very first store was located in Trumbull, Connecticut.  The company has grown a lot since then and today, there are over 360 different locations, not only in the USA, but also across the world.
The chain offers a range of 10 different flavors of soft-pretzel, giving it a good claim to its slogan, 'World's Best Soft Pretzel'.  The flavors that all customers can enjoy include Salted, Parmesan, Jalapeno and Caramel Crunch, along with a range of pretzel dogs, pretzel bites, blended drinks and other assorted beverages.
The company's website offers many ways to interact with them.  You're able to add the company on Snapchat so you can send pictures every time you eat a pretzel worth talking about.  You can also download a variety of changing ringtones for different devices.  In addition to this they frequently run contests through social media for cool prizes.
Pretzelmaker Careers
The typical Pretzelmaker jobs based in either their stores or kiosks will include Counter Associates and Cashiers, Pretzel Makers, Assistant Managers, General Managers and District Managers.  Many of these job opportunities are entry-level and will require little to no experience, although you will need to have worked in a similar role to be eligible for managerial positions.
There are fewer Pretzelmaker careers in the corporate side of the industry but they do come up from time to time.  There are careers available in Franchise Support, Finance and Accounting, Sales and Marketing, Administration and Human Resources amongst others.  For many of these roles you will need a college degree in a relevant field.
How old do you have to be to work at Pretzelmaker?  You must be at least 16 years old to apply for jobs at Pretzelmaker.
The stores usually open at 11am every day and close at 9pm Monday to Saturday and 6pm on Sundays. 
The benefits of working at Pretzelmaker will vary depending on the specific franchise and your position.  Employees will be able to enjoy generous discounts on the food and products made by the brand, and also benefit from flexible scheduling.  Full-time employees may also be entitled to health insurance packages, 401(k) retirement plans and employee assistance programs.
Job Descriptions & Salaries
Counter Associate – As a Counter Associate you will have a number of responsibilities on a daily basis.  You will help to maintain the store or kiosk with basic cleaning duties, but your main focus will be on the customers.  Associates greet and serve customers as well as process the transactions.  The expected pay is $8-9/hour.
Pretzel Maker – Possibly the most important job in the setup, Pretzel Makers are the ones who produce the different kinds of pretzels for the customers to enjoy.  You'll be given specifications which you'll need to practice and keep to maintain company standards.  There are also hygiene and food preparation standards that need to be adhered to.  The starting pay for this role is $9/hour.
Assistant Manager – As an Assistant Manager you will help the Store Manager in running the daily operations.  You will help with managing the staff and ensuring that they deliver customer service to the expected standards.  You will need to lead by example and be able to run the store in the absence of the manager.  The starting salary is $20k/year.
General Manager – The Manager will need to be able to run the entire store or kiosk and be responsible for its performance.  You will make decisions over staff hiring, training, scheduling and leadership.  You may also need to handle payroll and other administrative duties.  The salary for this job is up to $46k/year.
Pretzelmaker Interview Questions
Some interviews may be conducted at the time of applying so make sure you're prepared when you submit your Pretzelmaker application.
Why do you want to work here?  It's a good idea to do some research about the company before you get to your interview so that you can give an answer specific to the organization. 
Tell me about yourself.  This question isn't an invitation to tell your entire life story, make sure you stick to skills you have that are relevant to the job description.
Do you know the process of making pretzels?  Full training will be provided to successful candidates, but it will always help your chances of employment if you already know at least a little bit about the process.
What makes you different to other candidates?  Think of something about you that makes you unique, but it's important that it is something that will be useful in the job.
What are your career goals?  Set yourself some achievable but ambitious career goals that show how you want to progress in the company.  Companies are looking for people who are planning to grow and develop within the company.
What is your biggest weakness?  The way to get around this question is to name a weakness where you can show that you have been taking steps to improve yourself.
Advice For Application Process
You can search Pretzelmaker jobs online as some franchises may choose to advertise their vacancies and accept a Pretzelmaker job application online.  However the company does not have a specific careers page of their website via which you can apply online using an online application form.  You can use their website to browse the different locations and find your nearest one.
The best way to apply is to make a direct application to your local store by enquiring about their vacancies.  You can't download a printable application for Pretzelmaker but you will be able to request a free application in person.  It's a good idea to have a resume ready to take with you.
If you are successful in being invited to an interview for any Pretzelmaker jobs then make sure you turn up prepared.  You'll want to give off a good first impression so make sure you are smartly dressed and well presented, although a full business suit won't be necessary for entry-level jobs.
During your interview make sure you maintain a positive attitude by being friendly and polite and smile at your interviewer.  It's also important to keep eye contact.  When answering their questions, be honest and natural and answer in complete sentences.  You may need to follow up after your interview to check on the status of your application.
Also See:
Tropical Smoothie: See this page for jobs at Tropical Smoothie.
Starbucks: See our resource page for more information on Starbucks careers.
Smoothie King: Smoothie King offers opportunities for both, beginners and experienced roles.
Braum's Ice Cream And Dairy Store: Use the Braum's Ice Cream And Dairy Store job application to apply here.
Dairy Queen: Dairy Queen offers opportunities for both, beginners and experienced roles.
Company Links
http://www.pretzelmaker.com/customer-service.php
http://www.pretzelmaker.com/about-us.php