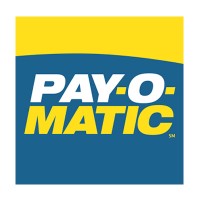 Pay-O-Matic started in 1950 as a facility for check cashing and has since diversified into other financial products and services.  The company strives to be convenient and reliable above all other things.  To find out how to apply for Pay-O-Matic online, follow the link at the bottom of the page to submit a Pay-O-Matic application.
The company was founded by John Barone who was later joined by Irving Wolf.  It was originally called Paymaster Corp until 1970 when the name was changed to Pay-O-Matic.  It now offers a range of services including money transfers and orders, bill payments, prepaid debit cards, deposit and withdrawal services amongst others.
The company is based in New York and from the very first check cashing store that opened over 60 years ago there are now over 150 different locations in the New York area.  Today the company is able to reach customers in all areas of New York providing a full range of financial amenities.
POM has a proud history of giving back to the community.  It has recently donated money to various scholarship funds including the Western Union Pride of the Caribbean and the FSCNY/MoneyGram International Scholarship Program.  It also gave a considerable sum to the Hurricane Sandy relief fund as well as various youth-centric charities.
Pay-O-Matic Careers
The most common Pay-O-Matic jobs available are for Service Associates.  For this role, bilingual candidates are preferred.  You will also need to be able to stand for long periods of time.  In addition you will need good math and communication skills, as well as an eye for detail.  Service Associates also need good computer skills.
Other typical positions will be for Assistant Managers and Store Managers.  From time to time there will be corporate job opportunities in Analysis, Operations, HR, Legal and other departments.  For these roles you will often need a college degree and sometimes up to five years experience in the area of the industry you are applying for.
How old do you have to be to work at Pay-O-Matic?  You must be at least 18 years old to apply for jobs at Pay-O-Matic. 
Store hours are usually 8.30am to 6pm from Monday to Wednesday, 8.30am to 7pm on Thursdays and Fridays and closed on weekends.
There are many benefits to Pay-O-Matic careers including a comprehensive insurance package for eligible employees covering medical, dental, vision and life.  Some employees may also be entitled to a 401(k) retirement plan.  Additional perks will include paid holidays and flexible scheduling.  No matter what career you begin in, there are always possibilities for advancement.
Job Descriptions & Salaries
Teller – Tellers are mainly responsible for handling transactions and serving customers.  You will need a good eye for accuracy and be capable of processing financial dealings.  It's important to have good customer service skills and be able to deal with basic customer enquiries.  There will be other tasks as assigned.  The average pay is $11/hour. 
Service Associate – As a Service Associate you will be working closely with customers and assist them with enquiries about products, process transactions, open accounts and issue cards.  You may be responsible for closing down the cash draw at the end of the day as well as undertaking other safety and security checks.  This role pays around $11/hour.
Assistant Manager – Assistant Managers will work with the Store Managers to ensure that everything is running smoothly from the staff to the customers.  It is important to make sure that staff are carrying out their jobs to the highest standards to ensure customer satisfaction.  You will also need to handle some administrative tasks.  The typical salary starts at $20k/year.
Store Manager – Managers have hiring, training, scheduling and supervising responsibilities over staff, possibly at multiple locations.  You will need to keep a close eye on the financial side of the business and will need to prepare reports and ensure sales goals are met to keep up profitability.  The salary can be up to $40k/year.
Pay-O-Matic Interview Questions
After you submit a Pay-O-Matic application for employment, prepare for your interview by practicing answers to common interview questions. 
Why do you want to work here?  Always do some research on any company that you interview with so that you can answer this question when it comes up.  Pick two or three positive attributes about the company and the job description to talk about. 
Why did you leave your last job?  Try not to dwell on the negatives if you had a bad experience at the end of your last job, but try to mention what you're now looking for in a career and what you learnt from your last job.
What would you do if you caught a coworker stealing?  This business is all about processing financial transactions and so being trustworthy is very important for potential employees.  You will need to demonstrate that you are responsible and able to work independently.
What are your career goals?  There are opportunities in this company for advancement for the right candidates.  It's best not to be overly ambitious but they will be looking for someone who wants to grow in the company.
Describe a time when you had to solve a problem.  If you have an example from your professional experience that will be beneficial for your answer.  Go through the steps you took to approach the problem and what you learnt coming out of it or what you would have done differently.
Advice For Application Process
Search for Pay-O-Matic jobs online and browse the various careers available.  You can apply online by using their online application form.  You can only download a printable application for Pay-O-Matic Check Cashing roles.  If you want to make a direct application to a local store you can go in person and request a free application form.
If you want to submit applications for corporate roles it is best to send your resume with a covering letter directly to their corporate offices in Syosset, New York.  In your letter make sure you outline what type of jobs you are looking for and give detailed accounts of your experiences that make you particularly suited to the company.
Once you've submitted your Pay-O-Matic job application online they will assess your application against the job specifications and the other candidates.  You may then be contacted for an interview.  In the entire process you may be invited to more than one interview.  Remember to prepare yourself thoroughly for your interview to increase your chances of employment.
Make sure you are smartly dressed when you turn up to meet your interviewer.  It's important to give off a good first impression when you meet the hiring manager.  Remember to smile and maintain eye contact.  Think through your answers carefully and speak slowly and clearly.  Follow up after your interview to check on the status of your application.
Also See:
Amscot: Amscot offers opportunities for both, beginners and experienced roles.
H&R Block: For employment at H&R Block visit the application page.
Fifth Third Bank: Fifth Third Bank offers opportunities for both, beginners and experienced roles.
Prudential Financial: Checkout the application page for work at Prudential Financial.
ACE Cash Express: Use the ACE Cash Express job application to apply here.
https://www.youtube.com/watch?v=gUD6X864QSU
Company Links
http://www.payomatic.com/job-opportunities.html
http://www.payomatic.com/corporate-founders.html