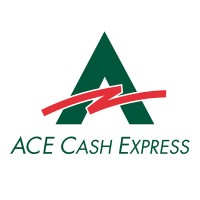 Ace Cash Express offers money services to help when you need it most. You can avail of payday loans, instalment loans, title loans, check cashing, and even a Visa debit card. A mobile app is also available for on-the-go customers.
Irving, Texas is its headquarters. The company started in 1968 and its first establishment was in Denver, Colorado. The goal of the financial services company is to provide traditional banking alternatives to consumers.
One of the awards the company has received is the Top Prepaid Retailer in 2012, which was its 6th year in a row. At present, the company serves customers in 24 states and has over 1,700 establishments including franchises.
ACE Cash Express rewards its employees with benefits such as health insurance plans that include medical, optical, and dental packages. Employees also receive holiday and vacation pays plus 401(k) retirement plans, flexible schedules, competitive base pay, and occasional free lunches.
One of the reasons that people like working at the company is job security. The flexible schedule also allows working students to pursue their studies. There is also a great opportunity for meeting new people and experiencing good customer service.
How old do you have to be to work at ACE Cash Express?
The minimum age required at ACE Cash Express is 18 years old due to the nature of the work. Most employees are required to work under minimal supervision.
ACE Cash Express Careers
The company encourages entry-level applicants. Full-time and part-time positions are available for qualified roles. The company focuses on customer service roles and sales. Here are some of the careers that you can join with their job description:
Operations Assistant: An operations assistant is an entry-level position. You are not required with any experience, but need to be 18 years of age. You must have a high school diploma and is eligible to work in the United States. This role is required full-time work.
Sales Associate: As a sales associate, you are expected to deliver excellent customer service and sell a variety of financial services and products. You are required to build professional customer relationships and have knowledge of services such as lending, prepaid card services, and check cashing. You must have at least a year of experience in retail or hospitality.
Bilingual Sales Associate: Bilingual sales associates have the same requirements as the sales associates. The difference is that you are expected to be excellent in written and verbal communication in the Spanish language. You must be fluent in both English and Spanish and may need to act as a translator for the Spanish-speaking customers.
Store Manager: As a store manager, you are expected to educate customers on available products that suit their needs. You should also have excellent product knowledge and offer other products and services to enhance their customer experience. You are also required to oversee the store, its security, and manage a team of sales associates.
Call Center Customer Service: One of your responsibilities as a call center specialist is to address technical and process inquiries from other ACE sites. You should be able to perform hardware and software troubleshooting over the phone. You must provide excellent customer service and safeguard customer's information.
Service Associates: As a service associate, you are expected to educate customers on financial services. You are also responsible for handling cash, filing reports, keeping money in safes, and performing risk analysis. Service associates must have experience in numerical and financial skills and have past retail experience. Endurance to work 12 hours in a confined area is also necessary.
Administrative Assistant: As an administrative assistant, you will work with the IT department and handle various matters related to administrative functions. You will report to the Chief Information Officer. Your tasks include managing calendars and scheduling meetings, acting as a liaison internally and externally, managing documentation, and as project manager for special assignments.
Customer Support Supervisor: Your role is to be a leader and provide support and development to the customer support staff. You may be required to make inbound and outbound calls, provide technical support, and receive escalations. You are also expected to motivate your team, share best practices, provide coaching, and manage the seat occupancy.
BI Analyst/ Developer: A Business Intelligence Developer is responsible for using applications such as Microsoft SQL 2012+ and analyse data for business solutions. You must be highly analytical, with technical capacity, and have business acumen. You will work with analysts, executives, and managers in understanding business needs and coming up with strategies.
Network Analyst I: The network analyst is responsible for the maintenance of telecommunications and the retail store network. You are expected to work with telecom providers and other network service providers to ensure fail-safe connectivity. You are also required to troubleshoot issues such as VOIP, switches, firewalls, LAN and WAN connections, email, and other network-related issues.
ACE Cash Express Applications
To apply at ACE Cash Express, you may visit their website and browse through the database of jobs. Create an online account so you can apply quickly.
Applicants may apply online or in person, such as by referral. Once you have submitted your application, applicants are required to be reachable all the time, especially during business hours.
When filling out the online application, make sure you complete all relevant fields. This helps the recruitment team match you to a job. Your resume should display all relevant qualifications such as skills and work experiences.
Since it is a financial services company, it favors those who are equipped with numeracy skills or basic math skills, has knowledge in finance, and with previous experiences in customer service.
Once you have submitted the required application documents, it may take a week up to three weeks to receive a response. You may follow up with the manager to express your interest and initiative in the job.
Facts About ACE Cash Express
Typical of a financial services company, ACE Cash Express focuses on security. Employees are required to undergo long duration of training. You will also be trained well when it comes to customer service and sales.
Since 2004, the ACE Community Fund focuses on helping children by supporting their education and promoting financial literacy. The organization has provided over $11 million in cash donations to charitable organizations.
The company is known for providing corporate donations, facilitating employee volunteer programs, fundraising, and supporting causes for women and children. One example is the Give-a-Little campaign, which collects donations for charity.
Among its social efforts is the annual fundraiser Pink Month. ACE Cash Express joined hands with Netspend to raise awareness and funds for breast cancer. This 11-year partnership donated more than $5 million to the National Breast Cancer Foundation.
Application Links
Company: www.acecashexpress.com
Careers: www.acecashexpress.com/careers
Application: https://rn11.ultipro.com/ace1002/JobBoard/NewCandidateExt.aspx?__JobID=*FDC72F493330C2FD