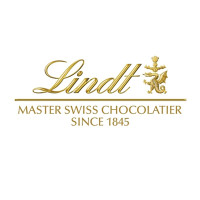 Started in 1845 in Zurich, Switzerland by the Sprungli-Shwarz family, Lindt Chocolate has been around for over one hundred and fifty years.  With their Master Chocolatiers, the company is known for their high end chocolate across the world.  A link to apply for jobs at Lindt Chocolate is at the bottom of the page.
Lindt Chocolate is headquartered in Kilchberg, Switzerland and also runs Ghirardelli, Caffarel, Hofbauer, and Kufferle, which are chocolate companies across the world also known for their high-end chocolates, as wholly owned subsidiaries.  In 2009, Lindt Chocolate closed fifty of their eighty United States boutiques; however, the company does have eight recently started chocolate cafes in Australia.
With their six factories scattered across the world, in Switzerland, Germany, France, Italy, Austria, and the United States, Lindt Chocolate is running strong with over eight thousand employees.  They are also expanding into the gourmet popcorn arena with at least one popcorn product released this year on top of their traditional chocolate treats.
One of the big company values is sustainability.  They know exactly where all their raw materials come from and do what they can to eliminate child labor by being extremely with the farms that they use.  People who have Lindt Chocolate careers are expected to be fully committed to their job and preserving the environment with the company, while maintaining great quality of chocolate Lindt chocolate is known for.
Lindt Chocolate Careers
There are several Lindt Chocolate jobs online, but they are all corporate jobs.  If there is anything at the boutique or factory level, it will probably be advertised at the local level. Jobs are scattered across the world, but the links below are specifically for the United States, all current Lindt Chocolate jobs are in the Northeastern United States.
How old do you have to be to work at Lindt Chocolate? Age requirements vary by jobs, boutique sales jobs will be different from factory or corporate jobs.  Make sure you read all the job descriptions carefully, some require certain degrees or amounts of time in specific industries.
As you fill out a Lindt Chocolate application and submit your resume and cover letter, make sure that they are specific as to your experiences and job descriptions.  Be very clear as to what you did in each position and what makes you so qualified for the job that you're applying for now.  The more specific you are on your resume, you can show what a great fit you are for the company.
Because there are stores across the United States and the world, hours vary by location.  Some stores are open on Sunday, others are closed, but they are usually open Monday through Saturday by ten am.  Factory hours will also vary by location, as they are scattered across the world and produce various types of luxury chocolate.
Lindt Chocolate Job Descriptions
Production Supervisor – You will supervise production in a select production area in order to make sure that the product is produced in the appropriate amounts and maintain the high standards while making sure it is a safe working environment.  Good communication is key as you will strive to create great relationships with your employees and fellow production areas to give effective communication and quick execution. Compensation is competitive.
Machine Operator – Setting up and operating the manufacturing machines is the biggest part of this job as you are ensuring the quality and safety standards are met. You must be able to relate to all people within the company, make good decisions in a short amount of time, and be action oriented.  Compensation is competitive.
CoPack Quality Supervisor – You will work with a third party to ensure that the standards of quality within the chocolate and packaging.  Making sure that the factory meets all FDA standards is a must, while making sure that all employees understand their responsibilities and roles. Compensation is competitive.
Consumer Service Specialist – As customer service is key within the Lindt Chocolate family, you will strive to make sure that every customer has a great experience with you, whether they are calling with complaints, compliments, or questions.  When people call for charitable donations from the company, you will handle them and make sure that they meet the company standard and establish relationships with various organizations. Compensation is above minimum wage.
Retail Store District Manager – Having good communication is a must, as you will work closely with both stores and corporate.  You will model corporate goals, image, vision, and maintain compliance with policies and procedures while exceeding sales goals.  Compensation is competitive.
Lindt Chocolate Interview Questions
Here are some questions you may be asked during your interview process:
Why do you want to work at Lindt Chocolate? A common interview question that you should be prepared for.  Talk about why the company is your first choice to work at and what drew you to the company, whether it was the culture or company benefits.
What experience do you have? Highlight all of your relevant work experience.  Make sure to use plenty of examples from previous job experiences.  If you're going for a supervising position, make sure to bring up any supervising jobs that you've done before.
Where do you see yourself in the next few years? Your interviewer wants to know your ambitions and if you have a future with the company.  Be realistic in your career goals, but let the interviewer know that you're open to challenges and taking on responsibility, especially if you're interested in going up in company ranks.
If you're applying for a management position, you may be asked: How would you motivate your employees to work to their maximum potential? Be straightforward and pull examples from previous jobs that you've held that got employees to work harder.  Explain what would get them to work more and why you think it would work.
If you're applying for a factory supervising position, you could be asked: How would you deal with a machine breaking down or an unsafe situation? Carefully explain how you would take care of the situation, making sure to point out how you would take care of the safety of your employees.  Be clear about your plans to help get the machine back on line as quickly as possible.
Advice for Application Process
How to apply for Lindt Chocolate online: search for the job that you want, then click the make a profile. That will guide you through filling out a Lindt Chocolate application.  Make sure you carefully read the job descriptions and locations of the jobs before applying, the company has stores and factories across the world. A printable application for Lindt Chocolate is not available.
Have a positive and respectful attitude towards your interviewer.  The interview process will be formal, as most jobs are for management positions, include working closely with the corporate office, or supervising fellow staff members.  Dress appropriately, in a suit with minimal jewelry.
Before coming for your Lindt Chocolate interview, do research on the company and the luxury chocolate industry.  Bring a list of questions with you about the company, even if several of them are answered during your interview, it shows that you're prepared and that may put you ahead of other candidates.
Show gratitude for the opportunity to attend an interview with Lindt Chocolate.  Ask questions about the best way to check on your hiring status once your interview finishes.  Few applicants will get a job during the interview process as the company will want to screen all candidates before making a final decision.
Also See:
Boudin Bakery: Visit the job application for Boudin Bakery to apply today.
Red Mango: Checkout the application page for work at Red Mango.
Dairy Queen: For employment at Dairy Queen visit the application page.
TCBY: Checkout the application page for work at TCBY.
Honeybaked Ham: For career opportunities, fill out the Honeybaked Ham online application.
Company Links
http://www.lindtusa.com/shop/CareersView
http://www.lindtusa.com/shop/CareersView?fuseaction=mExternal.showJob&RID=179&CurrentPage=1