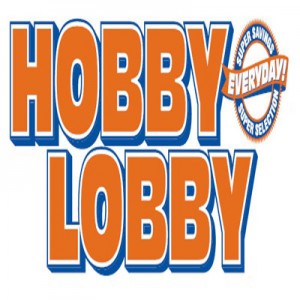 The original headquarters are in Oklahoma City, OK, and the store began as an extension of Greco Products. It is a small framing company which was founded in a garage by David Green in 1970. It officially began business on August 3, 1972 and has been expanding since then.
It is considered a front-runner in the arts and crafts industry.  The retail store has over 600 stores in the states, which offers more than 67,000 crafting and home décor products. The company is listed as a major private corporation in the Forbes and Fortunes list of America's main businesses, and it has no debt that is long term.
It offers many jobs in all of the locations across the nation, and the customers will have a vast selection of products in the crafts and home décor market.
The store offers quality service by creating a work environment and policies that will instill morals and values in families as well as individuals. The store has Christian roots, and honors the teachings of the Bible. This includes providing a return on the owner's investment.
It is possible to browse for local Hobby Lobby jobs on the website, and you can apply for any of the positions by completing a Hobby Lobby job application online.
Hobby Lobby Careers
Hiring managers contact potential candidates by telephone after reviewing the applications. You can expect to wait about a week to hear back from a manager. If you do not hear back after a week, feel free to phone the company or go to the location you are interested in working at to ask any questions you might have. It is recommend to look professional and contact managers during the slow business hours.
Furthermore, it is expected to do heavy lifting by yourself. Additionally, there is a wide range of motions, including standing, kneeling, squatting and bending. Prospective employees can become a store stocker if you have open availability and customer-oriented work ethics.
It is important to perform well during the interview process for Hobby Lobby careers. The management team uses a multi-step interview process for hiring new workers. You must pass all steps of the process in order to get the job. Before hiring, all prospective employees must complete the necessary employment forms. The stores usually select from roughly six candidates. It is recommended to be hands-on during the hiring process, and to contact the stores and ask about your application or your status. This will help you stand out from other applicants. The first portion of the interview mainly consists of a one-on-one session with a store manager, with additional steps to complete the procedure.
Furthermore, the interview questions will help the company find out how you will interact with customers, such as helping shoppers, giving advice, and how to be a problem solver. Hobby Lobby tries to determine how they respond to certain situations. They also ask if you're interested in artsy activities and projects, which may help increase chances with securing Hobby Lobby careers. If you successfully pass the company job interview, then you must complete several additional steps for employment. Every new hire must participate in a group orientation, which includes several training lessons and videos. You will also have probationary periods, and you are expected to stay in touch during the hiring process, and you will have to work without direct supervision. The workers must be self-reliant and have a good work ethic, which will make you more desirable as an employee.
Use a printable application for Hobby Lobby to start applying for one of these positions today using the careers link.
How old do you have to be to work at Hobby Lobby? You have to be at least 16 years old to work with the company.
Hobby Lobby Job Descriptions
The franchise is always trying to find the right people to work for them. The store provides its employees with an environment that will be productive and a place for long-term employment. Whatever position you choose, you can join one of departments and apply for Hobby Lobby jobs today.
Job seekers looking to work in a pleasurable and creative environment that has values can find part-time and full time job opportunities at the arts and crafts store. You can also find Hobby Lobby jobs online such as cashier, floral designer, craft designer, graphic designer, picture framer and stocker. You can also become department head, office manager, assistant manager, store co-manager, store manager and retail production artist. You can also find work as a stocker/order picker operator, truck-trailer mechanic, OTR driver and HR assistant. Log on to the website today to find out how to apply for Hobby Lobby online if you are interested in working with the franchise.
There are common positions like cashier and store associate that do not require lots of experience or job history in the industry. The store is looking to fill entry-level positions with dedicated workers who are well-mannered, attentive and courteous with an appreciation for the arts.  The creative company must also hire associates to fill positions that are more advanced such as floral designer and picture framer at any of the retail locations. Feel free to apply online using an application form and apply for jobs at Hobby Lobby for any of the listed positions.
Job titles in management range from department head to frame shop manager and co-manager to store manager. Retail professionals with several years of experience and a talent for the arts and crafts may qualify for the managerial job description. These candidates can find employment opportunities through the website and must submit an online application or resume in order to be considered for a position.
Picture Framer– A picture framer's responsibilities include helping customers with finished frames and supplies for framing. They provide excellent customer care and ensure quality frame completion. Hobby Lobby employs framers who are devoted, creative, and who have good people skills.
Cashier/Store Associate– In this position, it is important to be kind, sympathetic and alert. Some other ideal skills include individuals who work to bring communities together. The workers are expected to work part-time and full-time shifts, and you will have to work efficiently and quickly for the cashier jobs.
There is more information on the job descriptions available online for any of the positions below. There is also a printable application form for the positions you qualify for.
Average wages/salaries & Benefits
Job benefits include competitive pay and generous work benefits, such as employee health and wellness, financial security, and personal development. You will have access to 401 (k) plans, group life insurance, dental and medical coverage, and a flexible spending plan. Workers may also earn vacation days, holiday pay, and personal paid time off. The benefits will also vary by position and retail location. A picture framer typically earns between $9.00 -$11.00 an hour, and new cashiers start out at minimum wage, and receive pay increases based on experience and proven job performance. Hobby Lobby jobs include career growth programs to associates to fill available managerial roles that feature generous annual salary options and access to employment benefits packages. You will also receive discounts on merchandise and paid training.
Part-time stockers receive minimum hourly wages of $9.50, while full-time employees will start off at $14.00 per hour.  Management employees such as co-managers and department managers earn approximately $45 000 a year for a salary, while store managers can earn up to $55 000 per year.
Advice For Application Process
The equal opportunity business asks all entry-level applicants to contact the management team at the location you are interested in working at. The candidates will fill out applications manually and submit them personally. Job seekers submit education level, contact information, or special training details as well as employment history on a Hobby Lobby application. Your handwriting should be neat, and you should reach each section carefully to ensure that you have written accurate information. You should proof read all the material before you submit it, and the arts company provides a direct application process for managerial positions. You can search for upper-level job searchers by selecting a desired position through the company career portals by creating a personal profile.  You will also participate in a screening process that is done online.
Facts about the company
Some interesting facts about the franchise is that they hire independent class instructors to teach arts and crafts classes to people of all ages. They look for positive, talented people who are driven to fill teaching jobs in, knitting, jewelry making, scrapbooking and floral design. Class instructors must be creative personalities and have extensive skills in learning crafts. The pay depends on the type of class, location, and tenure, and they allow classroom instructors to leave with all the wages.
Why people like working here
You will enjoy the creative and fun environment that lives up to morals and values that will make you proud to be an employee with the company. It will also be a learning environment for you, and will provide you with an opportunity to grow.
Download an application form today to get started.
Hours of Operation: Monday through Saturday from 9: 00 am-8:00 pm and they are closed on Sunday.
Competitors
If you are a creative and arts minded person and you like to help people, Hobby Lobby jobs are for people who like to mix good work ethics with the arts. Fill out a free application today if you would like a career in retail today. There are several job opportunities for you to apply online for. However, if you are wanting to explore your options, then you look into jobs with other retail chains such as ICING and Jo Ann Fabrics.
Also See:
Vera Bradley: See our resource page for more information on Vera Bradley careers.
Ollies Bargain Outlet: Ollies Bargain Outlet offers opportunities for both, beginners and experienced roles.
99 Cents Only Stores: Visit the 99 Cents Only Stores application.
EB Games: EB Games offers opportunities for both, beginners and experienced roles.
Teavana: See this page for jobs at Teavana.
Company Links
http://www.hobbylobby.com/our_company/
http://www.hobbylobby.com/careers/