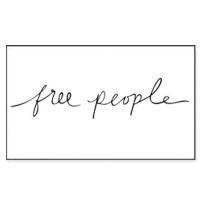 Free People is an apparel and lifestyle retail chain that sells women's clothing, accessories, shoes, undergarments, and swimwear. Their target market is those women who are into bohemian chic styles. They have their own stores, as well as sell items to major retail chains like Macy's or JC Penney. For more information on your Free People application, follow the link below.
In the 1970's, Dick Hayne and his wife opened up their first store in Philadelphia, Pennsylvania and named it "Free People". As that store became popular, he opened up a second named Urban Outfitters which became the parent company for Free People. Free People was officially founded in 1984, when they created lines to sell wholesale items to their own stores and other retail chains.
This company is currently headquartered out of Philadelphia, Pennsylvania. They have retail locations that can be found in the United States, Canada, and Japan. They also run a blog, BLDG 25, which helps promote their brand as well as providing information on topics of lifestyle and culture that is associated with this brand.
Free People is looking for people with amazing interpersonal skills to join their staff. They are looking for employees that have an appreciation for this lifestyle and culture, as well as people with a passion for fashion. The expectation is that customers will have an amazingly positive experience when in their store to keep customers returning.
Free People Careers
There are plenty of opportunities at this company at both the corporate office and their retail stores. The retail stores offer many entry-level positions so that a person can grow their job into a Free People career. Some positions at the retail store level include stylists, visual manager, assistant store manager, and store manager.
The corporate office has many opportunities where a potential job seeker can find something that is a fit for their skills and talents. While there are some entry-level positions available including internships, most positions in the corporate office are higher level positions. Some positions include buyer, designer, and merchandising & planning.
Different positions within this company have different requirements in order to gain employment. Entry-level positions may require a high school diploma or equivalent and little experience to gain employment. Higher level positions may require a college degree and several years of experience. How old do you have to be to work at Free People? The minimum age of employment is 18 years of age.
Free People offer competitive benefits for their industry. Employee eligibility for benefits may depend on hours worked weekly or job title. Some benefits an employee may qualify for may include health insurance, dental and vision plans. They may also receive 401(k) plans, performance bonuses and paid time off. They may also receive employee discounts.
The hours of operation for their stores can vary depending on location and holidays. Some holidays may cause closures. During the busy holiday season, they may have extended hours to accommodate shoppers. For more information, check your local store for details. In general, hours of operation are from daily from 10:00am to 9:00pm.
Job Descriptions & Salaries
Stylist- A stylist is the primary point of contact of customer service in the store. They are responsible for assisting customers out on the store floor. They will also handle customer transactions at the register, including returns and exchanges. They will assist customers in finding products that meet their needs, including finding out of stock products at nearby stores. A stylist may earn around $9 per hour.
Visual Manager- A visual manager is responsible for setting up the store in accordance to company policies to maximize sales. They must make a unique setting that is memorable for the customer. They will lead visual training workshops to ensure all staff follows the policies set forth by the district visual manager. A visual manager may earn around $40,000 a year.
Senior Stylist- A senior stylist is responsible for training new stylists in accordance to company policies. They are responsible for networking and outreach responsibilities, including social media efforts and email communications. They are also responsible for having expert knowledge of the styles and trends found in store. A senior stylist may earn around $10 per hour.
Store Manager- A store manager is responsible for running the daily operations of their store. They will hire and fire employees as necessary. They will conduct job interviews for potential candidates. A store manager is responsible for their store's budget and payroll, as well as scheduling staff in the most cost effective manner possible. A store manager may earn around $46,000 a year.
Free People Interview Questions
These are some questions that you may be asked during your job interview.
Why would you like to work at Free People? This question may require some research prior to your interview. The interviewer is trying to see what you know about this company and their values. Describe which values that you feel you share with this company and why you think that makes you a good fit to work here.
Who is your style icon and why do you admire them? This company is looking for people with as unique and laid back of a fashion sense as they have. Describe a celebrity who you look to for fashion ideas and what about them inspires your fashion.
Why should we choose you over the other applicants? This is the interviewer giving you the opportunity to sell yourself to this company. Take this chance to discuss your strengths and why you feel the company would benefit from them. Try not to sound too boastful when doing so.
How do you keep up with the latest fashion trends? This is a company that takes fashion very seriously. The interviewer is looking to see how you keep up with the constantly changing fashion world. Describe any newspapers, magazines and television shows that you may watch to stay current with fashion.
Which Free People girl is most like you? Free People girls are representations of different styles within this brand. This question shows the interviewer that you have knowledge of the products, and will require some research prior to your interview. Answer honestly with which girl you believe that you are a closest match to and why.
Advice for the Application Process
Wondering how to apply at Free People? You can apply for a Free People job at Free People jobs online. You may also fill out an application form at your local store. There are no printable applications online. There are no downloadable applications online. The easiest way to apply is to apply directly online.
The company website has the job descriptions and responsibilities clearly stated for available positions so that job seekers can find the right job for them. You should only apply for a position that you are qualified for. Remember to fill out your application completely and according to the provided instructions. You should submit an updated resume with your application to give a clearer look at your skills and talents.
After applying with this company, you should hear back within a reasonable amount of time. If not, you can call the location you applied at to check the status of your application and see if they are still hiring for that position. They may also provide you with additional information, such as when interviews are set to begin.
You may consider practicing before your interview. You can do this by asking yourself potential interview questions and answering them aloud. This will help ease your nerves, which will help you be more confident and articulate during your interview. You should also dress in a professional manner for your interview. This will help increase your chances of getting the job.
Also See:
Torrid: Visit the Torrid application.
Brooks Brothers: For career opportunities, fill out the Brooks Brothers online application.
Papaya Clothing: For employment at Papaya Clothing visit the application page.
Louis Vuitton: See our resource page for more information on Louis Vuitton careers.
Lacoste: Visit the job application for Lacoste to apply today.
Company Links
http://www.freepeople.com/job-opportunities/