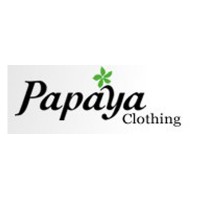 Papaya Clothing focuses their business on junior and petite apparel. Their team desires to instill a sense of confidence in their customers through their fashion forward mindset. If you are interested in employment with a fast growing company in the fashion industry, information about the Papaya Clothing application process is located below.
Established over 30 years ago, this company models itself around the latest in women's clothing and accessories while targeting a market group of mid-teens to late 20s. Growing quickly, they have already managed to get over 100 stores up and running in the U.S. and Puerto Rico. The high velocity with which this company grows leads to excellent job opportunities. This is just one great reason to apply for jobs at Papaya Clothing.
With a high volume of consumers, Papaya Clothing greatly values the quality of their employees. They foster a fast-paced, fun work environment that allows associates to explore their creativity. With flexible hours and weekend availability this is the perfect place for college students to begin their trek in to the fashion world.
Working here allows employees to work under a management team who has a strong commitment to promote from within. Operating as a manufacturer-direct business, which allows them to not commission any middlemen, Papaya Clothing jobs are the beginning of lasting Papaya Clothing careers that can be obtained by a simple online application.
Papaya Clothing Careers
With opportunities ranging from hourly to upper level managerial positions, the possibilities to grow are never ending. They also offer a wide variety of corporate office positions including brand marketing, design development, and product management. As a primarily female serving company, most associates are women, however Papaya offers many job possibilities for men as well.
Most of the local retail stores operate within the hours of 10:00AM to 8:00PM Mondays through Saturdays and 12:00 to 6:00PM on Sundays. Their corporate office can be reached via telephone and email during normal business hours. Their website also allows customers to place orders online and receive their top of the line product directly to their homes.
How old do you have to be to work at Papaya Clothing? An entry level position as a Sales Associate requires a minimum age of 18 years old. Many locations also recommend a high school diploma or equivalent be obtained.
Get Your Degree!
Find schools and get information on the program that's right for you.
Powered by Campus Explorer
Employees are offered competitive salaries and employee discounts that increase by a percentage with each promotion. Certain upper level titles also come with benefits such as medical and dental insurance as well as a 401(k), paid vacations, and numerous chances for career advancement. Each of these vary per job title and per state.
Job Description and Salaries
Sales Associate: Responsibilities for this position include engaging customers, having a complete knowledge of products and policies, operating the sale register, and recording all transactions. Retail sales experience is beneficial and the minimum age to be considered for hire is 18 years old. Associates are paid minimum wage.
Key Holder: Key Holders are assigned the same tasks as Sales Associates with the addition of executing store opening and closing procedures while providing direction to team members. The pay for this position is the same as a Sales Associate.
Stockroom Associate: This is the only position in which direct customer service is not always part of the job. Spending the majority of the time in the backroom, these associates may be required to operate certain equipment to maintain a clean and organized stockroom. Minimum wage is the starting pay.
Assistant Store Manager: This level of management requires sales management experience, supervisory skills, an energetic personality, and excellent customer service habits. They must also assist with coaching a team of associates, seeking new talent to hire, training, and driving store revenue. This positions pay up to $11.00 per hour.
Store Manager: A Store Manager must provide leadership and supervision to all associates while maintaining visual store standards and overseeing all shipping and receiving. Exceeding financial metrics and recruiting talent are other tasks assigned to the Manager. Strong interpersonal skills are a definite asset for managers at this level. Retail sales is required for these applicants and the annual salary averages $40,000 annually.
Papaya Clothing Interview Questions
After searching for Papaya Clothing jobs online and filling out your free application, it's time to begin preparing for the possible enquires made during the in-person process:
What experience do you have in the fashion industry? Entry level positions do not require any level of work experience, however, having knowledge of the fashion industry doesn't necessarily mean working in the industry. If you have an interest in clothing, that is what they want to hear. Show your passion for their product by telling them what you typically buy from them and other apparel stores.
What do you have about Papaya Clothing? Very similar to the one above, this enquiry is simply to find out whether you have an interest in the business. Again, simply tell them what you do or would buy from their store.
Who are our main competitors? The main competitors consist of any successful clothing store that targets the same market group – females in their teens and 20s. These would include: Charlotte Rousse, Forever 21, etc…
What do you like to do in your free time? The answer to this doesn't have to be fashion related. In fact, if it's not, it may work in your favor. Having a wide array of interests means you'll be able to connect better to more types of customers. Just be honest and tell them what you enjoy.
What was the most successful experience in your life? Most of the time when they are asking something of this nature it's just to get to know the applicant. It doesn't matter what answer you give, as long as you explain why you felt that particular event was so successful.
How do you feel about customer service? Every position will place you in direct contact with potential customers. Your bosses want to know you are a people person before they consider hiring you. Talk about wanting to please people and aid them in their search for the perfect outfit and/or accessory. This will speak well about you as a worker.
Advice for Application Process
If you're looking for a direct application the websites below walk you through how to apply for Papaya Clothing online. Unfortunately, there isn't a printable application form on their page or a simple "download application form" link. However, your local store can provide hard copy applications. Before completing a Papaya Clothing application it is important to research which position is the best fit for you. Listed above are a few common job opportunities available. More can be found on the company website.
Make your way through the online process before searching for a printable application for Papaya Clothing from an outside source. This will ensure you are seeking the correct position. Once you've made your choice it's simple and easy to apply online. Click one of the sites below. There you will find a form to fill out complete with education and work background sections. After you fill this out click the "apply now" link and await a phone call.
As this is primarily a customer service fueled business, management wants to employ people who are friendly, positive, and energetic. In the interview, show your personable side to ensure they know you'll present yourself and the company well to each and every customer you encounter. If you have knowledge about their products, express your passion for their clothes.
If you possess a work background, it's a good idea to take a resume with your to your interview. Most importantly, remember to thank the person you met with for the meeting. Also, have a few questions to ask such as: "How soon are you looking to make a decision?" and "What are you looking for in an employee?" This will show your initiative and drive.
Also See:
K&G Fashion Superstore: Use the K&G Fashion Superstore job application to apply here.
Francesca's Collections: Francesca's Collections offers opportunities for both, beginners and experienced roles.
Diesel: See this page for jobs at Diesel.
The Limited: See our guide for careers at The Limited.
New York & Company: For employment at New York & Company visit the application page.
Company Links
http://www.papayaclothing.com/c/careers