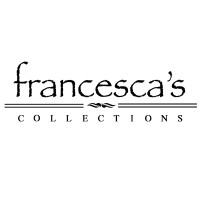 Francesca's Collections, or just Francesca's is a chain of boutique stores selling women's clothing along with other items such as gifts and household items.  To find out how to apply for Francesca's Collections online, follow the link at the bottom of the page to submit your Francesca's Collections application today.
The very first boutique opened in 1999 in Houston, Texas.  But from that very first store the company has grown exponentially and now there are over 500 stores across the United States in over 45 different states.  The company is always looking for new opportunities to expand to new locations.
The clothing is aimed at being comfortable and pretty at the same time.  They offer a wide range of graphic prints mixed with soft pastel colors.  Francesca's sells dresses, skirts, shirts, rompers and shorts among other items.  They follow the same patterns with their jewelry and other accessories as well as offering a range of shoes.
There is also a wide range of gifts and trinkets to decorate your home or someone else's.  You can find sets of planters and vases to start off your plant collection or add to the one you already have.  You can also find a new set of plates to add your own unique style to your kitchen as well as cushions and soft furnishings for the rest of your house.
Francesca's Collections Careers
There are many Francesca's Collections jobs available at their retail locations.  The most common positions are Boutique Associates, Stockroom Associates, Key Holders, Assistant Boutique Managers, Boutique Managers and District Managers.  For entry-level positions you probably won't need that much experience, although it will help, but an interest in fashion and retail as well as an enthusiastic attitude is important.
You can also find Francesca's Collections careers in the corporate side of the industry.  Most of these will require you to have relevant experience as well as a degree in a related field.  The types of job opportunities available are in the departments of Real Estate, Store Systems, Project Management, Information Technology and Store Planning.
How old do you have to be to work at Francesca's Collections? You must be at least 18 or over to apply for jobs at Francesca's Collections.
Francesca's Collections jobs will provide you with opportunities for training and career advancement including possibilities for promotion up the management ladder.  The financial benefits will vary depending on the position you have but some employees may be entitled to health insurance packages and 401(k) retirement plans.  All Associates will be able to use their employee discounts on the merchandise.
The stores open at 10am on Monday to Saturday and close at 9pm.  On Sundays the stores are open from 12pm to 6pm.
Job Descriptions & Salaries
Boutique Associate – The responsibilities of a Boutique Associate revolve around the needs of the customers.  It is important that you have good communication skills to be able to serve customers and to help them with their enquiries.  It helps to have a sense of personal style that fits in with the overall image of the brand.  The average pay is between $9-10/hour.
Key Holder – The job description of the Key Holder revolves mainly around security.  You will need to make sure that all cash deposits are securely made and that the stock is protected at all times, especially during delivery.  The average pay of a Key Holder amounts to around $9-10 an hour.
Assistant Boutique Manager – As an Assistant Manager you will be working between the Associates and the Boutique Manager to oversee all aspects of the store.  You need to lead by example and help out Associates with their sales goals and ensure that the store is performing well.  Assistant Managers are paid at a rate of $11-12/hour.
Boutique Manager – For employment as a Boutique Manager you need to have good leadership skills while supervising the entire store.  You will be hiring and training the new staff members and ensuring that they deliver top quality customer service.  You will also have other tasks including scheduling and payroll.  The average salary is $38,000/year.
Francesca's Collections Interview Questions
Try to practice some common interview questions before you get to the interview once you've submitted your Francesca's Collections application.
Tell me about yourself.  You should always keep it relevant to the job when you talk about yourself because you're there to sell yourself and show that you are the best person for the job. 
Describe your own personal style.  You can be honest about your own style and show it off with your outfit, but it will always help if your style is similar to that of the store itself.
Dress a mannequin and then explain your choices.  Make sure you're familiar with the brand and their window displays before you get to your interview, but try and be a bit unique with your choices so that they stand out.
What is the most important part of customer service?  There may not be one right answer to this question but make sure you answer confidently and be prepared to explain your answer.
Have you ever had a conflict with another coworker?  You most probably have at some point in your past experience, but always pick an example when you were able to resolve the problem professionally and to everyone's satisfaction.
Advice For Application Process
Search for Francesca's Collections jobs online and you can see the many vacancies being advertised.  Once you have selected the position you want to apply for, fill in the online application form with your resume, paying close attention to detail to ensure you give off the best first impression.  You can also download a printable application form for Francesca's Collections.
You can make a free application through a recruiter, however all of their vacancies are advertised online so it is best to check these frequently.  If you want to apply to your local store ensure your preferred location has a vacancy before making a direct application.  If you create an account to apply online, you can make numerous applications to different positions you think you may be suited for.
After you have submitted your Francesca's Collections job application online you may be contacted for a brief phone interview.  If you pass that you will be invited for a face-to-face interview at your local store, which may be on your own or in a group.  You won't always know which type of interview you're walking into so be prepared for either.
Make sure you are well presented and well prepared when you turn up to your interview.  Take some time to think through your interview outfit as this is obviously a large part of the job.  Remember to do research on the brand if you aren't already familiar with the types of clothing that they sell.
Also See:
Hurley: For career opportunities, fill out the Hurley online application.
Catherines Plus Sizes: Visit the job application for Catherines Plus Sizes to apply today.
Gabriel Brothers: Visit the Gabriel Brothers application.
Lululemon Athletica: See this page for jobs at Lululemon Athletica.
The Children's Place: Visit the The Children's Place application.
Company Links
http://www.francescas.com/category/customer+service/career.do
http://www.francescas.com/category/customer+service/about+us.do