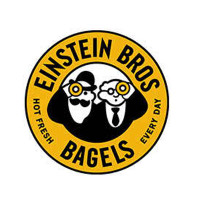 Einstein Bros. Bagels is one of the three bagel brands run by the Einstein Noah Restaurant Group, the other two being Manhattan Bagel and Noah's New York Bagel.  To find out how to apply for Einstein Bros. Bagels online, follow the link at the bottom of the page to submit your Einstein Bros. Bagels application.
The company came together in 1995 when a few different bagel brands were joined to form a stronger business.  It was originally founded in Golden, Colorado, but has since moved its headquarters to Lakewood, Colorado.  There are now over 600 locations just under the Einstein Bros. brand in 40 different states.
Einstein Bros. is the biggest of the brands run by the corporation, making up over three quarters of all of their locations and franchises.  All together, the Einstein Noah Restaurant Group is the largest provider of bagel cafes to the American public, and is still growing and looking for new opportunities for expansion.
The company is of course most famous for its bagels, of which there are over 30 different varieties, both sweet and savory, as well as providing extra toppings and spreads so that the combinations are numerous.  They also offer coffees, breakfast and lunch sandwiches, and a range of snacks including cakes, cookies, muffins, parfaits and brownies.
Einstein Bros. Bagels Careers
There are always many job opportunities for Einstein Bros. Bagels jobs based at their restaurant locations.  The typical positions are Cashiers, Crew Members, Line Workers, Bakers, Assistant Managers and General Managers.  Some of these are entry-level and won't require experience but you will need a ServSafe certification to be eligible for managerial careers.
Einstein Bros. Bagels jobs online also list their corporate opportunities, although these are not as common.  However there are occasional career paths open in the departments of Accounting and Finance, Customer Service, Human Resources and Sales and Marketing.  For these jobs you will need a relevant degree and a specified number of years experience in the field.
How old do you have to be to work at Einstein Bros. Bagels?  You can be 16 years old or over to apply for jobs at Einstein Bros. Bagels.
The stores are generally open from 5.30am to 7pm Monday to Friday, 6am to 4pm Saturdays and 6am to 3pm on Sundays.
The company tries to make sure that everyone with Einstein Bros. Bagels careers can have a good work-life balance, so even though there will be some early mornings involved, the stores are always closed in the evenings.  In addition there is also flexible scheduling and discounts on food and drinks.  Salaried employees may be entitled to further benefits including insurance and 401(k) retirement plans.
Job Descriptions & Salaries
Cashier – The job description for Cashiers is fairly standard, you will be responsible for processing various customer transactions.  You will also need good customer service skills so that you can answer any enquiries about the products offered by the restaurant.  This job is usually paid at minimum wage at around $8-9/hour.
Crew Member – Crew Members may be asked to carry out cashiering duties occasionally, but will also be required to complete a number of other tasks on a daily basis.  Crew Members will serve customers and fill their orders and be involved in food preparation.  You'll be expected to maintain hygiene and food safety standards.  Crew Members can earn up to $10/hour.
Assistant Manager – The responsibilities of an Assistant Manager involve ensuring that staff are meeting expectations and providing excellent customer service.  You will be expected to assist in setting and achieving sales goals and help staff to learn the job and continue their training.  You can expect to earn around $35,000 a year in this job.
General Manager – As the manager of the restaurant you will be responsible for setting the tone of the store to ensure that it is a great place for people to work and for customers to eat.  You will be responsible for staff hiring, training and ongoing management as well as administrative and financial duties.  The average salary is $46k/year.
Einstein Bros. Bagels Interview Questions
Once you've submitted your Einstein Bros. Bagels application, you can help yourself prepare for the interview by going over some typical questions you might be asked.
Why do you want to work here?  Make sure you're ready for this question as it will probably be the first thing you're asked.  Do some research on the company first so that you can give a tailored answer. 
What are your biggest weaknesses?  It can be hard to answer this question because you don't want to be negative but the way to get around it is to identify where you have been working to improve your flaws.
How do you cope under pressure?  This can be a fast-paced industry, so you need to be able to demonstrate that you can remain calm in stressful situations.  If you have any specific examples from your employment history that will help.
Do you have any experience in food preparation? You will be given all the necessary training but it always helps if you know certain things like the correct temperatures to store food at and other facts like that.
How do you cope with conflicting priorities?  Pick an example from any of your previous jobs where you have had to show time management and organizational skills.  If this is your first job then use an example from school or college.
Advice For Application Process
You can easily submit an Einstein Bros. Bagels job application online by browsing through the list of Einstein Bros. Bagels jobs that are currently available.  The online application process is very straightforward, you will need to fill in your personal details and details of your previous employment and upload your resume.
If you don't want to apply online you can make a direct application to your local store by enquiring about their open positions in person and requesting a free application form.  You can't download a printable application for Einstein Bros. Bagels.  They may decide to interview you on the spot when you go in so be prepared for that when you submit any applications.
The application process for entry-level positions especially will most likely be fairly short, it should only take a couple of weeks at most.  The interview will consist of standard questions focusing on your experience and your personality.  Management interviews will be more in-depth and will require you to demonstrate your knowledge of the food service industry.
Even if you expect the interview to be easy that doesn't mean you shouldn't make an effort when you turn up.  You still need to ensure that you are well presented and dressed smartly, although you won't need a full business suit.  Remember to smile and be positive throughout and show that you are serious about the job.
Also See:
Honeybaked Ham: Checkout the application page for work at Honeybaked Ham.
Lindt Chocolate: See our guide for careers at Lindt Chocolate.
Nestle Toll House Cafe: For employment at Nestle Toll House Cafe visit the application page.
Auntie Anne's: For career opportunities, fill out the Auntie Anne's online application.
Golden Spoon Frozen Yogurt: Use the Golden Spoon Frozen Yogurt job application to apply here.
https://www.youtube.com/watch?v=MVM_OqObCKs
Company Links
http://careers.einsteinnoah.com
http://www.einsteinnoah.com/about-enrg