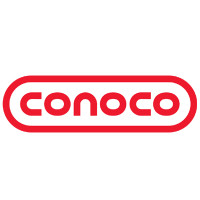 Conoco, or Conoco Phillips, claims to be the largest independent energy and power company in the world, also running a chain of gas stations across the United States.  To find out how to apply for Conoco online, follow the link or use the information below to submit your Conoco application.
The name comes from the original company that was founded all the way back in 1875 as the Continental Oil and Transportation Company.  The founder was Isaac Elder Blake who began to import kerosene from Colorado to Utah so that the people there no longer had to use inefficient methods of heating and lighting in their homes.
The company headquarters have moved around a bit over the years, from Ogden, Utah where it first began, through New York, Connecticut and Delaware.  The current corporate offices are located in the Energy Corridor in Houston, Texas, where they had been at one point before and will most likely stay for a while now.
Conoco has been drilling for oil for over 80 years of its history, always keeping up with the latest techniques to explore and discover new sources of oil and natural gas.  They then produce energy from these resources and transfer them to the American people.  They always strive to minimize their impact on the environment around them.
Conoco Careers
You can find a lot of job opportunities for Conoco jobs in the gas station locations across the country.  The most common positions available are Cashiers or Gas Station Attendants, Assistant Managers and Store Managers.  For entry-level roles you probably won't need much experience but for managerial roles you will need experience in a similar position.
There are many different types of Conoco jobs available in other departments. These types of careers include jobs in Administration, Audit, Business Optimization, Engineering, Finance, PR, Health and Environment, HR, IT, Legal, Maintenance, Operations, Piping Design, Procurement, Supply and Marketing. These will require relevant degrees and specific experience and qualifications.
How old do you have to be to work at Conoco?  You must be at least 18 years old or over to apply for jobs at Conoco.
Full-time employees will enjoy a number of benefits working in Conoco careers.  The benefits will include a generous health insurance package with medical, dental and vision insurance along with an employee assistance program and life insurance packages.  There may also be 401(k) retirement plans.  Other employees will be able to benefit from flexible scheduling and opportunities for advancement.
Your working hours will vary depend on your position and shift but the hours of operation of the company are 24 hour a day, 7 days a week.
Job Descriptions & Salaries
Gas Station Attendant – In this role you will be working serving customers in the gas station and your main responsibilities will be to process transactions and deal with any enquiries.  You will also have other duties on a daily basis.  You will be expected to keep the store clean and tidy.  The average pay for this role is $9-10/hour.
Assistant Store Manager – The job description for the Assistant Manager means that you are the link between the Attendants and the Store Manager.  You will assist in training staff and in their ongoing management.  You must also be able to run the store when the manager isn't there.  The salary for this role starts at $10 an hour and increases with experience.
Store Manager – As the manager of the station you will need to ensure that the store's performance is good, in terms of staff performance and customer satisfaction.  You will be responsible for hiring and training new staff as well as carrying out back office administrative duties including scheduling, inventory and financial duties.  The salary range is between $25-30k/year. 
Engineer – Working offshore most often, there are always openings for Engineers.  In this role you will be responsible for checking and maintaining much of the equipment and ensuring that everything is up to an acceptable level of health and safety standards as well as other duties.  The salary range for this role can be up to $100k/year depending on your exact position.
Conoco Interview Questions
Make sure you set yourself apart from the other candidates by practicing some common interview questions after you submit your Conoco application.
Why do you want to work here?  In any interview for any job, you'll probably be asked this question first.  It always helps to do some research on the company before so you can give a targeted answer.
How would you handle an angry customer?  This will only be asked of you if you're looking for employment in the gas stations and not other parts of the industry.  Try to give an example of a similar situation you've experienced. 
Have you ever disagreed with a coworker? You can talk about difficult situations that you've had in the past, but make sure you demonstrate that you're able to handle times like these professionally and come out with a positive result.
What is your biggest weakness?  Many people won't know how to answer this question because they don't want to be negative, but the way to handle it is by talking about how you are working on improving yourself for example through further training.
How would you describe your people skills? Customer relations are a very important part of most jobs in the gas stations, but if you don't have specific experience to draw from then describe your people skills in your other activities.
Advice For Application Process
Most applications that aren't retail-based will need to go through the online portal; you can only submit this type of Conoco job application online.  Search for Conoco jobs online to see a list of the current opportunities.  You can fill in the online application form and upload your resume.  There are specific application paths for graduates, especially if you don't want to make a direct application for a specific position.
For a career at your local gas station you should enquire in person if they have any openings instead of trying to apply online.  You can get a free application from the manager because you're not able to download a printable application for Conoco.  Make sure you're presentable when you go in to meet the manager.
The interview process for gas station openings will probably be fairly short and only take one to two weeks.  You might have a phone interview first followed by a meeting with the manager.  Interviews will mostly focus on your availability and check that you understand the role and that you can carry out all of the required tasks.
For other specialized jobs in other parts of the industry the interview process will be longer and you may be asked to attend a few interviews with different people.  Many interviews will consist of behavioral questions but you also may be asked questions relating to your area of expertise to demonstrate your abilities.
Also See:
Racetrac: Visit the Racetrac application.
Travelcenters Of America: See this page for jobs at Travelcenters Of America.
Hess: See our resource page for more information on Hess careers.
Valero: Visit the job application for Valero to apply today.
Sunoco: See our guide for careers at Sunoco.
Company Links
http://careers.conocophillips.com/en/
http://www.conoco.com/aboutus/