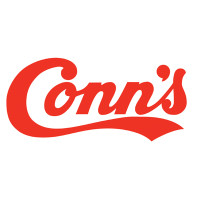 Conn's Inc. is an electronics and appliance chain based in The Woodlands, Texas. It has stores in several locations throughout the United States, mostly in the Texas area. Beyond appliances and electronics, it offers credit to people who have been turned down elsewhere. The company's slogan is "You deserve it."
Edward Eastham founded Eastham Plumbing and Heating Company in 1890. When First National Bank of Beaumont took over his business, it changed the name to Plumbing and Heating, Inc. In 1934, the company's employee Carol Washington Conn purchased the company, changing its name to Conn Plumbing and Heating Company. He slowly began to add new inventory to his company. Under the direction of Conn's son, the store opened multiple locations.
It went public in November 2003 in an initial offering of 4.6 million shares. The shares are traded on NASDAQ under the name CONN. Its revenue was US$836.7 million in 2010, and it had assets estimated at US$551.4 million. In 2010, Conn has 2,800 employees in 73 locations throughout the southern United States.
The company boasts top-notch, unique service. It gives its customers six reasons to shop at its stores. These include its Yes Money Financing, which gives credit to almost anyone who needs it. It offers next day delivery and carries high quality brands. Conn's employees are home experts and service pros. And, most importantly, the stores guarantee low prices.
Conn's Careers
Conn's jobs are open and available to all. It is an Equal Employment Opportunity, meaning that it hires without regard to race, color, sex, age, religion, national origin, etc. If you need assistance in completing your Conn's application, you can contact the Talent Acquisition Team. They will help you apply online or use a printable application for Conn's.
Job openings can be viewed through a link on the company website. You can search jobs by location, so you can find local Conn's careers. Positions are available in the Corporate Office in Woodlands, at the San Antonio Call Center, in Distribution Centers, and in stores. These jobs range from accounting to equipment operator to delivery driver.
How old do you have to be to work at Conn's? Each job has different age, experience, and physical requirements. You can learn about these by reading each job description. For some positions, it is possible to be hired at 16, but you will be a much more competitive applicant at 18.
There are many benefits of working for this company, so apply for jobs at Conn's. Benefits include health insurance, prescription drug plan, dental insurance, short and long term disability, life insurance, vacations, 401(k) retirement savings plan, employee stock purchase plan, employee discounts, college scholarships for employee's children, and tuition reimbursement for employees.
Conn's Job Descriptions
Sales CSR Specialist – This job include answering calls, providing every customer with the best customer service, receiving customer payments, balancing registers, and supporting the retail management team. To do this job, you must have excellent people skills, good organization, and data entry experience. Salary depends on experience. Benefits are given to full-time employees.
Sales Associate – You will help customers find what they need in the store. You must have previous experience in retail jobs. You must also have good communication skills, proficiency at Conn's computer software, ability to set up the store, and able to keep store clean. You have to work evenings, weekends, and some holidays. Training is provided. Salary depends on experience and is hourly or commission.
Equipment Operator – This position include loading and unloading trailers and trucks, keeping warehouse clean, and making sure delivery runs smoothly. You may be asked to keep track of the condition of equipment and log its functionality. To work this job, you must have one year of experience. You will have to pass a physical exam to get the job. Salary depends on experience. Salary depends on experience.
Manager – This position oversees other workers, making sure they are doing the best work they can to help customers. Managers are also there to help support employees, answering their questions, conducting training, and creating a work schedule. This job requires previous retail experience and previous management experience. Salary depends on experience.
Conn's Interview Questions
The interview is just as important as the Conn's application, so prepare yourself.
What do you think this job will look like? This question is asking you if you have read the job description in the online application. To answer, list the responsibilities they have in the link online. If you show that you took the time to read about the job, you will be a memorable interviewee and thus, more likely to get a hiring offer.
Briefly describe yourself. When answering questions like this, be specific. Think of personality characteristics that are related to and beneficial for Conn's jobs. These could include things like being hard working or having a previous employment in the industry. They could also be things like friendliness, good customer service, and organization.
What do you hope to accomplish by working here? When preparing for the interview and when filling out the Conn's job application online, think of the reasons why you are applying for the job (beyond money). Talk about how this job will help you achieve these things. Stress how Conn's gives unique job opportunities.
What did you do at your last job that made you proud of yourself? This can be difficult to think about and articulate without sounding too boastful. The best way to approach this question is to think of a time when you took on a challenging task you didn't think you could complete, but because you preserved, you succeeded.
What do you do in your free time? Although the job interview process is focused on how you can fulfill a specific role in the company, the interviewer does want to get a sense of who you are. This question will help them—and you—see if you will fit into the work environment and pre-existing company team.
Advice for Application Process
Starting an application can be the beginning of Conn's careers. This means you should be careful and thorough when completing the application form. Even before completing the free application, you should look through all of the Conn's jobs online to make sure you find the right career or careers for you.
Once you completed the direct application, you should contact the company to make sure they received it. You should also check to make sure that you don't need to include any additional paperwork, like a resume. Contacting Conn's also puts you on their radar, so your application stands out from the other applications.
Before your interview, you should download application form and review the questions and how you answered them. In case of a fluke, you should bring the printable application form with you to your interview. You should also arrive at the interview with answers prepared to questions. Make sure to arrive early, so you can settle yourself before the interview.
With this advice, you can see that it is straightforward how to apply for Conn's online. Just remember that all you need for success is time, patience, and care in your application. Then, you could be on your way to a unique opportunity to work in an interesting place with a great team of coworkers.
Also See:
Stein Mart: See this page for jobs at Stein Mart.
Farm And Fleet: For career opportunities, fill out the Farm And Fleet online application.
BJ's Wholesale Club: For employment at BJ's Wholesale Club visit the application page.
Dillard's: Dillard's offers opportunities for both, beginners and experienced roles.
Target: For employment at Target visit the application page.
Company Links
http://www.conns.com/careers-at-conns/