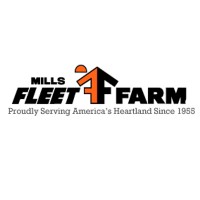 Blain's Farm And Fleet is a discount retailer that offers a wide range of products from agricultural supplies to men's and women's clothing.  You can find out how to apply for Farm And Fleet jobs online by following the link to make a Farm And Fleet application at the bottom of the page.
There are 36 different locations across Wisconsin, Illinois and Iowa.  Each store is a division of Farm And Fleet Corporations and sells a variety of products including household goods, automotive goods, pet supplies, sporting and hunting goods and garden supplies.  All the products are distributed by the Blain Supply Company.
The company is celebrating its 60th year of business after it was founded back in 1955 by Claude and Bert Blain.  It has stayed in the family all these years with Bert Blain's daughter, Jane Blain Gilbertson taking the position of CEO.  The company now has a network of over 4,000 employees and is still hiring.
Blain's Farm And Fleet are particularly known for their patriotic theme song.  It was recorded in 1991 by members of the band for Eddie Rabbit, who was a well-known country musician who rose to prominence in the 1960s.  The recording happened almost by accident when the band became stranded in Nashville due to bad weather.
Farm And Fleet Careers
Farm And Fleet careers have a number of opportunities available in their retail stores including Sales Associates, Cashiers and Front End Associates.  There are a number of other entry-level roles including Customer Service Representatives and Service Technicians.  There are also openings for the Retail Management Program if you want to advance up the management chain.
There are also vacancies open in the corporate sector in fields including Accounting, Advertising, Distribution, Human Resources, Merchandising and IT.  If you're interested in working in the industry in this capacity you may need a college degree and experience in your chosen area.  There are many internships and training programs available as well.
How old do you have to be to work at Farm And Fleet? You must be 18 years or over to be eligible for Farm And Fleet jobs.  Some entry-level positions may accept applicants who are 16 or over.
Get Your Degree!
Find schools and get information on the program that's right for you.
Powered by Campus Explorer
Most stores are open from 8am to 8/9pm with reduced hours on Sundays.
Benefits will vary depending on which role you apply for but may include health benefits such as medical, dental and vision insurance as well as a life insurance plan and 401(k) retirement plan.  There is also a company funded profit-sharing program available to many employees.  You will also receive paid holidays and vacations.
Job Descriptions & Salaries
Sales Associate – As a Sales Associates your responsibilities will usually center around the customers.  You will need to be knowledgeable about the products to be able to assist with customer enquiries.  You will also handle transactions and help with day-to-day tasks in the stores.  This position is usually paid on an hourly basis at a rate of $9.
Call Center Customer Service Representative – Farm And Fleet jobs in the call centers will require you to have specific knowledge about the products in the department that you are working in.  You will handle telephone enquiries about services, prices and other general questions.  The pay for this job is usually between $8-9 per hour.
Service Technician/Automotive Mechanic – This is an entry-level position although applications will be accepted from candidates with automotive experience as well.  In this role you will carry out basic maintenance on cars and trucks including oil changes, tire balancing, repairs and installing batteries.  The pay for this job is typically $10 an hour. 
Assistant Store Manager – As an Assistant Store Manager you will work closely with the Department Manager to ensure that all aspects of the store are running smoothly.  You will help oversee staff development and training and conduct a daily check of different areas of the store.  You will also carry out safety and loss prevention inspections.  The salary is up to $40k/year.
Farm And Fleet Interview Questions
After you apply for jobs at Farm And Fleet it's a good idea to practice some answers to likely questions.
Which of your past employers did you like least and why? It's not a good idea to be too negative about your past experiences because it gives off a bad impression.  Try to turn everything into a positive to show what you're looking for in a new career.
Tell me about a time when you had to handle a difficult customer.  You will need to be able to be able to handle potentially stressful situations and keep calm.  If you have previous experience with customer service you can use examples to show how you dealt with it.
What would you do if a customer asked you to break company policy for them?  This can seem like a difficult question as customer service is important but you will need to be able to handle situations like this while keeping to company policy.  You could always refer to a manager if you need help.
If you're applying for Farm And Fleet jobs that require specific knowledge in particular product areas such as automotive parts you may be asked more detailed questions for you to demonstrate your expertise.  Questions might include, "How would you fix a dent?" or "What type of technical equipment have you used to test cars?" 
Advice For Application Process
By searching Farm And Fleet jobs online you can browse the various job opportunities available.  Fill in the online application form with your details, previous employment and education history and attach your resume.  If you want to make a direct application to a store you can download a printable application for Farm And Fleet.  You can also pick up a free application form in your local store.
Whether you apply online or in store they can keep your application on file for up to three months.  It's important to double-check your application to make sure you haven't made any mistakes.  It's a good idea to tailor your resume to the job description of the career you're applying for.
Once you have submitted your Farm And Fleet job application online you will be invited for an interview with the Assistant Manager and possibly a second interview with the Store Manager if necessary.  Candidates will also be asked to complete a personality test.  You will also be required to complete a drug test and background check.
Make sure you give off a good first impression to help your Farm And Fleet application.  Turn up to your interview dressed smartly and make sure you smile and give a good, firm handshake.  Keep a positive attitude throughout, remember customer service is a big part of most roles and so they will want to see that you are at ease talking to new people.
Also See:
Neiman Marcus: See our guide for careers at Neiman Marcus.
Kmart: See our guide for careers at Kmart.
JCPenny: For career opportunities, fill out the JCPenny online application.
Saks Fifth Avenue: See our resource page for more information on Saks Fifth Avenue careers.
Meijer: See our guide for careers at Meijer.
Company Links
http://www.farmandfleet.com/careers/