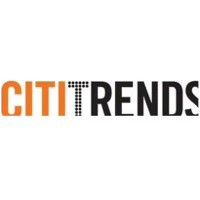 Citi Trends is a retail clothing chain in the US, known for targeting the low-income, urban demographic. The company has been operating for more than 50 years.
It first opened its store in 1946 in Savannah, Georgia. The first branch opened in 1958 and was branded as Allied Department Stores. In the '80s, John Bourdreau took over and helped open 117 more outlets.
The company sells men's, women's, and children's clothing to mostly African-American families. It carries brands such as Dickies Ecko, Apple Bottoms, Baby Phat and FUBU. Most of its designs in the home accessories department are inspired by African tribes.
The company offers pension plans for retirees and gives special cash bonus or group incentives for high performing employees. The latter is also entitled to paid sick leaves and holidays and the use of cellphones during their break.
Employees like the casual atmosphere in the stores, which encourages rapport among everybody, including the customers. Employees are great to work with because they are accommodating even to new hires.
How old do you have to be to work at Citi Trends
The minimum age requirement for the company is 16 years old. The company accepts applicants with zero job experience for sales associate positions. It also encourages diversity among applicants.
Citi Trend Careers
Listed below are the top career options that await you. From corporate jobs to store sales associate positions, you can find a job that suits your skills and qualifications.
Sales Associate
The sales associate should be dedicated in assisting with the monitoring of markdowns and price changes, processing freight, handling cash and other sales transactions, and bagging items. He also performs housekeeping duties whenever necessary, and balances his register. He delivers prompt, polite, and satisfactory customer service.
Store Material Handler
This job is perfect for anyone who could handle and sort 8 boxes of freight every hour. Freight boxes must be stacked, checked, and labeled accordingly. The handler is also responsible for returning empty rolling racks and freight boxes to the stockroom.
Supply Chain Coordinator
The qualified applicant must have a degree in Logistics, Business, Finance, or Supply Chain Management. He must have had 2 to 3 years of experience in freight cost management. Among his principal duties are providing ongoing analysis regarding freight audit, transportation, and trends. He must likewise investigate causes of shipment delay or damages in freight boxes.
Internal Auditor
He is mainly responsible for performing internal auditing procedures. He also assists in routine audit projects and in gathering documents for internal control testing. He observes and analyzes inventory results and prepares reports thereafter. He must have a bachelor's degree in business administration or Accounting.
Field Recruiter
The field recruiter reports directly to the Director of Staffing. His tasks include spotting qualified candidates for Citi Trends and organizing job openings, including on-site job fairs. He conducts pre-screening of applicants and creates strategies for gathering the pool of job aspirants. He also coordinates with hiring managers during interviews.
Merchandise Assistant
The merchandise assistant reports to the Division Merchandise Manager and assists the merchandising team. He works with vendors and store associates, and customers especially in tracking and submitting purchase orders. He immediately reports delivery issues to buyers and prepares merchandise for presentations.
Entry Level Allocator
The key responsibilities of the allocator are evaluating allocation strategies, methods, and analytics, using MS Excel for reports and analytics, defining allocation approaches, and managing purchase orders. The allocator must be a graduate of Business, Marketing, Economics, or any related course.
Store Planning Analyst
The store planning analyst reports to the Manager of Retail Operations. He helps in creating and developing weekly, monthly, quarterly, or yearly reports. He likewise assists in taking price markdowns and ensuring accuracy of data systems. He maintains store lists in the toolbox and analyzes inventory and sales.
Assistant Manager
The assistant manager helps the store manager with the day-to-day operations in the store and in the supervision of workers. He facilitates inventory transactions. His other tasks include ensuring staff members' compliance to company policies, and performing sales services to customers, as needed.
Maintenance Manager
The maintenance manager supervises buildings and ground maintenance, including wirings and HVAC facilities. He manages the installation of the conveyor system and trains his staff in the handling and repair of equipment and electrical systems. He also creates regular schedules of repair and maintenance.
Citi Trends Application
The company conducts regular job fairs onsite. You can simply show up to submit your resume and wait to be screened by the field recruiter or the hiring manager.
You may also submit your application via their official website. You can search for job openings and indicate your preferred location. Click the apply button to key in the important details.
However, there is no application form available. All you need is your resume, or if you're applying via the website, the details needed for a particular job opening.
Don't forget to include a professional summary on your resume. Highlight your skills and include your previous and current work experience. Around 2 to 3 pages is enough for your resume.
The interview could happen right after your resume is screened. The hiring staff might ask about their company values, or why you want to work for them.  The interview could last up to 40 minutes.
Things to Know About Citi Trends
The company prides itself in its diversity-friendly culture. New hires won't be intimidated by managers, as top level employees are expected to mingle, coordinate, and assist employees, especially those with zero experience.
Recently, Citi Trends has announced its Facebook and Instagram promotions and giveaways. The promo is open to legal US residents, who should submit photos of them wearing apparels from the company. No purchase is necessary.
The company is known for its motto: Savings with Style. A quick look at its website will tell you how much it values its roots, given that all its models are African-American.
Citi Trends conducts promotions and sales from time to time to say thank you to their loyal customers and followers. Purchase is not always required – an action that supports the company's mission in helping low-income families get quality products.
Application Links
Company: https://www.cititrends.com/
Careers: https://www.cititrends.jobs/
Application: N/A