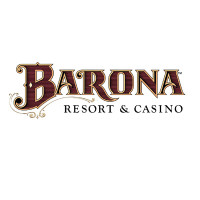 As you fill out a Barona Resort and Casino application, know that you're striving to join one of the top ten casinos in the San Diego, California area for the eleventh year running.  Links to apply for jobs at Barona Resort and Casino are at the bottom of the page.
Barona Resort and Casino is a fairly new casino, having opened its doors in January of 2003.  It is run by the Barona Group of Captan Grande Band of Mission Indians, who had bought the land in 1932 after their original reservation had been bought by the city of San Diego to build a reservoir.  In 1994, the tribe opened their first casino, known as the Barona Casino "Big Top" with the aid of Venture Catalyst.
Those who hold Barona Resort and Casino jobs know that the company strives to create a family-like atmosphere for their employees.  In order to help maintain strong teams, Barona Resort and Casino offers vocational training and career development programs to help their employees move up in the company.
Community support and involvement is something that Barona Resort and Casino strongly believes in.  They focus their energy and money on Education, Environmental Preservation, and Community Wellness.  Company employees are highly encouraged to get involved in their own cities and towns in order to have healthy communities.
Barona Resort and Casino Careers
Barona Resort and Casino is on an Indian reservation, and is a highly localized casino, and as such, there are only positions available at one location.  Within that one casino and resort, there are several highly specialized areas for people to choose where to start their Barona Resort and Casino careers.
Most jobs entail direct interaction with guests as you'll work to make every visit special.  You could work in either the four hundred room hotel, the casino, in one of the nine restaurants, the spa, or the golf course.  As you look at Barona Resort and Casino jobs online, think about what area you would like to work in.
How old do you have to be to work at Barona Resort and Casino? Age requirements vary by job.  Make sure to read the entire job posting, some jobs require various degrees, experiences, or certifications before you can apply for the position.
As Barona Resort and Casino is attached to a hotel, the casino never closes.  However, there cannot be any children in the casino after ten pm in order to allow the kids a chance to eat in the restaurants and they must be with an adult at all times.  Although the casino and the hotel are open all day and all night, the restaurants will have limited hours, but they will vary with location and popularity.
Barona Resort and Casino Job Descriptions
Technician, Game Validation – Having a professional and friendly demeanor with all staff members and guests that you must work with while ensuring that all games are validated and working properly. If it's a slow day, you will do simple mechanical and electrical repairs on machines that need it. Compensation starts at $16 an hour.
Cook III – Maintaining a clean area is mandatory as you work to quickly serve hot and cold food items for both the buffet line and A La Carte.  Knowing how to quickly and efficiently butcher meat to the proper portions is also a major part of this job as you work to prepare food for fellow kitchen staff.  Compensation starts at $10 an hour.
Cook II – You will prepare foods for cooking, including breaking down meat to proper portioning standards.  Ensuring that all food is stored properly as well as keeping a safe and clean working environment to company and federal standards is mandatory as you prepare A La Cart and buffet line foods. Compensation starts at $11 an hour.
Cook I – By communicating effectively with Cook III and Cook II, you will establish who is cooking what.  You will also plan and carry out any banquet cooking that must be done to the high standards that are expected.  Compensation starts at $13 an hour.
Barona Resort and Casino Interview Questions
Here are some questions you may be asked during your interview:
Why do you want to work at Barona Resort and Casino? This is an extremely common interview question, so you should be prepared for it.  Explain what drew you to the company, whether it was the benefits or company culture.
What experience do you have? Highlight all relevant work experience that you have.  If you do not have any experience, talk about what you can bring to the job instead.  Explain exactly why what you offer will improve the company, making sure to use at least one example.
Where do you see yourself in a few years? Be realistic in your career expectations, your interviewer is merely wanting to know if you see yourself with the company.  Make sure they know that you're willing to take on extra challenges and responsibilities in order to move up in the company.
The question might be posed to you in the form of a hypothetical situation: How would you deal with an angry customer? Make sure to explain exactly what you would do and why.  Talk about how you would take care of them to turn their experience around in a practical way.
If you're working in a high pressure environment, like a kitchen, you might be asked: How do you react under pressure? Be honest and straightforward.  Explain exactly what you're like and if there's something that you don't like, how you're working on changing it.
Advice for the Application Process
How to apply for Barona Resort and Casino online: click the first application link below and search for the job that you're interested in.  Once you've selected the job, click the "Apply for this Position" to start filling out your Barona Resort and Casino application.  A printable application for Barona Resort and Casino is not available.
Before you attend your interview, do research on Barona Resort and Casino and the industry.  Have a list of prepared questions that you can bring with you even though several of your questions will probably be answered during the course of your interview.  It will show that you thought ahead and will place you ahead of the other candidates.
Your interview will be formal, so make sure that you dress appropriately, in business casual at the very least. If you're applying for a managerial position, wear a suit. Have a positive and friendly attitude for your interview, it will show that you're already willing to try to fit into the existing staff.
Show gratitude for the opportunity to interview with Barona Resort and Casino and inquire about the best way to check on your hiring status.  Few applicants will learn if they got the job during the interview as Barona Resort and Casino will want to screen all candidates before making a final decision.
Also See:
Wynn Las Vegas: Visit the job application for Wynn Las Vegas to apply today.
Carmike: See our guide for careers at Carmike.
Netflix: Use the Netflix job application to apply here.
Knott's Berry Farm: For employment at Knott's Berry Farm visit the application page.
Cinemark: For employment at Cinemark visit the application page.
Company Links