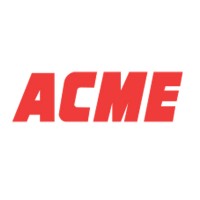 Earlier this month, A&P submitted a Chapter 11 Bankruptcy, opening to way for Acme Markets to expand its activity by putting in an offer to buy 76 of A&P's supermarkets.  This purchase means that Acme will need to begin an extensive recruitment process, so fill in an Acme Markets Application and wait for their call.
To elaborate, the business is a chain of grocery stores owned by the corporation Albertsons, which is rated on third place in the supermarket industry, after Walmart and Kroger. The grocery giant has 110 stores opened in Pennsylvania, New Jersey, Delaware and Maryland, which provide employment for over 10,000 people. Their headquarters are in East Whiteland Township, Pennsylvania.
The foundation for this venture was set 124 years ago, in 1891, when two friends, Samuel Robinson and Robert Crawford opened a modest local shop at Second and Fernon Streets in South Philadelphia. Since then, the grocery store has always been operating in the area under a name or another: American Stores, Acme Super Markets, though constantly keeping faithful to the creed of offering high-quality products to clients.
As such, it is ranked second in the area in the food and drug-retailing category only having been surpassed by ShopRite in 2011.  The high score that the store chain has received is due to its consistent strive to improve the services provided to the customers through online orders that can be collected in-store, through self-checkout units and through hot food bars added to the deli area.
The chain's modus operandi revolves around the idea of supplying clients with fresh and profitable goods for decent charges in a friendly welcoming manner.  This also reflects in the company's involvement in the wellbeing of local communities by donating to non-profit organizations and protecting the environment by encouraging plastic and cardboard recycling.
Acme Markets Careers
In regards to the operating hours, those are Monday to Saturday from 7:00am to 10:00pm and Sunday from 8:00am to 10:00pm. Young applicants looking to kickoff their careers with entry-level jobs should be able to reply "16 year old" to the question "How old do you have to be to work at Acme Markets?"
Most of the job opportunities arising are entry-level positions with focus on generic work, departmental roles and customer service tasks. At this stage employment can be either part-time or full-time because working hours range between 10 and 35 weekly. To flourish in the aforementioned job types, hopefuls must prove vigorous, as they would have to stand or walk around quite a lot and sometimes handle heavy objects.
There are also managerial career options, which offer reliable salaries and stable employment on part-time or full-time bases.  Loyalty is rewarded and the shop prides itself on promoting from within the existing staff, from those that wanted to turn a first or part-time Acme Markets jobs into Acme Markets careers.
The acquisition of 76 A&P stores marks an important time in the development of Albertson's subsidiary by paving the way for more Acme Markets careers. The main roles to fill will be those of cashiers, baggers, customer service representatives, stockers and department clerks. The grocery chain also frequently advertises pharmacy job openings with earnings sometimes exceeding $100,000.
Acme Markets jobs come with plenty of benefits like paid holiday, medical insurance coverage, or 401(k) pension schemes. Those who only work part-time are entitled to a part of these benefits. That being said, all employees receive training and discounts on goods and services. So, no matter the position, an Acme Markets application is always worth completing because the business knows how to look after its own.
Acme Markets Job Descriptions
Cashier/Checker – This position is a combination of cashier/checker responsibilities with the main duty of serving the checkouts in the store. Other tasks include verifying prices of items, bringing unsold products back to the shelves, pointing clients towards the items they were looking for or answering queries on them. The remuneration for this job is between minimum salary and $9 per hour.  This could increase with time.
Clerk – Clerks make the majority of employees in the chain supermarket. According to departments they work in, there are grocery clerks, drug/general merchandise clerks, lobby clerks, deli clerks, courtesy booth clerks and butcher block clerks. Applicants should be ready to arrange items on shelves, help clients, tidy and sometimes complete maintenance tasks. The pay ranges from minimum hourly wage to $9 per hour or higher if the candidate has experience.
Supervisor – Working in supervisory positions, in one of the many Acme locations, definitely has its perks, like starting hourly pay of $12, the possibility of full-time or part-time employment and diversified schedule options. They basically are in charge of motivating and mentoring the shop staff. Their advisement to the rest of the employees must ensure customer satisfaction parameters are maintained.
Store Manager – The job description for store managers has them performing duties like improving sale rates, hiring personnel, organizing training for newcomers, doing inventory and replenishing stock. The benefits for such a role are clearly higher than those for entry-levels and consist of more flexibility in choosing the number of hours worked and the days when doing so. The pay is lucrative from $65,000 to $70,000 per year.
Acme Markets Interview Questions
Most of the interview questions are meant to determine if the candidate can actually deliver on what his/her resume details. 
What did you find easier, to apply online or to fill in a paper application form? Writing by hand may seem obsolete but it could give a more personal touch the whole process. 
Is there anything you think you should be grateful for from your past work experience? Every job represents the chance to learn something not only on the professional level but also on a personal level. Knowing how to identify that will show interviewers that you are a mature and stable candidate. 
Do you know how to spot counterfeit cash? Applicants for the cashier position should have a clue to what the safety features are on currency. The store has procedures in place but the candidate needs to show initiative in following those guidelines.
What do you know about the products we sell? It gives the recruiter an idea on whether you are a regular customer or at least if you have done your homework in researching the company.
How far would you be willing to commute for work? Store managers may sometimes decide that employees should join the team of another store to gain relevant experience or to share their work skills with a more inexperienced department. Be ready to support this idea as it may better your career either way.
Advice for Application Process
Acme Markets jobs online spans over several pages of their website and gives thorough information on how to apply for Acme Markets online. Even though it may appear easier to use an Acme Markets job application online it would still be worth considering a printable application for Acme Markets which you can submit in person as to make a good first impression.
The fastest way to apply for jobs at Acme Markets is by opening an account on their career page. Once you have your profile uploaded, you can browse through their list of job openings and choose the online application that suits you best and just click on the link to be sent to the direct application.
You can apply for as many positions as you wish as each comes with a free application. If you want, you can download an application form and complete it on your electronic device, or you can use a printable application form. Regardless of the conduit used, make sure that all the information is accurate and that there are no misspelled words.
Initially, there might be a phone interview that can determine if you get a face-to-face meeting. Be polite and use a proper tone to reply. If an invitation is extended, start preparing your answers and the outfit. A good first impression is crucial so be presentable. Don't be late and start by thanking them for meeting with you in person. Most questions will focus on customer service situations.
When the recruiter has finished asking you question, ask some in return because it will prove you did your due diligence and you did not go in blindly. At the end, tell them you were impressed about how things went and inquire on when to expect an answer.  If you know how to sell your skills and qualifications, then there's nothing standing in your way getting the job you want.
Also See:
Stop And Shop: See our guide for careers at Stop And Shop.
Shaw's: See our resource page for more information on Shaw's careers.
Lucky Supermarket: Checkout the application page for work at Lucky Supermarket.
Fry's Food: Use the Fry's Food job application to apply here.
Schnucks: See our guide for careers at Schnucks.
Company Links
http://www.acmemarkets.com/employment-positions/
http://www.acmemarkets.com/our-company/traditions-history/