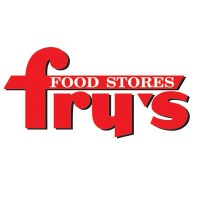 Fry's Food is a supermarket chain across the U.S. It is a subsidiary of Kroger Company. They offer various products like meat produce, seafood, snacks, baby products, dairy, deli, frozen goods, liquor and many more.
In 1954, Donald Fry started the company in California. In 1972, Donald sold his company to Dillons. Dillons formed a merger with Kroger in 1983. Up to this date, Fry's Food is still under the Kroger Group of Companies.
The supermarket chain has more than 100 stores with over 20,000 employees around the US. Each store is around 80,000 to 100,000 square feet. Its headquarters is located in Tolleson, Arizona.
Employees are given competitive salary and comprehensive benefits. Benefits include health insurance with vision and dental coverage, 401K retirement plan, pension plan, paid time off and paid vacation days. Employee discounts and coupons are also provided.
People like working with the company because of its flexible schedule and fun working environment. Regular salary raises are given to eligible employees. Also, career advancement is open to willing individuals.
How old do you have to be to work at Fry's Food?
An individual has to be at least 16 years old to secure an entry-level position. Individuals with high school diploma or equivalent GED are also preferred.
Fry's Food Careers
The company regularly hires customer-oriented and goal-driven individuals. Opportunities vary depending on store locations. Listed below are some of the open positions in the company.
Grocery Associate: Grocery Associates assist customers with grocery products that they need or are looking for. They also collaborate with other associates to ensure continued customer assistance, if needed. Grocery Associates also help in promoting ongoing grocery promotions and company events.
Assistant Grocery Manager: An Assistant Grocery Manager monitors grocery staff's overall work flow. He makes their schedule and makes sure that the Grocery department is always well-staffed. The Assistant Grocery Manager assists the Store Manager in forming business strategies to reach management goals.
Meat, Seafood, and Produce Associate: A Meat, Seafood, and Produce Associate assists customers with their purchase of meat, seafood and produce. He makes sure that the products are always fresh and safe for human consumption. The Meat, Seafood, and Produce Associate also assists in cutting, sorting and storage of meat, seafood, and produce.
Warehouse Associate: A Warehouse Associate is responsible in the maintenance and inventory of warehouse stocks. He maintains all warehouse order and billing documents. He also makes sure that all stocks are properly placed to ensure quality of products. The Warehouse Associate may assist in carrying cargos from trucks to the warehouse.
Liquor (Beer/ Wine/ Spirits) Clerk: A Liquor (Beer/ Wine/ Spirits) Clerk assists customers with liquor products. He may also provide suggestions to customers, if needed. The Liquor Clerk arranges the adult beverage section display. He also checks all liquor products regularly to ensure their quality and freshness.
Bakery Associate: A Bakery Associate is responsible in making bread, pastries and cakes. He makes sure that the bakery products are always fresh and are safe for human consumption. A Bakery Associate also assists customers with their orders. He may also provide suggestions, if requested.
Assistant Bakery Manager: An Assistant Bakery Manager handles the overall work flow of the Bakery section. He makes bakery staff's schedule and assignment. He makes sure that bakery supplies are always well-stocked. The Assistant Bakery Manager also makes sure that all bakery equipment is well maintained and that the Bakery section always follows safety standards.
Store Manager: A Store Manager handles the whole operation of the supermarket. He leads all assistant managers and makes sure that all standards are followed. He also monitors staff performance and evaluates them for regularization or promotion. The Store Manager also collaborates with the management to formulate company goals.
Maintenance Technician: A Maintenance Technician handles all electrical and other technical issues of the store. He makes sure that all store equipment, lighting and machineries are well maintained. The Maintenance Technician may also perform regular checking to ensure that the store is safe from any electrical problem.
Refrigerator Technician: A Refrigerator Technician is responsible for all refrigeration and HVAC maintenance and repair. He troubleshoots refrigerator issues in the store and in the warehouse. He makes sure that all are working properly to ensure product freshness and quality. The Refrigerator Technician may also assist the Maintenance Technician, if needed.
Fry's Food Application
To start an application with Fry's Food, an applicant may create a profile through the Kroger's official careers website. The applicant's resume and cover letter may also be uploaded through the website.
Applicants may drop their resumes through the store sites. However, an online application is still preferred by the company. Online application also helps applicants to apply for multiple positions.
To complete an online application, the applicant should make sure to fill out all the required fields. He must also ensure that the contact number and email address are active for easy communication.
In creating a successful resume, the applicant must make it concise yet complete. The resume should only consist of 1 to 2 pages. It must contain the applicant's personal information, related trainings and related work experiences.
Once scheduled for interview, the applicant may prepare by researching about the company and position applied for. He may also bring supporting documents. On the day of the interview, the applicant must be on time and is dressed appropriately.
Things To Know About Fry's Food
Diversity and inclusion are inculcated with the company's culture. The company accepts employees from all races, ethnicity, culture, social status or age. Equal employment opportunity is also encouraged.
Recently, the company has started the Zero Hunger- Zero Waste program. It aims to help decrease poverty by year 2025. The plan is to increase food donations by 1 billion meals by year 2020.
The company is known for promoting sustainability with its products. To show support, the company has assisted 23 fishery improvement projects though the World Wildlife Fund since 2009.
To give back to the community, Fry's Food supports the Kroger Co. Foundation. They provide grants and host events for non-profit organizations and charities. Donations are also given to calamity-struck families in form of grocery products.                                                                   
Application Links
Company: https://www.frysfood.com/
Careers: https://jobs.kroger.com/frys-food-stores/go/Fry%27s-Food-Stores/571300/
Application: NA