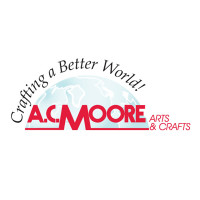 A.C. Moore is a chain of arts and crafts stores found in the United States. They sell a wide variety of art and crafts supply such as scrapbooking, beading, knitting, home décor, rubber stamping, kid's crafts, paints, floral items, greenery, and seasonal items. They also offer frames and custom framing services. For more information on the A.C. Moore Application, follow the link below.
Founded in 1985 by Jack Parker in Moorestown, New Jersey, it was originally one single arts and crafts store. In 2007, they opened up an online store. This company is currently headquartered out of Berlin, New Jersey. There are more than 140 stores found along the east coast in the United States, starting from Maine to Florida. A.C. Moore is owned by Sbar's.
In addition to taking pride in their products that they sell in their store, they also strive to be a company that is socially responsible. They donate money back to their communities for such charities as the American Cancer Society. They also offer discounts to teachers, and provide free arts and crafts workshops to help encourage children to be imaginative and creative.
A.C. Moore aims to offer a wide variety of products and services in order to help inspire creativity in all people. They offer all of this at a low price, to really stand out from their competitors. They also aim to provide amazing customer service and knowledge for customers in their store. They provide in-store events to help teach new skills for people of all ages.
A.C. Moore Careers
A.C. Moore offers opportunities for advancement at this company, at both the corporate office and retail level. The retail level has a plethora of entry-level positions where people can get move up the ranks, turning their job into an A.C. Moore career. Some positions found in the retail store include sales associate, activities specialist, and customer framing specialist.
The corporate office has a wide variety of positions available for job seekers of all skills and talents to find a good fit for them. The corporate office does have some entry-level positions, however most positions are higher level positions with more requirements in order to gain employment. Some positions at the corporate office include marketing, buyer, and digital content manager.
How old do you have to be to work at A.C. Moore? A person must be at least 16 years old to work here as an entry-level position like cashier or sales associate. Other positions may require someone to be older. There are various education and experience requirements amongst these positions.
A.C. Moore offers very competitive benefits for their industry. Employee eligibility for benefits can depend on hours worked weekly and job title. Some benefits include medical, dental, and life insurance. Employees may also receive long-term and short-term disability, 401(k) plan, and paid time off. Other benefits include employee discounts and career advancement opportunities.
The hours of operation can vary depending on location and holidays. During the holiday season, hours are usually extended to accommodate holiday shopping. For more details on store hours, contact your nearest location. In general, hours of operation are Monday through Saturday from 10:00am 9:00pm, and Sunday from 11:00am to 6:00pm.
Job Descriptions & Salaries
Sales Associate- The sales associate is responsible for assisting customers on the store floor. They should have knowledge of the products and the store layout to properly assist the customer. The sales associate will also handle customer transactions at the cash register and should know all policies regarding payments, returns and exchanges. A sales associate may earn around $9 per hour.
Custom Framing Specialist- The custom framing specialist is responsible for managing the customer framing section. They will assist customers with the custom framing process. They need to be able to suggest ideas and recommendations on the best ways to frame artwork and photos. They will help stock their department and be responsible for helping the order process for their department. A custom framing specialist may earn around $10 per hour.
Merchandising Supervisor- The merchandising supervisor is primarily responsible for reviewing financial reports to make the best merchandising decisions for their store. They will be responsible for improving sales. When the assistant manager and general manager is not around, they will assume all managerial duties in addition to their own position's duties. A merchandising supervisor may earn around $11 per hour.
General Manager- The general manager will answer to the district manager and is responsible for their individual store. This includes marketing and recruitment responsibilities. They must also meet sales goals set by the district manager. The manager will also ensure customer satisfaction within the store and keep employee morale up. A general manager may earn around $79,000 a year.
A.C. Moore Interview Questions
These are some questions that you may be asked during your A.C. Moore job interview.
Why do you want to work at A.C. Moore? You should really think about why you applied here because the interviewer is looking for more than just "you were hiring". Look into the values and products and explain why you are a good fit to work here.
Do you have any hobbies that are arts and crafts related? The interviewer is looking to see if you have knowledge of their products and if you have the same passion for arts and crafts as this company does. Describe any arts and crafts that you enjoy and why you enjoy them. You should mention how creativity is important to your daily life as well.
Why should we choose you over the other applicants? The interviewer wants to see what makes you special. This is the perfect opportunity to discuss your strengths and experience and mention why the company would benefit from these.
What are your future career plans? This company has many opportunities for growth and advancement within the company. The interviewer wants to see if you are someone who will last a bit with this company or just looking for a temporary position. Describe your future career goals and how this company fits into your plan.
When are you available to work? The interviewer is looking for someone with flexible availability, especially working nights and weekends. Be honest about when you are available to work.
Advice for the Application Process
If you want to know how to apply at A.C. Moore, you can apply directly online for a position here by visiting A.C. Moore jobs online. You may also fill out an application form at your local A.C. Moore. There are no printable applications online, nor are there downloadable applications online.
You are able to find out information on the job descriptions and responsibilities for the available jobs. Filling the application out entirely and with as much information as possible is important. You should also submit an updated resume as well. These things will help give the hiring manager a better view of you in order to choose you over other applicants for interviews.
They are generally very quick to respond to applicants, but if some time as passed without hearing back you should contact the hiring manager. They will be able to tell you if they are still hiring for that position and will be able to check your application status. Doing this may help positively affect your chances of getting the job.
You should ask yourself potential interview questions prior to your interview. This will help you feel more prepared for your interview, giving you the confidence that you need to land the job. It is also very important that you dress in a professional manner, as this gives a good first impression that is essential to getting the job.
Also See:
Vitamin Shoppe: Use the Vitamin Shoppe job application to apply here.
Disney Store: Disney Store offers opportunities for both, beginners and experienced roles.
Family Dollar: For career opportunities, fill out the Family Dollar online application.
Ollies Bargain Outlet: See this page for jobs at Ollies Bargain Outlet.
The Salvation Army: For career opportunities, fill out the The Salvation Army online application.
Company Links
http://www.acmoore.com/careers