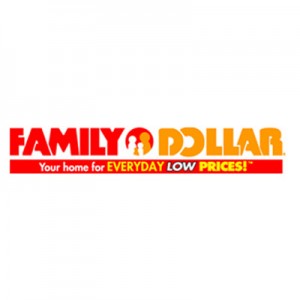 Family Dollar is a U.S. based retail chain offering a wide array of discount merchandise at more than 8,000 locations nationwide. Store locations offer low cost retail goods such as apparel, select groceries, and house wares targeting low to middle income consumers.
Leon Levine founded the retail chain in 1959, and his motto was simple: "The customers are the boss, and you need to keep them happy." Mr. Levine implemented a standard floor plan, ensuring that customers would be able to find their way around any of their location. He believed that such a floor plan would free up managers and associates to better focus on customer relations.
His philosophy worked. The corporation is currently a Fortune 500 company worth over 7 billion dollars, employing more than 50,000 people. Great customer service begins and ends with great employees. As such, employees receive the incentives and support needed to maintain a positive work environment and a healthy work / life balance. The result is a pleasant shopping experience that guarantees return customers and continued success.
If you would like to be a part of this growing retail chain offering competitive benefits, advancement potential, and a fun, friendly work environment, apply today and become a Team Member! Some pertinent information about the company you may wish to research includes:
Retail Value Chain Federation Member
Contributes to qualifying community organizations (Corporate Giving Policy)
Holds partners and investors to strict code of ethics (Social Responsibility Policy)
Energy Star Partner (Sustainability Initiatives)
Family Dollar Careers
With so many locations, company branches and departments, the qualifications for each position can vary dramatically. As stated above, all job requirements and qualifications specific to a given position are posted in every job listing. The general qualifications and hiring requirements they list are as follows:
Education (level of education required for the position)
Experience (preferred work experience)
Physical Requirements (physical demands of the position)
Availability (availability requirements for the position)
Skills & Competencies (skills required for the position)
Job (job title)
Primary Location (location of position)
Job Level (entry level, team leader, manager, etc.)
Education Level (total years devoted to education)
Shift (shift hours)
Travel (travel requirements)
Background Check Required (criminal background check requirements)
Drug Screen Required (drug screening requirements)
How old do you have to be to work at Family Dollar? The answer varies. Most positions require an applicant to be at least 18 years of age. However, certain entry level associate positions may be offered to persons as young as 16. Please check with your local hiring manager for accurate details.
Family Dollar Job Descriptions
Family Dollar careers range from store level associate and management positions, to distribution center jobs and corporate titles. Careers fall under three general categories:
Get Your Degree!
Find schools and get information on the program that's right for you.
Powered by Campus Explorer
Store Operations
Distribution Center
Corporate Careers
Store Operations entails all day to day store operations, from custodial and inventory requirements, to customer service duties and store management. Store Operations represents the largest branch of their employee pool, offering both entry level and skilled employment positions in 46 U.S. states. Duties include: Customer Relations, Product Presentation, Stocking Shelves, Customer Check-Out, Merchandise Presentation, Maintenance / Custodial Duties.
Distribution Centers manage the supply chain that provides the store locations with merchandise, and includes fleet, warehouse, and maintenance operations. Distribution Centers offer both entry level and skilled employment positions. However, there are currently only 11 Distribution Centers, and therefore, fewer employment opportunities. Following is a list of current Distribution Center locations – Ashley, IN, Duncan, OK, Front Royal, VA, Maquoketa, IA, Marianna, FL, Matthews, NC, Morehead, KY, Odessa, TX, , Rome, NY, George, UT, West Memphis, AR.
Corporate Careers represents the smallest branch of the employee pool. All corporate positions are located at the main corporate office in Mathews, North Carolina. These are highly specialized, skilled positions open only to qualified applicants. Corporate positions are offered in 11 departments: Accounting, Marketing, Corporate Communications, Merchandising, Human Resources, Procurement, Information Technology, Real Estate, Legal, Store Operations Support, Loss Prevention, Strategy and Supply Chain.
The corporation strives to keep their employees happy and healthy by offering a competitive benefits package, including an employer matched healthcare, dental and vision plan, 401(k) program, life insurance, and an Employee Stock Purchase Plan (ESPP). These benefits are offered to both full and part-time employees.
Wages and salaries vary greatly by department and location. Minimum wage and other compensation related regulations that vary by state also affect salary projections. However, most entry level positions do pay above the Federal minimum wage of $7.25 per hour. Here is a list of a few common positions and their average (nationwide) pay scales:
Sales Associate – $7.70 – $7.98 hourly
Assistant Store Manager – $9.39 – $10.25 hourly
Store Manager – $34,548 – $47,403 annually
District Manager – $46,400 – $69,564 annually
Advice For Application Process
First we'll look at how to apply for Family Dollar online. Prospective employees can review both entry level and skilled positions. From the Corporate section of their website, you can search and review all jobs online, filtered by department and location and then fill out a family dollar application.
Each job listing includes a detailed job description with all of the pertinent qualifications and employment requirements outlined. All available positions listed on their website are current and updated regularly. However, In order to fill out a the application, you must create a user name and password in order to log in to their system. Once your account is verified via email, you can apply online for jobs, attach a resume or letter of interest, and ask questions regarding job specifics.
Each form is tailored to the position offered, assessing an applicant's skills as well as gathering personal information in order to forgo the need for a traditional resume. There is no application form to download. If you would rather fill out a paper form, visit one of their many nationwide locations and ask a company representative for an paper form. There is the added advantage of possibly speaking to a hiring manager first hand, which may give you an advantage over other applicants.
There are a few key aspects to consider beyond having your professional and educational background organized and updated. Therefore it's important to have an idea of what type of position you'd like to apply for. Look closely at the job opportunities and requirements, and be honest about your skill level and career history.
Although submitting a resume is optional, it is highly recommended. You may have an impeccable working history and a long list of previous job responsibilities, but a predefined application may inhibit your ability to highlight those assets. A solid resume is your chance to present yourself in your own words. A well structured resume adds a little professional polish to your employment inquiry, and shows that you take yourself, and your employment prospects seriously.
Competitors
If you would like to apply for a position, but are unable to find a store, distribution center, or corporate office in your local area, there are two other low-cost retail chains that operate under a similar corporate model with locations nationwide: Dollar General and Dollar Tree. Both companies host websites where you can view job listings, review company policies and hiring requirements or fill out an online application.
Also See:
Carter's: For career opportunities, fill out the Carter's online application.
Fallas Discount Stores: See our guide for careers at Fallas Discount Stores.
Crazy 8: Use the Crazy 8 job application to apply here.
Coach: See our resource page for more information on Coach careers.
99 Cents Only Stores: Checkout the application page for work at 99 Cents Only Stores.
Company Links
http://corporate.familydollar.com/pages/aboutus.aspx