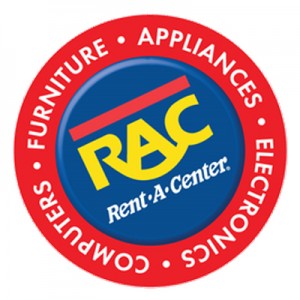 Rent-A-Center is the US leader in rent-to-own business, being the largest operator in the states. The rent-to-own business is rather new, the concept being developed no sooner than 1960. However, by fulfilling a real need for its customers, the business has quickly developed into a billion dollar industry, also providing the possibility of great careers and job opportunities in this domain. The company is currently operating over 3000 stores in the US, Canada and Puerto Rico, with over one million happy customers that rely on the services provided.
The giant's operations include several brands. The operated stores offer the possibility of purchasing name-brand furniture, electronics and appliances through several rental purchase agreements that enable the customer to finally obtain ownership of the goods – it is an accessible method of being able to purchase your goods without having to go through the process of accessing a credit.
Since it laid its foundation in 1986, it has rapidly grown into a successful business with over 20000 employees in over 3000 locations. The company aims to keep its place as a leader in the industry while constantly improving the quality of the services they offer.
This is one of the most promising companies to work for in retail business, as it provides not only multiple benefits for its employees, but also the possibility of a great career in a place that values serving others, team-spirit and a winning attitude. The company respects true values and cares about the employees by offering a great environment to work in, with both financial and moral benefits.
If you want to enhance your career in a fast-paced work environment that provides you with everything you need to show off your best, join the team and apply for Rent-A-Center jobs online now! In order to give you a bigger picture about the leader in rent-to-own business, here is some information about the company that might also turn in useful during the recruitment process.
First of all, this is the biggest rent-to-own business player that has been operating since 1986. It has quickly grown from an initial number of 16 stores to over 3000 local stores today. Their largest acquisition process took place in 1998 when they bought over 1400 stores from Thorn Americas. Also, in 2006 they bought Rentway's stores, their third competitor at the time. Regarding the stock market, they went public in 1995 under the symbol RCII.
At the time, they were known under the name of Renters Choice. Today, it is the largest rent-to-own operator in the US, with over 20000 employees. The mission of the company is to improve the quality of life for their coworkers and customers. In order to start your retail career today, waste no time and access the direct application link below to apply for jobs at Rent-A-Center now!
Get Your Degree!
Find schools and get information on the program that's right for you.
Powered by Campus Explorer
Rent A Center Careers
Rent-A-Center offers a large variety of jobs in different locations of US, Canada and Puerto Rico, where the stores and headquarters are located at. If you are planning to be part of the team by choosing a store or a corporate career, please browse through the existing areas of expertise:
Accounting, Administration Support, Advertising/Marketing, Customer Service, Finance/Reporting & Analyst, Human Resources, Information Technology, Inventory Management, Logistics/Distribution, Loss Prevention, Merchandising/Purchasing, Operations Services
Regardless of the career area you may choose, the company promises competitive, rewarding pay scales and numerous employment benefits, including special discounts for the company's services. Furthermore, there's an exciting work environment that sustains the hired candidate from day one on the way up, by quickly advancing even from entry level positions. They also provide a great support system within the team, making sure you'll fit in right away.
Due to the fact that the company is a leader in its branch of activity, there are numerous career options, hence different hiring requirements to be met, depending on the job area. As usual, the entry level positions require a lot less from the candidate than management jobs. However, for most of the Rent-A-Center jobs, you need to be adherent to the company's core values: a winning spirit, the willingness to act with a servant's heart and bringing honor to the team.
Regarding the store Rent-A-Center careers, they do not require a university degree, nor do they necessarily need you to have previous work experience. The company believes in starting on an entry level position and working your way up to the top. There's also a plus for the Spanish speakers.
Regarding the corporate Rent-A-Center careers, the requirements are different from job to job – you can browse the official website for different job specifications. Most of them require at least a bachelor's degree and a certain work experience in the area.
How Old Do You Have to Be to Work at Rent-A-Center? If you're wondering how old you have to fill in a Rent-A-Center application in the first place, you should know that the labor laws vary from state to state, so you should check that first. However, for most of the states, it is likely you to be of legal age, at least 18 years old.
Although the hours of operation may vary depending on the location, the Rent-A-Center stores are typically open Monday to Friday, from 10.00 am to 7.00 pm and Saturday, from 9.00 am to 6.00 pm. The company operated stores are closed on Sundays.
Rent-A-Center is constantly hiring and offers a variety of jobs at competitive wages for its employees. There are jobs that benefit from 401k savings plan, core healthcare coverage, time off work with pay and lots of other perks. The employer values the coworkers by providing quality trainings and special discounts and pay-plans, next to a competitive salary. Other benefits include short-term or long-term disability and life insurance.
In addition to this, working for Rent-A-Center is more than your typical job. It provides you with the opportunity of working your way up, as the company encourages hard working personnel. You can also learn a lot about the retail industry and will definitely be a plus on your resume. Moreover, working in retail and helping others fill in their homes with top products will give you a great sense of achievement.
Rent A Center Job Descriptions
To continuously be able to realize their vision and remain on top as the largest rent-to-own operator, this company is constantly searching for the best people to join their team. If you're highly motivated to acting with a servant's heart, have a winning spirit and love working in a team, you are definitely an eligible candidate. On the plus side, if you are energetic and ambitious, you are definitely what they are looking for.
In order to be part of the largest system that is helping people fill their home with quality products and start a fruitful career in retail business, start by applying for Rent-A-Center jobs now! To get the full list of the available jobs, you should visit their official website and browse through the employment opportunities listed – they are always refreshed and up to date. Make sure the job you want to apply for matches your work experience, skills and qualification. Be sure to read the full job description and responsibilities in order to find the most suitable one for you.
If you're wondering how to apply for Rent-A-Center online, you should know you can find numerous retail jobs by following the direct link to their career opportunities page. Since they have such a wide range of jobs available, there is no printable application form. Instead, you can go online and choose from the wide selection of possible jobs the one that best suits you, from entry level to management positions, depending on your skills and location.
Once you are ready to fill in a Rent-A-Center application online, you will be redirected to a different page on the website that will allow you to become a hiring candidate today by choosing the job and location you want to apply for. You can also submit your resume online as long as you log in. Their representatives will take your application into consideration and based on the work criteria, it is possible they will contact you for scheduling an interview.
Rent A Center Interview
Also, keep in mind to be as professional and polite as possible. If you get a response and or invitation for an interview after you apply online, make sure you respond to the e-mail or calls, no matter if it's an entry level job or a management position. Preparing for the interview by anticipating the questions and by reading information about the retailer's history and facts may turn out to be a great idea, as well. It will show your real interest in being part of the largest rent-to-buy operator in US.
Advice For application process
In order to make sure you do your best to get a job at Rent-A-Center today, keep in mind the following tips on the application process.
First of all, make sure you brush up your resume while being totally honest about your previous work experience, skills and qualifications. Be sure you read the job specifications and responsibilities as well as the location first, before deciding which job you want, then fill in the applications. This will make the recruitment process a lot easier and will save you a lot of time and nerves.
The official website allows you to fill in online application by logging in with your social media profile or a variety of other ways – applying online is the most simple and time saving way, since there is no printable application for Rent-A-Center. Since there are numerous jobs opportunities, you cannot download application form, instead you can fill it in online. Once you log in and fill in the free application for a job, you can always go back and check the availability of it or perhaps other job opportunities you might find suitable and useful for you.
Working with Rent-A-Center provides you with a great feeling of a career in retail industry, for the very leader in rent-to-own business branch in US. By working in retail, you will improve your social skills, team-spirit and self-motivation.
Since having a career in an industry that serves others gives you a wonderful feeling of satisfaction, we have a few other recommendations. If you prefer working for a smaller company, you can apply to Aaron's – a growing business with lots of career opportunities, or you can browse job opportunities at U Haul if you're more into the moving and storage business.
Also See:
Pacific Life: Visit the Pacific Life application.
Allstate: See our guide for careers at Allstate.
U-Haul: See our guide for careers at U-Haul.
Two Men And A Truck: See this page for jobs at Two Men And A Truck.
Farmers Insurance: Visit the Farmers Insurance application.
Company Links