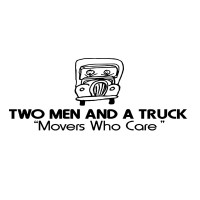 Don't be fooled by the name, the company was founded by Mary Ellen Sheets who took over her sons' after school business in 1985.  Two Men And A Truck careers are not just for the moving men, they offer a wide range of job opportunities for men and women.  Find the Two Men And A Truck application link at the bottom of the page.
Two Men And A Truck is the largest franchised moving company in the USA.  It undertakes any size moving job, as well as selling merchandise at some of its franchise locations.  It operates in 36 states across America as well as internationally in the UK, Canada and Ireland.  But the company has stayed in the family with both Sheets' sons and daughter now working in top positions.
It has been rated among the top 50 franchises in Franchise Business Review and is always looking to open more locations and recruit talented people.  Most of their franchises are owned by former employees of the company; start out as a Mover and you could end up your own the boss!
If you apply for jobs at Two Men And A Truck, you will be taking a step to joining a fast growing company with the potential to go as far as you want.  The firm is continually making improvements, recently it has revamped its whole IT infrastructure to modernize and streamline the company and keep on moving it forward.
Two Men And A Truck Careers
At the various local franchises there are many frontline positions available such as Movers/Drivers, Customer Service Representatives, Crew Leaders and In-Home/Business Consultants.  These roles involve a lot of customer interaction.  Movers/Drivers will need to be in good physical shape and be able to lift 100lbs and have a valid driving license. 
Two Men And A Truck jobs also have openings for various management roles, inviting applications from both those with managerial experience and those wishing to embark on this type of career and advance upwards.  Management openings include General, Move, Sales, Marketing and Accounting Managers.  These roles generally require a Bachelor's degree.
Many entry-level employees have made their way through the ranks and gone on to become franchise owners.  But whether you want to start at the bottom or branch out from your current career, you can apply online to find out more information on how to open your own franchise.  Two Men And A Truck has enjoyed years of continual growth and is looking to open more locations.
Get Your Degree!
Find schools and get information on the program that's right for you.
Powered by Campus Explorer
How old do you have to be to work at Two Men And A Truck? You must be 18 years or older to be eligible for Two Men And A Truck jobs. 
The hours of operation are 9am-5pm with reduced hours at the weekend.
Frontline staff earn tips and there are various other incentive schemes to boost employees' salaries.  They are also benefit from flexible scheduling.  All who work there are able to access comprehensive training to help them develop their careers.  Full-time employees and some others are eligible for medical benefits, 401(k) retirement plans and paid leave.
Job Descriptions & Salaries
Mover/Driver – Movers are the employees that founder Mary Ellen Sheets describes as 'heroes'.  They are the frontline of the company, delivering top quality customer service for all of their moving needs, personal and business.  It is a very physical and active role and the pay is on average $12 an hour.
Customer Service Representative – Working in franchise support you will need excellent customer service skills.  Duties will involve explaining all aspects of the moving process to customers, using the computer system of process bookings and scheduling, preparing paperwork and handling customer feedback.  The pay usually starts at minimum wage and is often around $10/hour.
Marketing Manager – In this role your responsibilities will cover all aspects of the marketing process including branding, advertising and social media.  This is a varied job including attending networking events, negotiating with media outlets and handling PR.  You will prepare and help franchises meet marketing and sales goals.  The salary is upwards of $35k a year.
Move Manager – As it says in the title, the Move Manager manages all parts of the move from beginning to end, from customers to Movers.  You will ensure that staff all keep to the proper procedures and deliver a top-notch service and the customers are fully satisfied.  You will also handle daily franchise administrative work.  The typical salary starts at $35k/year.
Franchise Manager – As a Franchise Manager you will be responsible for the decisions made for the franchise.  Managers will handle staff recruitment and training to ensure that they deliver great customer service.  They will oversee the day-to-day operations as well as supervise marketing, compliance and HR.  The pay is between $45-75k/year.
Two Men And A Truck Interview Questions
It's good practice before any interview to go over some answers to typical interview questions such as these.
Why do you want to work for Two Men And A Truck? This is a fairly standard question that you will probably be asked in most places.  You will need to do some research about the company so that you can tell the interviewer why you want to work there specifically. 
Where do you see yourself in five years? This company looks to promote from within, so they will want to see that you are ambitious and dedicated.  Set yourself some realistic goals that show you are willing to learn and advance and that they should invest in you as a person.
Tell me about a problem you've had at work/school and how you overcame it.  Make sure you pick an example where you can demonstrate any skills you learnt from the experience that would be applicable in a work situation.  You might want to emphasize teamwork, time management or organizational skills.
What do you consider to be your biggest strength? This won't normally be about physical strength although if you're applying to be a Mover that will be useful.  Be honest, pick an attribute about yourself that you're proud of that is relevant to the position that you are applying for.
What is your team leadership style?  It is very important for every role at Two Men And A Truck that you can work well in a team, and it is especially important for those wishing to advance to management to be able to lead.  You can mention any team experience you have in your previous employment, or team situations at school or college.
Advice For Application Process
You can find out how to apply for Two Men And A Truck online by following the links below to free application information for both jobs and franchises.  To make a Two Men And A Truck job application online search by location and read the job description carefully before submitting an application form and resume.
You can only download a printable application for Two Men And A Truck franchise opportunities.  If you wish to make a direct application for a job you can approach a hiring manager at one of the many nationwide locations with a resume.  Ensure that you take care when filling in your form, as this is the first thing that your potential employer will see.
Once you have made an online application you can expect the process for frontline staff to take a few days, applications for managerial roles can take up to a month.  You may be invited to up to two interviews depending on the position that you are applying for.  Make sure you are well prepared for your interview and dress in a professional manner.
Be sure to do some research about the industry and Two Men And A Truck jobs online before attending your interview so that you are knowledgeable about the company and what will be expected of you if hired.  Be polite but confident when addressing the interviewers and always show gratitude for the opportunity.
Also See:
Havertys Furniture: See our resource page for more information on Havertys Furniture careers.
GEICO: GEICO offers opportunities for both, beginners and experienced roles.
Travelers: Visit the Travelers application.
Kaiser Permanente: Visit the Kaiser Permanente application.
U-Haul: For employment at U-Haul visit the application page.
Company Links
http://careers.twomenandatruck.com/home