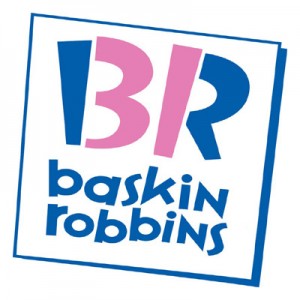 If you love ice cream, what better place to work than at Baskin Robbins! With almost 7,000 stores spread throughout 50 countries, Baskin Robbins prides itself on being one of the most popular ice cream stores worldwide. And each of these stores is 100% franchised, with each owner retaining a stake in the success of the business.
The brainchild of two brothers-in-law, Burton "Burt" Baskin and Irvine "Irv" Robbins, originally two stores were created back in 1945 under the names Snowbird Ice Cream and Burton's Ice Cream Shop. By 1953 they had opened more than 40 stores in Southern California, and it was then that they decided to drop the individual store names and change them all to Baskin Robbins.
Incredibly, since 1945 more than 1,000 unique ice cream flavors have been introduced. Some of the original flavors are still being sold today, such as the Mint Chocolate Chip and the Pralines 'n Cream.
But it's not just about flavors – Baskin Robbins has innovatively come up with an industry-leading method of hand-packing ice cream quarts, and a special ribbon technique for incorporating flavors. They have even created ice creams with the texture of mousse. As well as their fabulous products, Baskin Robbins prides itself on providing a fun, and exciting workplace for their staff.
Baskin Robbins Careers
There are many job opportunities with Baskin Robbins, from entry-level staff through to management. Ice cream scoopers, decorators of cakes, counter help and cashiers are some of the employment options for entry-level crew members. Responsibilities include adhering to the company policies, having reliable transport and being flexible and willing to work multiple shifts.
Managers work alongside entry-level crew members, and extra basic education and experience requirements have an impact on hiring. The ability and desire to work within a team and show enthusiasm for customer service are prerequisites, regardless of whether it is a management position or a crew member position
How old do you have to be to work at Baskin Robbins? The company prefers a minimum age of 18 years. A high school diploma is required for Baskin Robbins careers. It is important that all employees maintain the fun, energetic and familial atmosphere, as this will help to ensure continuing growth of the company and increased sales. Positions are often promoted from within, but management positions are regularly offered to outside applicants as well.
Get Your Degree!
Find schools and get information on the program that's right for you.
Powered by Campus Explorer
Because it is a franchised company, different stores offer varied employment benefit packages. Some of these benefits may include medical and prescription drug plans, flexible spending accounts, dental and vision insurance, employee assistance programs, 401 (k) plans, and reimbursement of tuition costs. Baskin Robbins also offers holiday pay, vacation time, sick leave and personal time, after the required probationary periods pass. Other benefits are discount programs, bulk purchasing of coffee, and enrollment in the PerksCard program. Baskin Robbins jobs can be easily found by searching Baskin Robbins jobs online.
Baskin Robbins stores are open 7 days per week, every week. From Sunday through to Thursday the store opens at 10:00am and closes at 10:30pm. On Fridays and Saturdays, the store is open till a bit later, with the opening time being 10:00am and the closing time extended to 11:00pm.
Baskin Robbins Job Descriptions
Restaurant Manager: Stores require a restaurant manager to be present at all times, largely to ensure customer service satisfaction is 100%. Restaurant managers are also required to provide excellent leadership to the team. This way communication between staff and customers is premium, and orders are filled accurately. Other responsibilities include ensuring cleanliness and following of sanitation requirements, and maintaining food safety. Typical salary is around $37,000 per year.
Shift Leader: One of the main tasks of a shift leader is to provide assistance in training new crew staff. They also have the responsibility of creating job schedules and make sure that each shift is well staffed and runs smoothly. Shift leaders also have tasks that need to be done before opening and closing, as well as during the shift. Hourly salary for a shift leader is around $8.37.
Scooper: The main responsibility of a scooper is running the ice cream station and servicing the orders of the customer. Scoopers need to have a high level of hygiene and maintain a clean and sanitized workspace. They must understand the food handling policies of the company and follow them at all times. The typical hourly salary is $8.25.
Assistant Manager: An assistant manager shares similar responsibilities and tasks as a restaurant manager. They must be able to perform the tasks of each crew member so they can train new staff and fill in when necessary. Another responsibility is to monitor and display the product in accordance with store practice and policy. Safety of the staff is also the responsibility of the assistant manager. The salary for an assistant manager is around $28,500.
Baskin Robbins Interview Questions
To apply for jobs at Baskin Robbins, it is helpful to know the typical questions that may be asked during an interview. For a more successful Baskin Robbins application, research possible questions and answers.
Why do you want to work for Baskin Robbins? This is a question you should be prepared for, as it is a common question in any job interview. Talk about what you admire about the company, and it's benefits.
What experience do you have? If you have relevant work experience, highlight what your duties you had previously and how they could be utilized in this position. If you have been working in a similar industry or role you will be more attractive to the employer.
What do you know about Baskin Robbins? Research the company thoroughly before you go to an interview so you can answer this question accurately. Talk about the company profile, and other's work experience with the company that you know of.
Where do you see yourself in the next few years? This is a typical question for most job interviewers. This question is asked so that the interviewer can see if you have any ambition, and whether or not you are likely to move forward through the company and advance. Be honest and realistic about your career goals.
Do you have reliable transport? This may seem an unusual question for an application for a counter job, but, the reason behind this question is so they can see if you will be reliable and on time for shifts. Prepare an answer beforehand, especially if you have to rely on public transport – outline your methods of getting to and from work.
To stand out amongst other applicants, show a positive attitude and respect towards the hiring manager. Interviews will generally take up to 15 minutes, which is a short period of time to showcase your skills and your personality, so make sure you focus on the most important factors you want to get across.
Dressing appropriately will always make a good impression on potential employers. For entry-level positions clean and tidy clothes and shoes are fine, but if you want a management position, you should dress for the part, in a suit or at least shirt and tie or business attire.
When filling out an application form, or an online application form, be sure to fill it out correctly and include all relevant information. Be completely honest with your answers, even if you don't think they sound so good. It is always better to honestly portray yourself and your skills.
Always thank your interviewer for their time. Don't be afraid to ask questions – this shows a real interest in the position being offered. Once the interview has finished, ask how and when you are likely to hear back regarding the position. Remember that sometimes it takes a while for employers to make a decision, and hiring doesn't always take place immediately.
Advice For Application Process
There are two ways to apply for Baskin Robbins jobs. The first method is to download a Baskin-Robbins application form. To apply online, fill in the free application form and send back. Alternatively fill in a printable application, find your local store and hand it in as a direct application. Be sure to include your resume.
Also See:
Einstein Bros. Bagels: Visit the job application for Einstein Bros. Bagels to apply today.
Krispy Kreme: See our guide for careers at Krispy Kreme.
Robeks: Robeks offers opportunities for both, beginners and experienced roles.
Golden Spoon Frozen Yogurt: Visit the job application for Golden Spoon Frozen Yogurt to apply today.
The Coffee Bean & Tea Leaf: Checkout the application page for work at The Coffee Bean & Tea Leaf.
Company Links
https://www.baskinrobbins.com/content/baskinrobbins/en/careers.html
https://www.baskinrobbins.com/content/baskinrobbins/en/aboutus.html